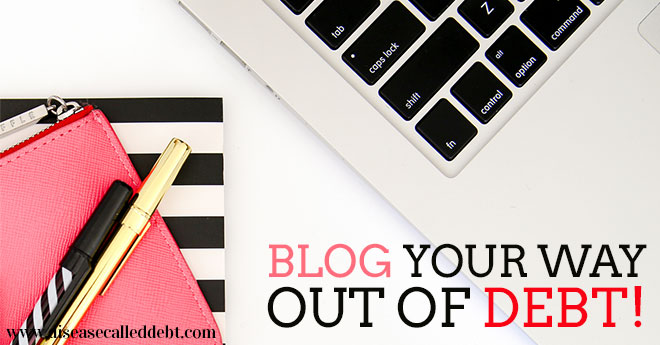 When I tell people I that my day job involves blogging, I often get some strange looks. Surely it's not possible to make a living from blogging?
Well, truth be told, I work as a freelancer as well as a blogger, but yes, it certainly is possible. I don't earn a fortune (at least not yet!) but last month, I earned a decent income of £863 ($1,128) from this blog through advertising, affiliate marketing and eBook sales.
Plus, I earned another £1,512 ($1,976) in freelance writing jobs in July, that I wouldn't have secured without being able to use my blog as a portfolio.
Earning money through blogging over the last couple of years really helped me to clear my debt and save money for my other financial goals.
The reason I'm writing this post today is because I know so many of you are looking for ways to earn money to get out of debt or just to stop living paycheck to paycheck each month.
Blogging is one avenue you should definitely investigate if you need to start earning extra income, because it could help you out on a financial level and provide you with a fun hobby that doesn't involve spending much money. Plus, blogging is way easier than going out and getting a second job!
Starting a blog could improve your finances
Now you won't earn money overnight with a blog, but there's a good chance that you'll be earning some money within 6 months and most certainly within a year if you stick with it.
In terms of potential earnings, every blogger will be different, but I should imagine £200 ($260) per month after blogging for one year is a good goal to work to. After that, well, providing you keep going, you could be earning thousands each month from your blog. (That's what I'm aiming for anyway!)
Plenty of other bloggers earn a substantial income from blogging! Like Michelle from Making Sense of Cents, Alexa at Single Moms Income and Abby from Just a Girl and Her Blog.
Going back to attainable income levels though… what would an extra £200 per month mean to you? Could you blog your way out of debt? Could some extra income like this give you some much needed breathing space with your finances?
How do blogs make money?
Make money through blog advertising 
Blog advertising can come in the form of network ads, banner ads and sponsored content. Network ads are those targeted adverts that you see on many websites that are based around what you've been searching for on the internet recently.
Google Adsense, Ad Thrive or Media.net are examples of network ad providers. I personally use Media.net because it seems to work better for my site! Many bloggers start off using Google Adsense.
Network ads are really easy to set up, it's just a matter of copying and pasting some HTML code into an area of your blog. You can do this as soon as you start blogging, although you won't make much money until you have a good number of visitors coming to your blog.
Banner ads are where you can promote a company's product or service by way of a banner advert on your blog. This is easier than it sounds! Once you have someone interested in advertising, you can ask them to send you an image for their advert and you can slot it into your blog somewhere, for example in the sidebar.
If you use WordPress for your blog, you can install a plugin to help you with banner adverts. I used to use the WP125 plugin which tracks advert clicks so you can let advertisers know how many times their advert has been clicked on from your blog.
Sponsored content is where advertisers promote their brand, product or service through blog posts. They may want to provide an article to you or they may ask you to write an article with a mention of their company, plus a link back to their site. Advertising through content is often more effective than banner adverts and so this is a good way for bloggers to make money.
The hardest part when it comes to banner adverts and sponsored content will be finding advertisers directly – but some may approach you! As a starting point, look for companies who provide a product or service relevant to the topic that you're blogging about. The more traffic you have to your blog, the more money you can make!
Use your blog to promote affiliate programs
Another way that bloggers can earn money is by promoting products and services that offer a commission for referrals. The affiliate programs that work well are those that are a good fit for readers. Amazon affiliates is one of the most popular affiliate programs around, because so many people want to buy something from Amazon.
Once you start blogging, check out some products that you think you and your readers will benefit from and start promoting those. You can start affiliate marketing as soon as you set up your blog!
Affiliate marketing can be a profitable source of income for bloggers, but there is a knack to getting it right. For example, you can't just simply mention a product and expect to earn a commission from someone clicking a link and buying it.
You basically have to sell the product or service and explain why it's so great. This only works if you really believe it is indeed a fantastic product or service because that's the only way to get the trust and passion across!
Being a personal finance blogger, I find affiliate marketing tricky but not impossible. You see, my readers are always looking to save money rather than spend it (like me)!
So, I tend to promote services where my readers can save money that I use myself, for example Top Cashback. Or ways for them to earn money, such as the Flea Market Flipper program, Etsy affiliate program or how to sell their jewellery online to raise urgent cash.
I do promote Amazon products such as personal finance books too. There are plenty of affiliate programs to promote, the trick is finding out which ones will work for you and your readers!
Create your own digital products to sell on your blog
If you can create something to download that your readers will be interested in, the chances are that you can sell it! For example, craft bloggers might create patterns (knitting, sewing, crochet etc) and sell those. Lifestyle coaches might be able to develop an online coaching program. Beauty bloggers might create a series of video tutorials for an email series.
More or less any blogger will be able to write an eBook about their chosen blogging topic! This is how I've created products for my blog and I've explained exactly how to create an eBook yourself in this complete series, which you can access for free.
Start a blog on a budget in around 20 minutes!
Once you know what you want your blog to focus on, you can get started blogging for very little cost and you can set up a basic WordPress blog in about 20 minutes. Seriously, that's all it takes!
To get started blogging, you'll need to choose a website hosting provider and purchase a domain name. You can install WordPress onto your computer or laptop through your website hosting provider.
I recommend using Bluehost to start your blog, because their basic hosting package is one of the cheapest around. Usually their hosting packages start at $7.99 per month for 12 months and occasionally, they run special offers where you can get their basic package for just $3.95 per month.
On Tuesday August 9th however, Bluehost are running an extra special promotion where you can purchase their basic hosting package for just $2.95 per month for 12 months! It's a one day offer only, so if you think blogging might be for you, make sure you sign up on the 9th to take advantage of their cheap as chips hosting package!
When you have WordPress installed, you can choose a theme (design) for your blog and begin writing posts. Once you have some traffic coming to your blog, you can begin making money from your blog!
Finally…
Blogging can provide a great source of extra income to help you achieve your financial goals, albeit not immediately from day one. It will take a bit of time to start earning money, but it's one of those income sources that has the potential to grow, providing you put the effort it!
There's a lot to learn when it comes to blogging, but I'd be happy to help you get started! Check out my free guide on How to Start a Money Making Blog for a detailed overview and then feel free to email me with any specific questions you might have. I'll do my best to answer them.
You can also sign up to my blogging email list at the bottom of this post for tips and advice on blogging from time to time.
What are your thoughts on blogging to improve your finances?
*Affiliate links are contained in this post.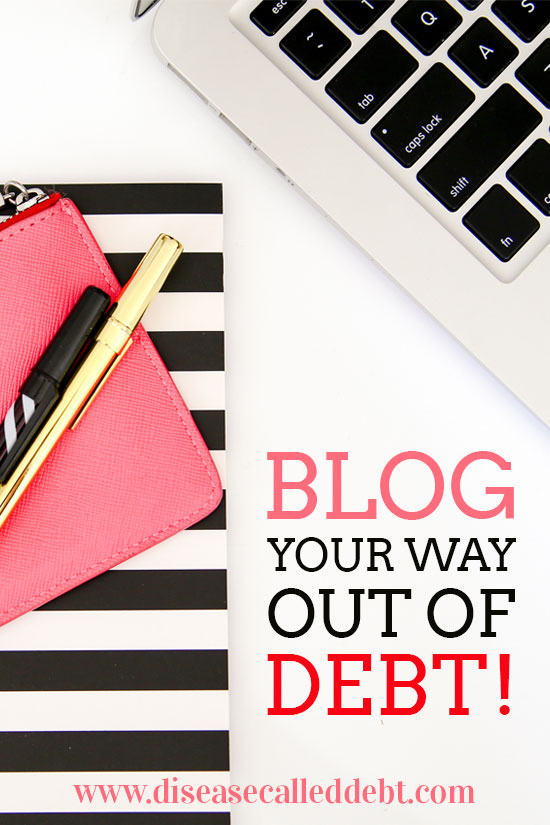 *Images courtesy of Wonderfelle with text overlay added.