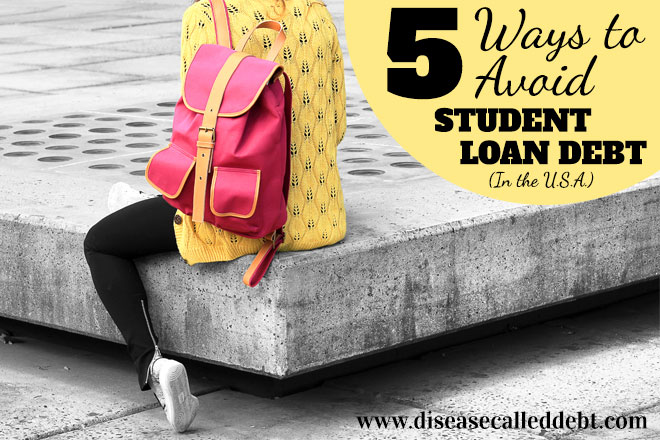 Following on from my earlier post this week on student loan debt from a UK parent's perspective, I have another post about student loan debt today – this time for my US readers. It's been written by Andrew who blogs over at Scholarship Fly. It's Andrew's mission to spread the word about scholarships to help students avoid student loan debt.
__________________________________________________
This day and age, college is established as a place and time to meet new people and try new things.  More than one college graduate would not hesitate to say that college was the best time of their lives.  Despite having such a reputation for fun experiences, there is another developing stigma to consider: student loan debt.
From a 2014 study, roughly 70% of college students take out student loans.  There is a total of $1.3 trillion in outstanding student loan debt, and the average student loan debt per borrower is around $30,000.  The default and delinquency rate is roughly 25%.
Given just a few pieces of information, it is easy to see that student loan debt is an issue, and this is by no means a unique issue.  Student loans have become a necessity for anyone planning to attend college in light of the rising cost of tuition and demand for higher education.
The effects of student loans are felt in the up-and-coming generation of workers; for instance, important financial objectives such as starting a retirement fund and owning a home are neglected and put off.  Luckily, there are solutions to this mounting problem.  Below are a few pieces of advice that can help a debtor alleviate their concerns and obligations with student loan debt.
1. Look for Scholarships
There is such thing as "free money" for college.  There are numerous organizations and foundations across the globe that offer free financial aid, or scholarships, to students.  They are awarded for a wide range of criteria such as merit, heritage, major, hair color, or even being left-handed.
Scholarships are a great place to start when looking for ways to finance college since there are thousands of opportunities found online on scholarship search engines.  Applications are free of charge, so there is not much of an excuse for ignoring these opportunities.
There are several secrets to securing a piece of this "free money."  Starting early and looking often is the best way to apply for volume.  Researching the eligibility requirements is essential to improve chances of success.  Finding a niche scholarship (like a left-handed scholarship) is a good way to lower the competition field.  Looking for scholarships is a labor intensive task, but it can save much more trouble than it causes.
These financial aid opportunities are important because their benefits are numerous.  They do not require repayment, and they do not accrue interest each month.  On top of this, they are almost as readily available as federal student loans.  Scholarships are easily the best alternatives to taking on student loan debt.
2. Look for Grants
Similar to scholarships, there are different types of grants available to college students as an alternative to student loans.  These grants do not require repayment, and they are usually provided by universities and the Federal government.
There are a few potential federal grants available to students after filling out the FAFSA.  The most common is the Pell Grant which is awarded to undergraduate students who qualify under the FAFSA.  Another grant, the Federal Supplemental Educational Opportunity Grant (FSEOG), is awarded to undergraduates who are designated with a greater need for financial aid.
In addition to federal grants, many colleges and universities award their own grants as financial aid to their students.  These grants are normally given out based on merit; for instance, these grants often serve as an incentive for smart students to choose one school over another.
Just like scholarships, grants are known as "free money," so it is no secret how valuable these can be.  While these opportunities seem to be less diverse and numerous, they are still a viable alternative to signing up for a student loan.
3. Refinancing Student Loans
If you have multiple student loans with high interest rates, then you may want to refinance student loans to have it lowered.  Many college students need to take out more than one loan over four years.  Multiple loans with multiple interest rates can become a disorganized mess with mounting monthly payments.
Refinancing can save thousands of dollars on student loans over the course of a loan repayment term.  This is how it works.  A private company buys out a borrower's loans and consolidates them into one loan with one interest rate.  While this does not lower the principal loan amount, it cuts away potential interest payments on student loans in the future.
Overall, student loan refinancing is an option that is mounting in popularity.  While it is not quite as enticing as "free money," it is still a way to keep student loan debt from getting out of hand.
4. Make Interest Payments During School
While in school, there are two options for students in terms of paying interest: pay interest monthly or defer payments.  To many college students, deferring interest payments is an overwhelmingly popular choice, but this often leads to more debt down the road.
By deferring student loan payments, borrowers guarantee taking on considerably more debt over the life of their loan.  Interest capitalizes on student loans.  This means each monthly interest accrual is added to the original principal amount.  This creates a snowball effect where each month brings a larger interest accrual.
With all of this in mind, it is easy to see how starting interest payments early reduces overall student loan debt.  To the broke college student, this may not be a viable option, but it is important to try and make these payments as early as possible.
5. Make Larger Monthly Payments
While a little different than paying interest during school, making larger monthly principal payments helps fight interest and capitalization as well.  Paying more than the minimum monthly payment  helps reduce the overall remaining principal balance, and less interest can build as a result of smaller principal balances each month.
This accomplishes the same thing as paying interest during school since it reduces the amount spent on interest over the life of a loan.  In the end, it reduces student loan debt by attacking interest which is established as one of the major culprits of debt.
Ideally, the combination of making larger monthly payments and paying interest early on is the best way to cut away student loan debt since both of these habits help eliminate student loans faster than their projected repayment terms.
__________________________________________________
Author bio: Andrew is a freelance writer and content manager who has taken an interest in personal finance.  After graduating from college with plenty of student loan debt, he decided to start spreading advice on student loans and funding higher education.  It is his goal to help create a trend towards greater financial literacy overall one article at a time.
*Photos courtesy of Unsplash with text overlay added.