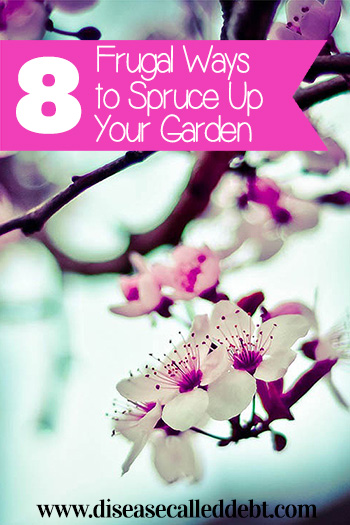 I don't have much of a garden where I live, which is just as well because I'm not the best of gardeners!
But that doesn't mean that I don't want my outdoor space to look pretty. Each year, I try to make what is effectively a concrete yard look the best it can, by sprucing it up – without spending too much money.
There are so many amazingly cheap things you can do to make the best of the outdoor space you have and I find Pinterest and YouTube so helpful when it comes to ideas for gardening on a budget. You can guarantee that someone else has already come up with a great way to do something so these two places are my first port of call for ideas.
Here are a few of my favourite ideas, some of which I'm doing right now and others which I intend to do in the future!
1. Paint old plastic plant containers
I don't have a lawn, so to ensure I have some colour in my garden, I need containers for plants and flowers. The thing about nice containers is that they can be extremely expensive. I actually bought some marble containers quite a few years ago (on credit!!!) and they cost a fortune! Luckily, we still have them and use them, but I wouldn't buy expensive pots like this again.
Last year, my parents gave me some old plastic containers, they were very much faded and worn, however they were a great size. This year, I'm painting them to give them a new lease of life! The great thing about spray painting your old containers is that you can create a colour co-ordinated set of planters. Perfect! Here's a handy video showing you how to do this!
2. Use household objects as planters
You don't just have to use standard plant pots for your garden. You can use old watering cans, wellies, fruit bowls, cans, cupboard drawers and much more!
3. Get free plants and flowers
Plenty of people have too many plants and will be more than happy to give them away for free or to snip off a few cuttings for you. All you have to do is ask! Check with your friends on Facebook or in Facebook groups, on Gumtree or even ask your neighbours whether they could spare a few plants or flowers for you.
4. Grow from seeds
Growing your own flowers, veggies and fruit from seeds is the cheapest way to develop your garden. Many plants can be grown in containers so you don't need to worry too much about space. If like me, you're not sure how to do this, get started by reading this beginner's guide to growing plants from seeds.
5. Upcycle old bottles and cans
Use old wine bottles with coloured glass to make tea light holders and paint old tins / cans to make beautiful herb containers! Anything that is remotely "container-like" – if that's a word – can be turned into some kind of planter for your garden, so check your recycling or rubbish carefully before disposing!
6. Add lighting
Speaking of tea lights, lighting is a great way to make your garden seem more intimate and cosy. In the evening, when the sun is setting, any garden can look amazing if you get the lighting right. You can hang tea lights in jars from trees or use outdoor fairy lights which you can pick up quite cheaply.

7. Create some DIY garden furniture
Garden furniture is usually very expensive if you buy new. However, you can pick up wood pallets to make your own garden furniture for free from small businesses if you know where to look. If you don't know where to look, don't worry – here's a list of places to get you started!
From tables and planters to garden swings and patio seating, you can get really creative with wood pallets and make something pretty spectacular for next to no cost. If you're not a DIY person, ask your friends if they can help!
8. Make a fairy garden
Surely every garden should have one? I'm definitely going to be making one of these for me – I mean my little girl! 😉 Use twigs, leaves and string to make a fairy palace inside a planter or tub. Just knowing it's out there in your garden even if you can't see it will make you love your garden that little bit more!

For more ideas on making your garden beautiful on a budget, check out and follow my Pinterest board on this topic, it's updated regularly!
Follow Hayley @ Disease Called Debt's board Gorgeous (Budget) Gardens on Pinterest.

*Image courtesy of Flickr.