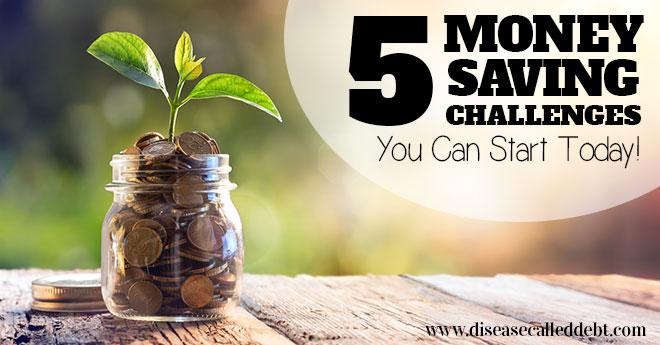 Today's post has been brought to you by Tyler Philbrook, who is a regular contributor here on the blog. If you've been thinking about setting aside some savings, why not have a go at one of these money saving challenges? Read on for the details!
You know the importance of saving money. Commonly, people expect to save 10% of their income and use that money to retire at 65, which may be possible. However most in the personal finance world say that a higher saving rate is needed, especially for early retirement.
Many aim for 50% or more, but how can this be done?
Saving money sounds boring, but what if you could make it a little more exciting. Instead of thinking of it as a chore, think of it as a contest or a challenge!
With that in mind, here are 5 money saving challenges that may help you do just that.
(Editor's note – the saving amounts listed here are in dollars for ease but if you live in the UK, you can do the same challenges with pounds or replace these calculations with your own currency if you live elsewhere in the world!)
The 52 Week Challenge
For this challenge, you'll start by saving just $1 in one week, in theory at the start of the year but anytime will work. The second week you'll save $2, third $3, fourth $4, and so on.
By the end of the year (week 52) you'll have $1,375 in the bank.
This works well, because who doesn't have a dollar they can put aside, at least in the beginning? You can find that walking down the street if you want.
You'll slowly build up and add a dollar to the pot. Figuring out a way to make that "extra" dollar can be fun too. You could start off by setting aside your first dollar of the week, then move to making an extra sale, getting a new client, cutting costs, etc.
Regardless of how you do it, at the end of the year the money is yours to spend as you wish, or you could keep going and turn it into a 104 week challenge ($5460.00 total)!
Spare Change Challenge
Unlike the 52 week challenge, this doesn't have a specific amount set to save in a year. Every time you buy something, you'll save the change, or round up to the next dollar.
For instance if you buy a coffee for $5.30 (guilty on occasion), then you would set aside $0.70 aside in savings.
I used this method years ago to save for a vacation for me and my two younger brothers and was able to save over $300 in just 4 months.
Save $20.00 Per Shift
My wife works as a waitress and gets paid out every night, so it's easier for her to do this than people in other jobs, but this will work for everyone.
Everyday you work, set a certain amount of money aside. My wife puts $20 aside before anything else is spent. And there are some nights she only makes $20 (slow season), so that means we didn't make any money that night.
How grateful we are though when we have an emergency come up that this money is there.
365 Day Challenge
Similar to the 52 week challenge, but instead of a weekly savings it's a daily instead. Not a dollar at a time but just a penny.
If you think that you won't have a dollar to spare, you'll at least have a penny. On day two you'll save two pennies, then 3, then 4, and so on. If you follow this every day for a year, you will have put a max of $3.65 in one day and saved $667.95 in total
Not as much saved as the other challenges but that's part of the appeal of this one.
Save a Dime/Dollar/Whatever Challenge
Pick a currency, any currency, whether it's a dime, a quarter, a dollar or anything else. Every time you get one, you'll put it into savings. For instance if you pick a $5 bill, then anytime you receive $5 in change, it goes into your savings.
I have not tried this but think it's a great idea, I'm probably going to pick a quarter as I'd like the amount to be the largest I can do without massively affecting my spending.
Conclusion
Whether you save a set amount per day, week, or month, the important thing is that you save.
With the challenges mentioned here, there is no reason we can't all be wealthier people a year on from now. Sure it may take a bit of sacrifice, but more than likely you'll find it enjoyable. Regardless, when you're done you'll be that much richer and your future self will thank you.
_____________________________________________________
Author Bio: Tyler Philbrook runs the blog I Am The Future Me. He talks about his journey from $29,000 in debt to becoming financially independent by cutting costs, making more money, and making good financial decisions.
Before you go, why not check out these other posts on saving money?
*Image purchased from Fotolia (referral link) under license – © Romolo Tavani – text overlay added by Disease Called Debt