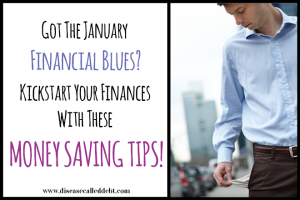 So Christmas is done and dusted, we've seen the New Year in and now January is here. Doesn't January always seem like the longest month ever to you?
Maybe it's because the days seem short, it gets dark really early and all the excitement from Christmas has now passed. Or perhaps it's because all too often, we're left with an empty pocket and payday seems like an age away. Sound familiar?
I can't tell you how many Januaries I've spent wishing I hadn't spent so much money at Christmas and that payday would arrive at least two weeks earlier than usual. But you know what? In January 2013 I had my very last bout of the January financial blues. It was then that I realised that we had to stop being a slave to debt and get in control of our finances once and for all. That particular January, it wasn't a flimsy New Year's resolution I was thinking about. Instead, I absolutely categorically knew that things had to change.
If you're feeling like this, it really is a good thing (although it may not feel like it right now)! Because 2015 could be YOUR year… the year that you take back control of your finances so you can decide whether you can afford to live more easily, or move house or get yourself a new car or just buy something you like once in a while without feeling guilty. Wouldn't that be nice?
So how to make sure that this January is the last time you'll feel thoroughly fed up and depressed about money? Well, it'll definitely take a lot of willpower and commitment from you to get on top of any debt and start saving rather than spending. But here's how you can get things off to a great start.
1. Check you're getting the best deal on your bills
January is a great time to take stock of your household bills to make sure you're getting the cheapest deal. If you don't have time to shop around to get the best deal, at least phone up your existing services provider and ask them for a better rate. This can work really well with utility providers and insurance providers. Threaten to leave them even if you don't plan to! If you don't ask, you don't get! By the way, make sure you read the fine print on your bills, because a better deal may be staring you in the face as I recently found out.
2. Cut out unnecessary costs
Getting fit may one of your New Year's resolutions, but do you really need that gym membership? There are plenty of ways to get fit for no cost whatsoever such as jogging, running up and down the stairs, weight lifting with household items and watching fitness classes for free on YouTube! Gym memberships are a money drain and to be honest they are a luxury if you need to be cutting back.
Evaluate your insurances as maybe you could cut down to basic level insurance for your pet or home contents. Netflix is an amazingly cheap alternative to Sky or Virgin TV. I pay just £5.99 per month for online streaming with Netflix and I have a handy cable that plugs into my TV. Sorted! If you want to improve your finances in 2015, be ruthless and cut out everything that isn't necessary. You'll probably find that you can easily live without such things anyway.
3. Start planning meals and buying food in bulk
Buying food every month is one area that everyone can cut back on if they want to. That doesn't mean you have to live on baked beans and pasta. If you plan your meals out, you can buy what you need so that there's no wastage.
Cooking in bulk and freezing it will save you money and time too. Eating a balanced diet is important but you could try eating more vegetable based meals and a little less meat if you want to reduce your food bill even more. Do this month after month and start saving money like you never thought you could.
4. Sell your old stuff
January is a great time to have a clear out and sell anything you no longer need (or like). Try eBay, Gumtree or sell locally on Facebook if you want to avoid the fees. You'll soon get rid of your January financial blues if you can give yourself a little cash injection to get things going the right way again.
5. Start earning more money
Earning more money is THE best way to improve your finances quickly. Already have a full time job? If you're serious about 2015 being your year for a financial makeover, there are plenty of ways you can earn money on the side part time or from home when you can fit it in. My latest eBook has 101 ideas for you to take a peek at – I do several of these money making methods myself!
6. Set some SMART financial goals
What do you want to achieve with your finances this year? Rather than having a vague hope of paying off your debt or saving for a new car, actually map out how you're going to achieve that. SMART goals are specific, measurable, attainable, realistic and time-bound.
Think about what you want to achieve and how exactly you'll do it. Have a contingency plan for making extra money when you'll need it the most and set yourself a realistic deadline. Keep checking your progress to make sure you're on track.
7. Start planning any spending NOW for later in the year
One thing that used to always catch me out with my spending and throw me off course with paying off debt was buying presents every now and then for friends and family or forgetting about annual bills until the last minute. The trick to getting over mini financial hurdles like these is to plan for them at the beginning of the year.
Take half an hour to think about things you'll need to pay for throughout the year and make a note of how much you think you'll have to spend. Then you can budget more effectively and when it comes to birthday or Christmas presents, you'll be able to pick up items that are on sale ready for later on in the year when you need them. That way you can save a ton of cash throughout the year.
Are you suffering from the January Financial Blues right now?
*Photo courtesy of Flickr and modified by Disease Called Debt.