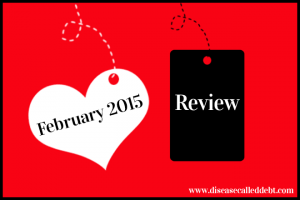 I can't believe February is almost over already! But seeing as this is the case, I thought I'd post a little update to let you know what I've been up to this month.
It's been both good and bad in terms of our finances. I'll start with the bad news first. You may know that the hubby and I rent out our former home where we used to live. Well, we had a fairly uneventful time last year with no massive property problems to worry about. The heating system didn't even break down over the winter which was one of my main concerns.
Then, out of the blue a couple of weeks ago, I received an email from our tenants outlining some "minor issues" with the house. With a sinking feeling in my stomach, I realised that most of these issues weren't minor at all and in fact they were the opposite! The patio door won't close without force (potential security issue right there); there are 15 kitchen floor tiles that have cracked; the bathroom tiles have slipped down the wall by 1cm in places; there are patches of damp appearing under some of the window sills and then I read possibly the worst problem out of the whole lot… the entire house apparently needs a recoat of paint.
As I read down the list, I could sense that our emergency fund will disappear into practically nothing by the time we sort out all the problems with the house. We haven't actually spent anything yet as we're still in the process of getting quotes, but I imagine that most of our emergency fund will be swallowed up by these repairs and maintenance issues.
The annoying thing about this house that we rent out is that we don't make any profit from it. The rent covers the mortgage by a couple of hundred pounds per month and all of that amount goes into the emergengy fund to deal with issues like this. We're not in a position to sell it because the property market hasn't recovered enough to make it worth our while especially when we factor in estate agent and solicitor's fees. We're just thankful though that we do have an emergency fund to fall back on. If these kind of problems had cropped up when we had a ton of debt to contend with, it would have been a total nightmare.
It's a bit of a headache to be honest but for now, all we can do is try to keep our tenants happy. The last thing we want them to do is move out because they do keep the house in good order.
Onto the good news!
I mentioned in January that I had decided to freelance full time as a writer and blogger. I wasn't expecting to have an amazing first month in terms of income but I'm really happy with how things have been going. I'm still waiting for some invoices to be paid but I've earned at least £1500 ($2317) this month before taxes, which includes my freelance writing and social media work, eBook sales and advertising from the blog.
I secured a couple of new clients this month. I was approached to do some writing for a debt management company called Don't Fret About Debt and will be contributing to their blog going forwards. Please head on over to read my first article if you'd like to find out some alternative uses for credit cards!
I found my other new client through oDesk and this particular job is for writing articles related to crafts plus social media activity. Handmade crafts just happens to be my favourite thing to do other than blogging! So I was thrilled to get this job too and I've been working on this for a couple of weeks now. I've not included any income from this job yet as I've set my oDesk payment limits to only pay out once I reach the $500 threshold (being in the UK, I have to pay a fee for withdrawals in addition to my oDesk fees).
I haven't managed to do anything more in terms of earning passive income but my eBook sales are still fairly consistent and will bring in around £175 this month from sales made during December. This isn't as much as I earned the last couple of months from eBooks but it's passive income all the same. Side note – if you want to find out how to make money from eBooks, check out part 1 of my new series here on Disease Called Debt.
Last month our savings stood as follows:
House deposit fund – £3537
Emergency fund- £2509
I haven't transferred any earnings into our savings yet because of the fact that I'm still waiting for money to come in and we don't yet know how much we'll need to shell out for our rental expenses. But I hope to be able to save £1000 this month all being well!
How was February for you?