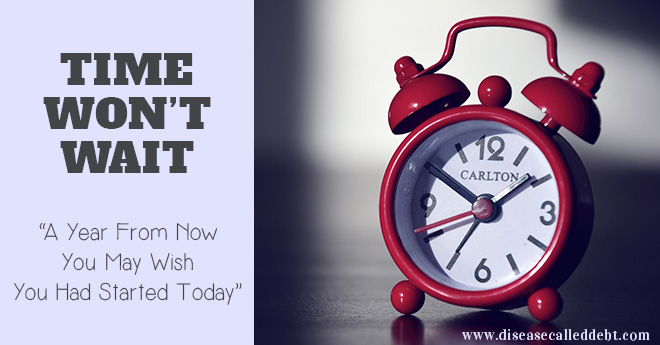 I came across this quote by author Karen Lamb the other day and it struck a chord with me. "A Year From Now, You May Wish You Had Started Today". That's so true isn't it?
If you're thinking about tackling your debts right now, saving money, changing careers or starting your own business, if you can relate to this quote – the chances are you're thinking about making some big changes in your life but you haven't quite taken the leap.
Sometimes the things we really want to do or get on with can seem really big and not achievable at the present moment. That way of thinking leads to us putting things on the back burner for another day. But the problem is that time won't wait.
I do this all the time, not with my debts now, but I dilly dally over starting the right kind of pension fund and I frequently ponder on the best way to start investing. I'm always thinking of new ways for making side income or how to develop my skills and knowledge but very often these ideas sit on the sideline until eventually they fade away.
There's always a reason why I delay the decision to do these things. I don't have the time; I'm too tired; it seems too difficult; I don't have the required knowledge and I can't afford to take a course. My subconscious persuades me that there will be another time to give these things a shot, when I'm less busy and able to do more.
But if we're not careful, we could end up putting things off forever and never giving things a go. I've always been a bit of a procrastinator and I often have to really psych myself up to get things done. When I do psych myself up to get things done, I end up feeling proud of my achievements.
What's your motivator?
If someone offered you £100 to spend a day working on that task you've been thinking of doing for ages, you would, wouldn't you? I know I would. But when we're considering big changes in our lives, there's two uncertain factors that come into play. One is whether or not such a change or a new idea will actually work and the other is that we're not currently earning any money from it. More to the point we might have to lose money to do it or at least feel like we are.
Take paying off debt for example. We don't physically lose any more money of course (and in the end we gain so much more), but we have to make financial cutbacks in many areas to focus on paying debts off. It's not easy, in fact it's downright tough going. We give in, then we feel bad about giving in, then we start again.
One surefire way to achieve something though even if it means giving in and starting again, whether that's debt payoff, saving up for a new home, or learning something new, is to not delay and keep going. If we keep going, surely we will succeed. How can we not? As long as we actually start and then don't stop going down the path we're on, we can't fail. I truly believe that.
Are you up for a change?
There are a few things I wish I'd started last year but I always found a reason not to start it yet. Like a proper pension fund (debts have taken priority and the hubby and I can't seem to agree on what to do for a pension), a few new business ideas (not enough time) and getting fit and toned (definitely not enough time). I'm going to challenge myself to make those changes, to ignore those excuses and just get started, even if I can only do a little of each one of these at a time right now. I don't want to be kicking myself next year if I end up delaying again.
I've started off my day today by going for a long walk with my dog, I've had a bowl of healthy porridge rather than missing breakfast and I'm going to dedicate some time to learning about UK pension funds. I'm also going to spend a few hours this week working on a new eBook.
Will you join me? What ideas for change are you toying with right now? Please share in the comments below what you want to get going with and how you'll do it!