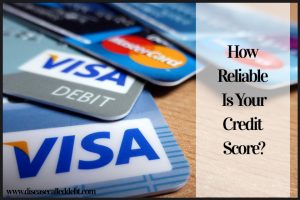 If you've been reading this blog for a while, you may know that during our time spent in debt, we had to enter into a debt management plan (DMP) because we couldn't afford to make the payments on our debts. We arranged with our creditors to make a lower, more manageable monthly payment whilst our finances were really bad, so that we could afford to live.
Doing this though, meant that every single month, we were defaulting on our debts because we weren't sticking to the original credit agreements. We didn't realise the complete impact this would have on our credit score at first because the main priority was actually surviving. It was just something that we had to do. The main impact of being in a DMP is that the defaults stay on our credit file for 6 years, after the date of the last default, making it difficult for us to get credit during that time.
We don't want to end up in a shed load of debt again by any means but we do want to get a mortgage one day so we need to do what we can to repair our credit score to stand us in good stead for getting a mortgage when the time is right (and when we've saved up a huge deposit).
I keep referring to "our" credit score as I write this, because the hubby and I are associated on each other's credit file and any mortgage we get accepted for will be based on both our scores. With that said, my own score when I last checked it a few months ago was in the high 900s, meaning that it was excellent. The DMP was in the hubby's name only so we fully expected his credit score to be pretty dire and that we'd need to spend a long time trying to improve it.
We finally got around to checking it last week, having put it off since November! To do this, we signed up for a free trial with Experian (and then cancelled it straightaway to avoid fees)!
What's a good credit score?
According to Experian, a credit score between 881 to 960 is good and a credit score between 961 to 999 is excellent. The average Experian credit score is 900 I believe. Imagine our surprise when the hubby's credit score was 975?!
Obviously, we thought that there must be some kind of mistake at first, but looking at the credit report in detail, it does show that the hubby has a selection of active credit and is managing it well (our mortgage on our former home and our main bank accounts). All that shows up on the credit report as well as the defaults. We can also see that there's no damaging footprint left on the file, where he's made an application for credit and then been rejected, as that would have no doubt lowered his credit score.
The defaults seem to be a small section on the report but reading the small print, I'm guessing that most creditors will take those defaults into account and refuse credit on that basis even though the overall credit score is excellent. Experian can't guarantee that anyone with a good or excellent credit score will definitely get accepted for credit so we're taking his credit score with a definite pinch of salt. It does make me wonder just how reliable credit scores are anyway…
Maintaining and improving credit scores
There are a few things we're planning to do to make sure that the hubby's credit score remains high on the face of things. We don't intend to apply for any mortgages in the forseeable future so that will avoid any rejections appearing on his file.
Some of our creditors included in our DMP have marked the hubby's file as the debt being satisfied and the account closed. Others still list the debts as defaulted, even though there are agreements in writing to say that the debts have been settled. It's up to the creditor's discretion to mark the debts as satisfied and it seems some of them have decided not to do that. Still, we're going to call them and ask if they'll reconsider, it's got to be worth a shot at least.
The other thing we'll be doing is applying for a "bad credit" credit card which we know the hubby will get accepted for (already had a guaranteed offer from Vanquis in the post but will be reviewing all of the bad credit facilities out there to see which one would suit us the most).
Being able to get accepted for a credit card and then show that credit can be used properly by paying it off in full every month should really help to maintain the hubby's seemingly "excellent" credit score.
What do you think about the reliability of credit scores? Do you have any tips for repairing bad credit?
*Image courtesy of Flickr and overlay added by Disease Called Debt.