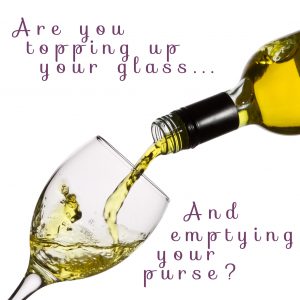 This month, I've managed to salvage another £40 to £50 from our shopping budget. Yay! This budget had already been reduced in January from £400 to around £250 per month, but now our shopping bill per month going forwards will be in the region of £200. This includes food, toiletries and cleaning products etc.
The saving as you've probably guessed from the title of this post is… wine. I've mentioned before that we don't really go out much these days because the cost of a babysitter is astronomical and drinks/food on top of that cost would totally blow our budget at the moment. So up until recently, we've tended to have a drink at home instead. Actually, it was more like me having a drink as the hubby can take or leave it and only has a beer every so often.
The decision to cut wine out of our monthly shop is actually a good one on two different levels. Not only are we now saving slightly more money that we can put towards the debts, but I'm already feeling a lot healthier!
Before I made this decision, I had gotten into the habit of having a glass of wine most nights (sometimes two). 'Wind Down Wine' if you will. Not binge drinking. I just love a glass of wine and after a hard day at work (and being a mum), I often wanted to relax in the evening and this was my way of doing so.
The fine line between drinking to have fun and drinking to cope
Actually, if I think back to when I first started this little habit, it's probably since we started getting in deep with the debts! Maybe I just needed a little escape from the real world from time to time? If I'm honest, I can remember a few times before I had my daughter where I've literally drowned my sorrows to try to forget about being in debt. Yep, binge drinking and definitely for the wrong reason.
This made me wonder just how many people who are in debt turn to drinking (or other substances) by way of escape. I can imagine there's quite a few out there who are struggling with their situation. Whether these people are consuming a little too much 'Wind Down Wine' to relax or binge drinking to forget their problems, this could be the start of a slippery slope of decline both physically and mentally. As well as money down the drain.
Note – another good reason for tackling debt right there. If we don't tackle our debt, the emotional lows we will no doubt end up feeling at some point could lead to greater risk of depression or other health issues, as well having to cope with an increasing financial burden.
Anyway, a little nagging thought entered my mind questioning just how much wine I had been drinking lately, whilst winding down. So I added up the units consumed in an average week and realised I was frequently consuming nearly twice the recommended amount for woman. Eek!
What are the UK government's daily unit guideline amounts for alcohol consumption?
Men should not regularly exceed more than 3-4 units per day, which is the equivalent to a pint and half of beer.
Women should not regularly exceed more than 2-3 units per day, which is the equivalent to a pint of beer or a standard sized glass of wine (175ml)
These guidelines aren't in place to stop us from having a good time partying. They're in place because drinking in excess of the recommended daily amount can in fact affect our health quite significantly. Drinking to excess can interfere with our sleep patterns (which I've found is really quite true), contribute to causes for conditions like diabetes, or worse – increase our chances of getting cancer.
I was a bit shocked to be honest, particularly as this habit had developed over time. I didn't pay much attention to just how much I was consuming and didn't link the fact of regularly having a drink at home to how tired I was feeling. I just thought that was all part of being a mum. And it is to a certain extent – but drinking to excess regularly didn't help!
I decided to read up on the facts of drinking and I'm so glad I did. I've now learned more about my own alcohol intake and it's made me think differently about how much alcohol I want to consume from now on in. I'm not saying I'll cut out alcohol completely, but I'll certainly be cutting down. This will be much better for my pocket and my health!
I decided to not buy any wine this month and found I've not even missed it. Whereas I used to automatically pour myself a glass of wine after getting my daughter to bed, I now reach for a herbal or fruit tea. Exciting? No. Fat and caffeine free? You betcha!
The main difference I've noticed about swapping wine for a less exciting tipple, apart from the saving (and let's face it, I've probably spent way more than I should have done on alcohol over the years), is the fact that I've slept soundly at night for the first time in ages. Plus I'm using my evenings more productively, instead of chilling out (and numbing my brain) with a glass of wine or two. That reason is well worth cutting back for in my opinion!
If you want to cut down for any reason, you could:
Drink from smaller glasses.
Have soft drinks in between alcoholic drinks.
If you're going out drinking, go out later than usual.
Make certain days your alcohol free days each week.
Don't include alcohol as part of your monthly or weekly shop – that way you'll have to actually go out of the house to buy some and you're less likely to do this regularly.
Identify what makes you feel like drinking and try to find another way to satisfy that feeling e.g. if it's because you're stressed, do a workout or read a book for a while. If you just want to relax, try drinking hot chocolate and stick your favourite film on!
If you're interested in arming yourself with the facts about drinking, take a look at Drink Aware which offers a whole load of information and guidance on this subject.
Have you cut something out of your lifestyle which not only saves you money but also makes you feel healthier?
Related posts:
*Photo credit – Wine Swirl by HybridSys (Stock Xchng), text overlay by A Disease Called Debt