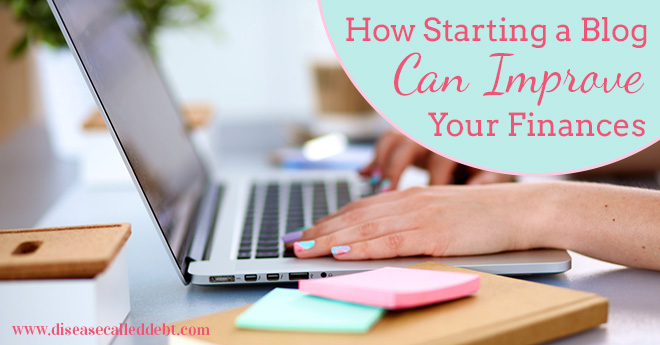 In January 2013, neck deep in debt, I started this blog.
The financial situation that my husband and I found ourselves in back then was dire to say the least. Our debts of over £41K (around $60K in today's money) were out of control. Waiting for each payday to come along felt like torture because money was so tight.
But not long after I started this blog, our finances began to improve. Today, we're debt free and a large part of that is down to this very blog.
This blog has improved our finances in more ways than one and in this post, I'll explain how starting a blog could help your finances too.
1. Blogging makes you accountable to your life goals
Everyone has some kind of financial goal, whether it's to get out of debt, save more, give more or just manage to survive day to day without worrying about money.
I'm not suggesting that you start a personal finance blog like mine. You can start a blog on any topic but still use it to help you work towards your financial goals.
For example, I see lots of craft, parenting and even recipe blogs where now and then the owner of the blog will post something personal about what's going on in their life – sometimes finance related.
That's the beauty of blogging – it gives you a place to document what you want to achieve in your life. You can use it as a progress diary so you can post updates about how you're getting on.
Once you have a following, your readers will want to read more from you. If you have any type of goals, financial or otherwise, your readers will motivate you to achieve them.
2. Blogging gives you a platform to promote your skills
Once you start blogging, you'll develop a whole new skill set, whether you intend to or not. A blog can be a very useful portfolio, providing evidence of your writing and social media skills at the very least.
You can carve out a freelance writing career for yourself off the back of your blog, as I and many other bloggers have done. Your blog can provide you with new career opportunities from various companies and even other bloggers who are looking for writers to help them.
To give you an example, blogging here at Disease Called Debt has landed me many different jobs writing articles about finance for other bloggers and financial organisations.
I also have a craft blog which has helped me to connect with my best freelancing client – the owner of a craft shop in the USA. For this client, I make use of my other craft related skills – she saw that I could make jewelry from various posts on my craft blog. Now I create jewelry-making tutorials for her.
This client wouldn't have found and hired me if it wasn't for my blogs.
3. Blogging can provide you with an additional source of income
A few weeks ago, I published a brand new guide on Disease Called Debt called How to Start a Money Making Blog. If you haven't seen this yet, do take a minute to check it out, as it explains exactly how to get started blogging and the different methods you can use on a blog to make money.
Making money from blogging doesn't happen overnight, but it does happen! I believe this is one of the best ways to make money from home. It's so flexible that anyone can start a blog around their existing day job, or kids, or other life commitments.
Check out my latest income report here for more details of what I've earned from blogging this year so far. There of plenty of bloggers who make money from their blogs – many make much more than I do!
What could some extra income do for you in terms of your finances?
Blogging – one of the lowest cost money-making ventures ever!
Unlike many other money-making ventures, starting a blog costs next to nothing. It literally costs just a few pounds/dollars per month to get set up with a website hosting provider, plus the cost of your domain name / blog URL.
Everything you need to know about getting started blogging is in my free detailed blogging guide, but as a first step, you'll need a website hosting provider where you can install WordPress to design your website and publish posts.
Bluehost is a website hosting provider I highly recommend and they have very low cost hosting packages. They are running an offer right now where the price is just $3.95 per month for basic hosting. That's around £2.50 per month if you're in the UK – it's super cheap!
The usual price for basic Bluehost hosting is normally $7.99 and I don't know when the $3.95 offer will end, so my advice is that if you've been on the fence about starting a blog, don't wait any longer. Sign up to Bluehost now so that you can start your blog at the cheapest price possible.
Starting a blog could change your finances and your life too
Starting your own blog can literally turn your life around and improve your finances. My blog has certainly done this for me! Your blog can provide you with the motivation to make important changes in your life. It can act as a portfolio so that you can show off your skills, even if they are unrelated to blogging.
The most rewarding way that a blog can improve your finances is by providing you with an income stream. Blogs can and do make money and for some bloggers, earnings can be extremely high.
I hope this post has inspired you to start your own blog if you haven't already. Before you go, you might want to check out these posts for further reading:
If you're already a blogger, has your blog improved your finances yet? If you're not a blogger currently, what do you think about starting your own?
*Affiliate links to products/services I recommend are contained in this post.