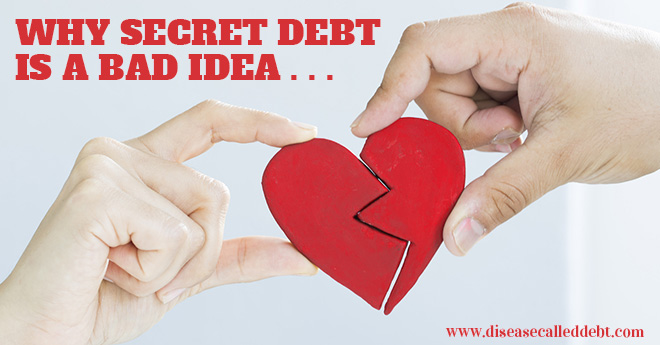 I'm not sure whether I've mentioned this before but there was a time when my hubby kept the true extent of his debt a secret from me.
Secret debt is a sensitive topic, so I wanted to write more about our first-hand experience of it and how we know that keeping debt a secret from those you love is a bad idea.
How the secret debt came about
My hubby and I have always experienced complications with our finances until 2013 when we finally broke the cycle of debt. We actually tried to face up to debt many years ago when my hubby lost his job and we realised back then what a mess we were in. It was all fairly horrifying at the time.
As the years progressed, we managed to get on top of the debt and at one point our debt was at around £15K instead of over £30K. We began to live our lives normally again, going out and having fun like everyone else (so we thought). We ended up going back to paying minimum repayments rather than making a real effort to get the debt paid off.
Soon after we were married, my hubby started up in business with a friend and unbeknown to me, he incurred a lot of debt because of unforeseen necessary business expenses not helped by a heavy commute to work – at that time, we lived a long way from where the business was based. Knowing what we'd been through together the first time, my hubby tried to deal with the debt by himself as he feared that he would lose me.
It goes without saying that when the hubby eventually plucked up the courage to tell me what was going on, it was a difficult time for us both emotionally. He felt so ashamed of this 'new debt' and I felt as though my world had fallen apart even though I understood his reasons for not telling me straightaway.
After the initial shock, we started to work together for the first time on our finances by opening a joint account. This was one of the best things we ever did (as well as starting this blog) as it really opened up the lines of communication for us.
Why do we sometimes keep our debt a secret from those we love?
Our debt is our own business
There's no need to wear our hearts on our sleeves when it comes to having debt, in fact many people choose not to tell their friends or family about it because of being embarrassed or because debt is a bit of a taboo subject in general.
That's understandable, especially when we first get into a relationship with someone – no one really likes talking about their finances on their first date! But some of us decide to keep our debt secret for a long time after things become serious because we still think it's our business and no one else's.
We don't know how to explain what happened
There's no easy way to say, "Er, I'm in drowning in debt and I thought you should know." Many people don't understand how getting into real trouble with debt can happen in the first place and sometimes, we ourselves don't know how it all got so bad. If we've been keeping our debt a secret, explaining this is even harder therefore sometimes it's easier to just say nothing at all and hope it sorts itself out.
We're scared of losing our partner
When we're in love, the last thing we want to do is hurt our partner and the fear of losing them is a great factor in keeping debt secret. We're worried about what they will say, what they will think and possibly whether they will want to continue in a relationship with someone who is 'bad with money'. We might even wonder ourselves what kind of future we could have together realistically if things were to come out into the open.
We want to sort it out by ourselves
We got ourselves into this mess and we'll get ourselves out of it. We don't want to share the burden with our partner especially because they're good with money and they'd be so disappointed in us if they ever found out. We'll tell them eventually but would rather do it when we've made a real dent in the debt – that way, they'll believe us when we say that we've changed when it comes to finances.
Why it's a bad idea to keep your debt a secret from your partner
You could make their world fall apart (and yours)
The longer you keep your debt secret from your partner, the harder it will be to fess up. If you're in a serious relationship, eventually the truth WILL come out either because you can't bear the secret of debt any longer, or you need to apply for something on credit together.
When you tell your partner about your debt problems, you may be faced with anger, confusion and even sadness from them. It's not a great thing to go through, but imagine how much harder it will be if you don't tell them as soon as you can?
Once your partner knows that you've been keeping your debt a secret from them for a while it's going to be much harder to make things right in your relationship. Secrets aren't good for any relationship and you could end up really hurting the person that you love the most. If your partner really loves you, they'll most likely want to protect and help you (after the initial 'getting angry' stage). Honesty is always the best policy.
Your partner could help you to get back on track
A problem shared is a problem halved. By telling your partner about your debt, they may be able to help you sort things out by looking at your finances with you and working out a debt repayment plan.
They may even offer to pay your debts off, in which case I would urge caution unless you know that you will be able to repay them one day. Trust is an important quality that holds relationships together so don't make promises that you can't keep. At the same time, your partner will probably trust you more once you start being honest about your debts.
Secret debts will take their toll on your emotions
Keeping up the appearance of being in control of your finances and not letting on about your secret debt can be mentally exhausting and may even tip you over the edge emotionally. There is a strong link to depression and anxiety when it comes to dealing with debt and if you're alone in your battle with debt, this is going to be an extremely difficult time for you.
In summary, keeping your debt a secret from your spouse or partner could be a disaster waiting to happen for either one of you. Having debt can really impact on your personal life, so it's better to limit the damage it can do to your relationship sooner rather than later.
Have you been affected by secret debt?