Throughout the time my husband and I have been paying debt off, there has been a welcome shift in the way we view money.
There's also been a shift around how we motivate ourselves to pay off debt, which I think has had a great impact on the success we've had so far in trying to become debt free.
We don't beat ourselves up anymore about how we got into debt. Rather than looking back, we look forward now and as strange as this sounds, our debt (once we started tackling it) has given us many opportunities to learn new skills and has helped us create a vision for how we want to live our lives in the future.
I remember the moment very clearly when I really believed we could do what it takes to become debt free. It was when I paid off a credit card back in November 2013. It was a credit card I'd had for 10 years and the credit limit had been maxed out for most of that time.
When I made the final payment to my creditors for that particular credit card, I did so by phone so I could actually hear the person at the other end confirm that my debt had been cleared. I can't tell you how good that moment felt. I believed then that debt freedom was possible even with a ton of debt to pay off.
In the months that followed right up to now, we have persevered in our mission, chipping away at the debts and watching those numbers reduce. There have been months where not much debt was paid off and other months where we had jaw dropping debt repayments. Those ones have kept us going, to the point now where our debt free date is two years earlier than expected (by the end of this year all being well)!
As Winston Churchill once said, "Success is not final, failure is not fatal: it is the courage to continue that counts."
The importance of believing in yourself
If you want to achieve anything in life, don't let self doubt get in the way, because it will just hinder you and put a block on your chances of achieving your personal goals. You have to believe in yourself to succeed.
Sometimes, the people closest to you will have your best interests at heart and think they're being kind when they gently say that you're setting yourself up for a fall. Others will bestow negative opinions of your ambitions whether you've asked them to or not. But at the end of the day, no-one knows what you're capable of but you. Have you stopped yourself from trying to do something because of the fear that you'll fail?
We all fail sometimes. When we fail, we feel bad about ourselves, right? Like we shouldn't have bothered to give it a go in the first place, we've wasted time and the naysayers were right all along. Yes, you might unhelpfully get told "I told you so." But you can choose who to listen to and filter out those opinions that aren't helping you.
So what if you do fail, over and over again? The only person that should matter about letting down is yourself, so you owe it to yourself to keep on trying, no matter how many times you fail. As long as you pick yourself up and keep trying, you can achieve success in the end. That's why believing in yourself is so important.
If you want to get out of debt for example, but you think it's insurmountable, then it will be. You've already doubted your ability to succeed, so you're not exactly starting off on the right foot. But if you truly believe that you can achieve debt freedom, then you will – because something will change in you and you'll start making small steps which will all be going in the right direction.
Perseverance will get you to where you want to go
When you believe that you can achieve your goals, you'll know that you'll get there no matter how long it takes. That's perseverance for you. Perseverance delivers you to the finish line, one way or another, providing you have your end goal in sight and close to your heart. Challenges will arise of course, as they do for everyone. How you handle those challenges will determine your chances of success.
For anyone looking to get out of debt, improve their finances or transform other areas of their life, arm yourself with these two values – perseverance and belief, keep your goal in sight – and you will succeed!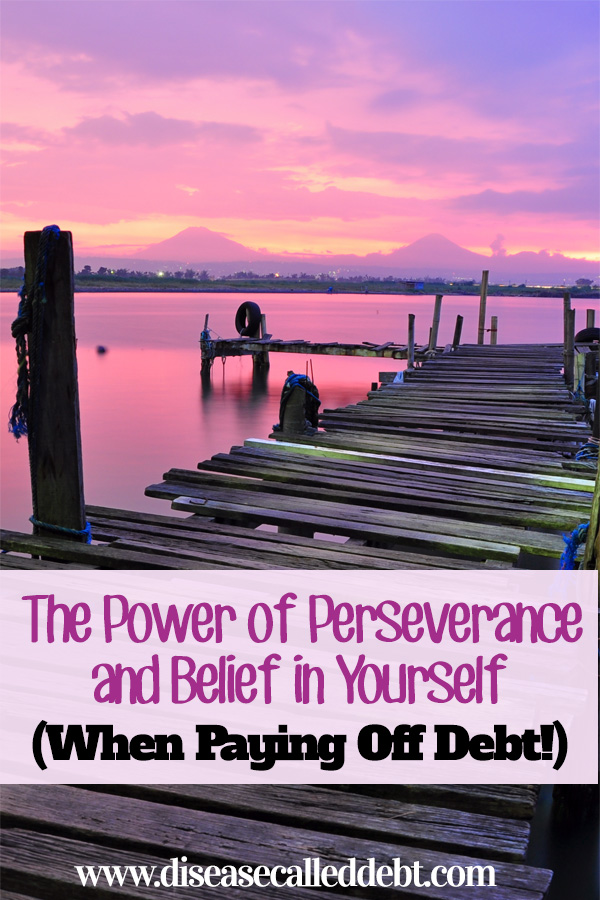 Since writing this post, we've now become debt free! If you want to read our story, click on the image below!