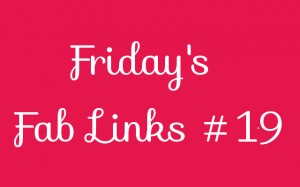 Happy Friday! Hope you've had a good week? You may (or may not) have noticed that I've not been posting quite as often for the last week or so, this isn't because I'm getting bored of blogging or have been slacking off though. 🙂
It's just been because of lack of time what with Christmas shopping, tying up loose ends at work and my Christmas Money Making Challenge! I'll be posting an update about that on Monday but I must admit, it's not been going that all that great! I've made a little money but not as much as I'd hoped. Still making some cash is better than nothing!
My daughter has been really getting into Christmas this year and has been asking lots of questions about Santa and Rudolph the Red Nosed Reindeer! I asked her what she would like from Santa and she answered, "A dolly with yellow dress. Or a long book."
How wonderful! She's not at the age yet where she's asking for the latest gadget or branded clothing item (and I'm hoping I will be able to deal appropriately with that when the time comes)! I did feel really proud of her when she mentioned these things and not something that Santa can't deliver this year like a shiny new bike. Fortunately, a doll and a book are within my budget! I feel very relieved.
Here's my fab links to personal finance reads for this week:
Shannon from The Heavy Purse wrote a great post on How to Create Your Child's Holiday Gift List. She explains how to narrow down your child's wish list to a few things they truly want and teach them valuable lessons about money along the way!
Katrina from Canadian Budget Binder wrote a post called Christmas Countdown: Traditions for a lifetime of memories. She shared some lovely ideas about family Christmas traditions which don't cost that much money such as making your own advent calendar and giving your children a special ornament each year that they can use for when they're all grown up.
Budgets are Sexy published an interesting guest post from Kimberly Palmer as part of their Side Hustle Series. Kimberly shared how she decided to start her own side hustle business making Money Planners. I'm always interested in reading about side hustles and this one is great.
Claire at Ready for Zero posted 30 Ways to Increase Your Income, which I thought was a really handy reference point for anyone looking to earn some extra cash on the side.
Alexa at Single Moms Income wrote Blog Goals Update: How I Tripled my Search Engine Traffic in 30 Days. She explains the process she's currently following for optimising past and present posts which has ultimately led to a significant increase in traffic for her site.
I hope you enjoy these reads as much as I did! Have a lovely weekend all and I'll be back on Monday!
Posts on my site this week:
Related posts:
Image © A Disease Called Debt