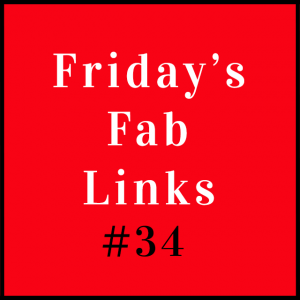 Welcome to the 34th edition of Friday's Fab Links! It's been another busy week for me… I'm still working on my eBook, freelance writing, my day job and I don't quite know where the time is going.
I'm finding that I'm pretty much working around the clock at the moment. I'm not complaining as I enjoy what I'm doing but it does seem like  a long time since I had a break.
So I'm pleased to say that this weekend, our family are going camping, just for one night to get away from it all for a short while! I'm actually going to leave my laptop at home, as hard as that will be for me. 🙂
Here are my recommended reads from this week:
Actually, I should have included this first link in last week's update, but anyway here it is now! You may have heard that Wonga (the UK's largest Payday Loan Company) was ordered to shell out £2.6m in compensation last week for sending out false letters from fake law companies to try to scare their customers who'd defaulted into repaying. Money Saving Expert's Martin Lewis shared his take on this scandal in this post: Why Wonga Should Pay £34,334,929,158 to Everyone it Sent False Letters to.
Money Magpie published an great article called Make Money and Save Money Everyday in July. For each day in July, there's an idea or a handy tip for saving money or making money in ways that you might not have thought of. Life modelling anyone? 🙂
Ricky from Skint Dad highlighted how the cost for throwing a birthday party can soon add up – to even in excess of £400 if a person is throwing a 40th birthday bash! Ricky shared some good ways to keep the cost down in his post How to Throw a Cheap Birthday Party.
Melanie posted her first article as a staff writer over at Vosa this week (congrats Melanie!). I really enjoyed her post called Jealousy. The Fun You THINK They Had. Melanie explained how being jealous of what other people have around us, could actually make us poor, both in a financial sense and emotionally too.
Lauren from L Bee and the Money Tree had a scare recently with someone trying to steal her identity. In case this ever happens to you, you might want to check out Lauren's post where she shared 7 Things to Do When Someone Steals Your Identity.
Thank you to the following carnivals and blogs who mentioned Disease Called Debt recently:
If anyone else mentioned me, please let me know! Have a great weekend everyone!