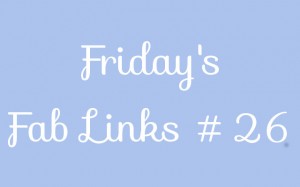 Welcome to this week's edition of Friday's Fab Links – my personal finance blog round up regular feature.
I say regular, but I did actually miss the last two weeks because I was being rather eager with some other posts I wanted to publish, one of them being my February Debt Repayment Update!
The last couple of weeks have been really busy for me with my usual work but also because I've been helping my parents to move house at the weekends. They don't live near me, so I've been finishing work on a Friday night, travelling to where they live, helping them and then returning home on Sunday night ready for work on Monday.
I expect to be helping them settle in for the next few weekends too – this has kind of impacted on my blogging lately as I've not been able to get proper internet access at the weekends! So I haven't been commenting on other blogs as much as usual. Please bear with me, things will be back to normal soon. 🙂
Some exciting work news!
Work is picking up which is great! As well as my day job, I'm starting to build up some freelance work now – I'm going be writing for one of my favourite debt blog websites (Debt Advice Blog) on Fridays in the upcoming weeks and I'm really excited by this opportunity.
In fact, today marks the start of my regular post over there! I'd love it if you would head on over to read my post: Your Partner Has Debt. What Next? after you've finished reading this! By the way, I'm still looking for more work so if you're interested in hiring someone to help with your blog or writing posts, please think of me. You can find more details on my Hire Me page.
Because I move onto my favourite reads from this week, I just wanted to say a big thanks to Lyle at The Joy of Simple for mentioning one of my posts recently in his great Simple Sunday feature. If anyone else has mentioned me, please let me know as I don't always get ping backs.
Here's my favourite personal finance links from this week:
I came across a new forum this week (well new to me anyway) called The Money Shed. It's a forum dedicated to home workers and stay at home parents with helpful information about earning money from home as well as saving money tips in general. From what I've seen on there, it's a really friendly community of like minded folk, willing to help each other out by sharing their experiences. Well worth a look.
I want to mention two posts from Tonya at Budget and The Beach this week. One is called Why I Don't Set Long Term Goals which stresses the importance of finding happiness in your life at the present moment. The other is one that Tonya published on her sister site Healthy, Fit and Frugal called Let's Talk About Your Colon in view of Colon Cancer Awareness Month. This post is really moving and Tonya shares an important message here, so please head on over to read it.
Possibly the funniest personal finance blog post I've seen in a long time; Kali from Common Sense Millennial posted a corker with her post Appropriate Reactions to Common Financial Situations (A Story Told in GIFs).
I'm really trying to eat healthily at the moment which is proving difficult because of my seriously reduced grocery shopping budget. It's actually cheaper to eat processed foods / snacks rather than buying fresh fruit, veg, meat or fish. So I was pleased to read this post from Bargaineering – 9 Real Superfoods You Can Actually Afford. Some of these superfoods don't look all that appealing but they do have a whole heap of nutritional benefits.
My Money Design posted Niche Website Update 15 – A Slow Start for NS4 and $935 in Passive Income! I've been reading more about niche websites lately and the possibilities of making money in this way, so this update post was really interesting to read.
I hope you enjoy the above posts and have a great weekend!
____________________________________________________________________________
Thanks for reading A Disease Called Debt. If you like what you see here, why not subscribe by email to never miss a future post. Please also like my Facebook page – thanks! 🙂
____________________________________________________________________________
Image © A Disease Called Debt