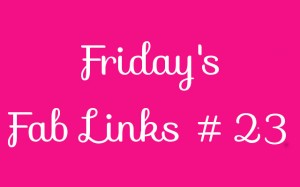 Hello! Welcome to my regular personal finance blog roundup post!
How's your week been? Mine has been busy with working my day job and also working on blogging! I'm probably averaging around 20 hours per week now working on A Disease Called Debt.
Some of these hours are spent writing new posts, editing old posts, reading other blogs and commenting on them. I also spend a little time politely declining email requests from advertisers disguised as writers offering 'free content' for this site in return for a link back to their website. Whilst this worked once when I first started out blogging, I'm beginning to wise up to what looks like a genuine guest post request and also those that are effectively 'free advertising' requests!
I currently spend 20 hours per week on this site for very little financial reward – as much as my hubby is a huge supporter of the blog, he wonders why I invest so much time into it. But I love blogging, especially about debt because it really helps me to focus on something both real and important in my personal life – getting out of debt for good.
My hubby asked me yesterday how much I would sell this blog for if I had the chance and I answered that at the moment, I wouldn't! He asked, "Not even for £200?" I replied, "NO WAY, OF COURSE NOT!" I'm not sure how much this blog is worth, probably not much right now, but it was a huge turning point for me financially and I wouldn't part with it anytime soon! 🙂
Lately some of my time has been spent trying to learn about SEO so that I can increase my traffic and connect with other people in debt like us. The biggest tip I've found which totally makes sense to me in terms of increasing traffic is to write top notch content!
After all, visitors to a blog are much more likely to share a post if the content is really awesome or really helpful to them. With this in mind, I'm going to be looking at ways I can improve my writing going forwards. On another note, if there are any topics anyone would like me to cover, just let me know!
I've also signed up to a Get Readers course run by Daily Blog Tips. The main aim of the course is to help bloggers increase their readership, which is just what I want to do! I'll let you know if I find it useful.
A couple of thank yous
Thanks to Harry from Your Personal Finance Pro for including one of my posts in the Carnival of Financial Camaraderie which he hosted last week.  Also thank you to Debt Free Tejana for mentioning me too in her Wednesday Blog Love! If anyone else mentioned any of my posts, do let me know so that I can thank you as I don't always receive pingbacks.
Here's my links to great personal finance reads this week:
Done by Forty wrote a great post about How We Used Mental Accounting to Pay Off Our Mortgage. Mr and Mrs DB40 have done an awesome job of paying off their mortgage in just 34 months and this post explains how they managed it. I used to think it was normal to expect your mortgage to last at least 25 years before I started this blog. Now, I realise that this just isn't the case!
Laurie at The Frugal Farmer shared her debt story in her post: The Dangers of Short-Sighted Vision and I can certainly relate to this! She explains how she got into debt in the first place and also what made her replace her short sighted vision around finances with her goal of long term happiness.
KK at Student Debt Survivor posted: Are You Prepared for a Natural Disaster – 15 Prepping Tips. With all the flooding that's been going on in the UK in the last month, this is a well timed handy article on what you should have close to hand in case of a natural disaster emergency!
Side hustles are all well and good when you need to earn some extra cash. But sometimes, side hustles are more hassle than they're worth! See Debt Run published a guest post from Stefanie at the Broke and Beautiful Life on Confessions of a Side Hustler.
Speaking of side hustles, Pauline over at Savvy Scot wrote a post as part of her New Year Financial Boot Camp called Earn More Money. If you're looking at ways to earn extra money this year, this is a good starting place as Pauline sums up why you should try to earn more and highlights some ideas for doing so!
I hope you enjoyed these reads as much as I did! Have a great weekend!
____________________________________________________________________________
If you'd like to be kept updated with new posts from A Disease Called Debt, why not subscribe by email at the top right of this page? You'll receive a fantastic eBook on The Gift of Debt if you do. 🙂
____________________________________________________________________________
Related posts:
Image © A Disease Called Debt