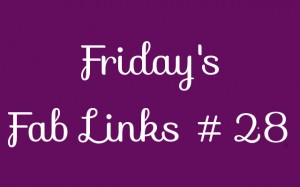 Welcome to my regular personal finance blog roundup post! How's your week been? I've been feeling pretty thankful this week in general.
I've lost count of the number of times I've been grateful for this blog and for the personal finance community but I can assure you it's a LOT.
If it wasn't for this blog and the amazing people that we've been inspired by over the last 15 months or so, I really don't know if we'd have made so much good progress with our debt during this time. Before I started A Disease Called Debt, both the hubby and I felt isolated in our debt situation. We were pretty rubbish with our finances and felt like we were stuck in a dark place with our debts. We couldn't voice our worries and frustrations anywhere for fear of being criticised or rejected in some way.
This blog and the personal finance community changed all that. We realised that we weren't alone and there were (and are) other people out there who've been in a similar situation to us or who are getting themselves out of debt now. It's amazing what can be achieved with a little encouragement and support from people who understand. I'm sure you know who you are so thank you blogging buddies. Hope I get to meet you in real life one day. 🙂
Before I move onto my favourite reads from this week I'd like to say a big thanks to Shannon at The Heavy Purse and Shannon at Financially Blonde for mentioning my post How My 3 Year Old is Earning Her Own Money! recently on their websites. Really appreciate your support ladies!
Here are my favourite personal finance blog reads from this week:
Lyle at The Joy of Simple wrote a great post called You're Not The Boss of Me! Lyle reminds us what freedom is really all about as he describes his self employed and more relaxed lifestyle now as opposed to before when he was working in a corporate environment.
John from Sprout Wealth wrote What Should I Do Now That I'm Done Paying Off Debt? Obviously our debt is nowhere near paid off yet, but this post interested me because I hadn't really given much thought to what we will do once our debt has gone. Sprout Wealth is a new blog headed up by John from Frugal Rules and Grayson from Debt Roundup and focuses around building wealth – I recommend that you check it out!
This post isn't exactly new since it was published in October 2013, but it's new to me so I wanted to include it. Sara from Debt Camel wrote What do to if your Full & Final settlement offer is rejected. You may know that we recently had a full and final offer accepted on one of our defaulted debts recently and others were rejected. I found this post really helpful in explaining why that might have happened.
Shannon over at the Heavy Purse posted 5 Smart Financial Moves to Make this Spring. Shannon shares some great tips in her post about reviewing financial goals and monthly bills, planning ahead for your children's education and basically spring cleaning your finances.
Dee at Color Me Frugal shared How to Save for Retirement the Awesomely Strange Way. As someone who spent many years thinking that my retirement would just be fine and dandy financially because it was ages away, I wish I'd read a post like this years ago. Dee explains some tried and tested methods for retirement planning.
Posts on A Disease Called Debt this week:
Have a lovely weekend all!