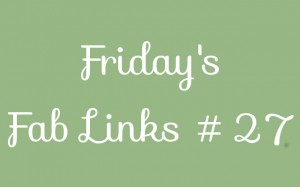 Welcome to my regular personal finance blog roundup post!
Hope you've had a good week? Mine has been rather refreshing… I've made some changes around my work which have been needed for some time but I've been too afraid to make them.
I mentioned recently that work has been picking up for me, which is great of course. I've been working 40 hours per week with my day job and then blogging for another 20 hours or so during the evenings. I've also been doing a little freelance writing work which I'm loving, but it has been a hectic time lately. I also have a little girl who keeps me super busy and I totally don't mind that because she's my baby princess!
So, I've made some changes to my work schedule by reducing the number of clients I have for my day job. (I'm self employed running a business from home). This is something I've been wanting to do for a while now but I've been panicking over earning as much money as possible to throw at the debts. However, I've been trying to do too much and something has to give!
By slightly reducing the number of clients for my day job, I'm giving myself some much needed time to pursue blogging and freelancing whilst still earning enough on my part to keep our heads above water and still have some money left over for debt repayment. My hope is that blogging and freelancing will become busier and ultimately I can do more of this and less of my day job.
The idea of multiple income streams really appeals to me. I like doing different things and also not being 'labelled' as working in a particular profession. When people ask me what I do, I struggle with a sufficient answer because I don't feel like I fit into just one category anymore! (That's a good thing though.)
I've always had side jobs right from the age of 18. Up until a year or so ago, I had a reasonably successful business as a Bridal Make Up Artist but I now offer make up lessons instead because this fits in better with my life at the moment.
I've been a party planner, eBay shop owner and have toyed with a jewellery making business. I might have to write another post in the future about the side hustles I've tried and tested, so watch this space! There are so many other things that I still want to do, freelance writing being just one of them.
Speaking of freelance writing, I'm posting over at Debt Advice Blog today, so I'd love you to head on over to read my post about The Buy Now Pay Later Debt Trap after you've finished reading this!
Here's my favourite personal finance blog reads from this week:
Michelle at Fit is the New Poor pulled off a frugal surprise for her husband's birthday using TaskRabbit! I love surprises, don't you? You don't have to spend a fortune on your loved one's birthday, it's the thought that counts and Michelle definitely put some thought into planning this one.
E.M. over at Journey to Saving posted Two Sides: Debt Repayment earlier this week. E.M. shares how both herself and her boyfriend are using different methods in repaying their debt, both with good results.
We all suffer from crappy customer service from time to time but Holly over at Club Thrifty has had more than her fair share with Comcast, her internet provider! Read her Open Letter To Comcast and see if you agree.
Richard at Frugality Magazine wrote a great post on Why I Accepted a Job I Hate (And Why I'm Still There Now). Sticking out a job that you hate takes a lot of commitment and foresight to see past the slog and the bright future ahead. Have you been in this position before?
Lastly, I'd like to give a shout out to ShoeaHolic No More, who has been commenting a lot lately on this site! So I'd like to thank her for her thoughtful contributions and also spotlight her blog. I don't yet know her name but I hope to one day! 'ShoeaHolic No More' is trying to get out of debt and documenting her progress over at her relatively new blog. She's also doing a great job of de-cluttering her life too!
Hope you enjoy the above personal finance blog reads and have a great weekend!