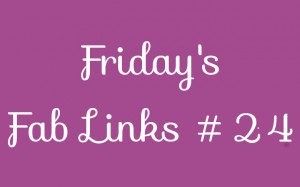 Happy Friday! Welcome to my regular Friday's Fab Links feature – a roundup of my favourite personal finance blog posts from this week.
Ok, give it to me straight… Are my social badges (Twitter, Facebook etc.) over here on the right a bit too large? I've installed the Social Stickers WordPress Plugin and this is on the medium setting. The small setting was so tiny, I had to strain my eyes to see them. I didn't even try using the large icons after seeing the medium setting! Anyway, I guess you won't be able to miss them?
This week, I've been feeling pretty crappy – nothing to do with debt stuff, just that I've generally been under the weather and I've been suffering from a sickness bug for the last couple of days. Ugh. I can't wait for Spring, this cold wet weather that we're experiencing in the UK is running me into the ground!
So I'm going to keep this post short and sweet today as I haven't really got much energy! Before I move onto my favourite personal finance blog reads, I just wanted to say thank you to Pauline at Savvy Scot for including my post Debt Free Living: A Dream or A Reality? in the Blogger's Carnival of Financial Planning last week!
Thanks also to Tonya at Budget and the Beach and Everybody Loves Your Money for sharing my post: The emotional stages of debt: Regret on their sites. If anyone else mentioned me, please let me know so that I can thank you. I don't always get pingbacks!
Ok, onto the main feature!
Girl Meets Debt posted a helpful article called 5 Best Tips for New Bloggers. I wish I'd read this when I first started blogging as it would have saved me a lot of time! If you're a new blogger, I'd definitely recommend reading her post.
Jefferson from See Debt Run posted How to Make Money with a Blog. He shares how to get started with a blogging platform and ways in which you can make money blogging once you're up and running.
Michelle from Making Sense of Cents had another awesome month for earning money! Here's her post on $12,640 in January Business Income. If you're looking for an inspirational read about earning cash, this is it!
Rob from Debt Advice Blog wrote a handy overview explaining Debt Management Plans. The hubby and I are in a debt management plan ourselves. During the time we've been in a debt management plan, it has proved helpful for us and it has given us valuable breathing space when we really needed it.
Charles at Getting A Rich Life posted an interesting read about Six Rules On How To Become A Millionaire. If you can follow these rules, you could be on the way to building significant wealth in the future.
Mark at Money Saving Dude wrote a good book review on The Millionaire Next Door. I've been meaning to get hold of a copy as I've seen this book mentioned a lot in the PF blogging world. If you're thinking about reading it too, you might want to check out Mark's review before buying the book.
I hope you enjoy these great personal finance blog reads – have a lovely weekend everyone!
Posts on my site this week:
____________________________________________________________________________
If you enjoy reading posts here on A Disease Called Debt, why not consider subscribing by email or grabbing the RSS feed?
____________________________________________________________________________