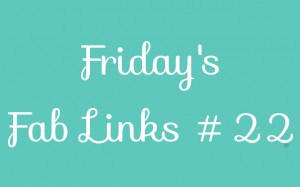 Welcome to Friday's Fab Links, my weekly personal finance blog roundup post! How has your week been so far?
Mine has been pretty good. On a finance note, we're still in the process of taking over our Debt Management Plan ourselves so we're waiting until this has been completed before making any extra debt repayments. We're being very careful with our spending so we should manage to squirrel away some savings at the end of the month which will go towards the debts. This will also be aided by a lower tax bill than expected. Result!
In relation to blogging, I've been focusing on SEO in the past week. My knowledge about SEO is very limited but I'm going to be making some slight tweaks to some of my older posts to try to optimise them a little better and drive more traffic to the site. I'll let you know if I manage to succeed! I really want to grow my blog as much as possible during 2014. 🙂
Now onto my fab links from personal finance blogs this week:
J. Money from Budgets are Sexy wrote about his One-a-Day Habits (And Why They're Important). By forming daily habits around personal goals, you can become more productive and achieve what you need to achieve faster.
Shannon over at The Heavy Purse shared 3 Steps to Raising Financially Confident Children. She explains why being a good financial role model as parents is key as well as the importance of teaching your children that allowance should be earned rather given. Wise words that I'll definitely be referring to now and in the future!
Melanie at Dear Debt published an inspirational post on Your Self Worth is Not Your Net Worth. All the money in the world doesn't necessarily make a good or happy person. Money might be a tool that can help you achieve your aspirations but there are plenty of other areas in our lives such as our love for family or friends where we may already be 'rich'.
Trent at the The Simple Dollar wrote Frugality as a Life Preserver? He explained how he and his wife turned to frugality when they were really struggling financially and why they continue to live frugally even when things got better for them.
Michelle at Making Sense of Cents posted Following Your Passion Is Not Just Luck. Many of us have a passion but have we really thought about what it takes to follow it? Michelle explains why you need a plan in order to become successful in following your passion.
I hope you all enjoy the above posts and have a lovely weekend!
___________________________________________________________________________
If you'd like to read more from A Disease Called Debt, why not consider subscribing over at the top right of this page? You'll receive a free eBook on The Gift of Debt if you do. 🙂
___________________________________________________________________________
Related posts:
Image © A Disease Called Debt