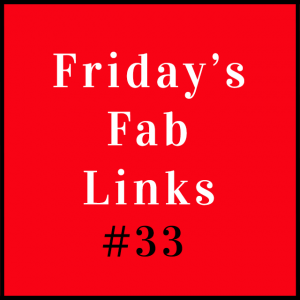 Welcome to the 33rd edition of Friday's Fab Links, my regular personal finance blog love post. Hope you've all had a good week!
This week  I was approached by Bella Magazine (a UK Women's Weekly Magazine) asking for help with a case study that they are involved with. They are urgently looking for mums who spend lots of money – and who've even got into some kind of debt – making sure their kids have fun over the summer.
I know that many people who read this blog are great at saving money but entertaining the kids over the Summer holidays can be an expensive task so I thought I would post this in case anyone can help and would like to be involved.
Bella Magazine are looking to interview mums who perhaps pay for expensive summer schools/activities/sports/lessons or spend money taking their kids away on holidays or festivals during the Summer.
As a token of appreciation, they are able to pay a fee to whoever's chosen to appear in this case study. All those taking part will be able to approve their contribution before anything is published. If you're interested in taking part, please contact Caroline at Bella Magazine via email: caroline(dot)benjamin(at)bauer.co.uk
Here are my recommended reads from the PF community this week:
Rob at Debt Advice Blog explains what it's like to self-manage a Debt Management Plan by yourself, without going through a Debt Management Company. We've been finding it tricky with just one creditor so Rob is doing a great job managing his so well. You can read about what this involves in his post: The day to day of a Self Managed Debt Management Plan.
Tonya from Healthy, Fit and Frugal wrote an amazing post called Why Happy is More Beautiful than Beautiful. If you've ever felt fed up about your looks, your weight or just generally your appearance then this post by Tonya will probably change your views. There is a really inspirational video included in this post to go with it.
Melanie over at Retire By 40, wrote What is the One Thing Holding You Back? Melanie describes how many opportunities can be missed by giving in to the fear of failure. If we pluck up the courage to overcome our fears and learn something new, then it's possible to achieve so much more.
Maria at Enemy of Debt wrote Why You Should Make Your Pension a Priority. Maria outlines a number of clear reasons as to why saving for retirement is paramount. This post makes me want to increase my retirement savings pronto, even with a great big pile of debt still to pay off!
Have you ever tried your best to save money but found that you just can't stick at it for very long? A Thrifty Mrs explains 5 Reasons a Money Saving Lifestyle Doesn't Work For You. As I was reading this, I found myself remembering the times when I used to try so hard to save money only to give in after a few weeks to splurge on something.
It's been a busy week on Disease Called Debt this week so if you missed any posts, here they are:
Thank you very much to the following for including Disease Called Debt in recent carnivals or posts:
If anyone else mentioned me, please let me know as I don't always get pingbacks! Have a great weekend!