I've teamed up with Santander today to bring you this post and infographic about bills, bills, bills! Did you know that 1 million households in the UK don't open their bills at all, never mind read them? Scary!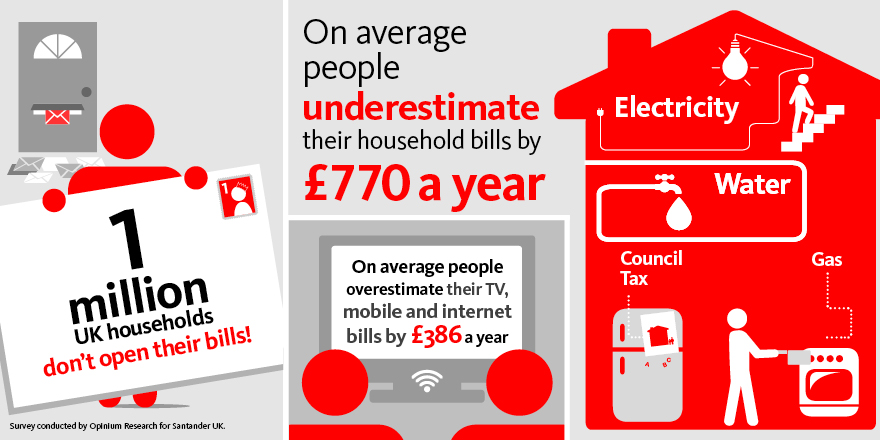 I have a confession to make… I'm a mail hoarder. I have a stack of mail that lives on a shelf in my hallway and I don't very often get around to filing it or shredding it, even though I do have a shredder. A few times per year, the stress of looking at the ever growing pile of mail becomes too much for me and I go through around half of it before the tediousness of the task takes over and I leave it for another day!
The good news is that I do actually open the mail. I open each and every envelope so that I can cast my eyes over the contents and make sure I don't owe any money to any creditor or supplier and also so I can check that any bills look reasonable. The hubby and I both learned serious lessons years ago about the consequences of not opening our mail (a great big build-up of debt, in case you were wondering)!
So I do open my bills, unlike a million other households in the UK, according to Santander's infographic above. I quickly glance at the amount on the bill to make sure it looks roughly right and then I toss it on top of the pile of mail. This got me to thinking though about how I never really check the details of my bills to see whether I could be saving any money.
All good things come to those who analyse and double-check!
In a little experiment, I've just hunted out my last utility bill which includes gas, electric, home phone and broadband (I'm with Utility Warehouse which in my opinion is the cheapest supplier in the UK if you take all four services like I've done).
The bill amount looked reasonable enough to me – £136 last month for all my utilities as mentioned above. I looked through the nitty gritty details whilst trying not to be bamboozled by all the energy jargon – how many kWhs I've used and what my unit rates are.
Then I noticed a section in the bill which stated quite boldly, "Could you pay less?" This section then went on to explain that even though I was on a cheap tariff, I could switch to an alternative electricity tariff to save £18.85 per year and an alternative gas tariff to save £21.37 per year. There it was, written quite plainly in black and white – an instant saving, right before my eyes!
Following that discovery, I searched through the list of phone calls I'd made last month and realised that I'd been charged £2.60 for calling a special rate number – I'll definitely be paying more attention to my phone calls from my now on!
Anyway, after this little exercise, I got straight on the phone to swap my tariffs and am now feeling pretty good about saving a little money like this, especially because it's December  – the run up to Christmas usually involves spending, not saving!
Do you open your bills? Have you checked them properly lately?
*Infographic supplied by Santander. Whilst this post has been funded by Santander, all opinions are my own!