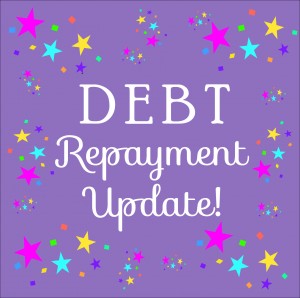 I know it's not quite the end of the month yet but it's with much awaited anticipation that I write this post today, to share with you my latest progress on debt repayments!
Yes, I'm very happy and just a tad excited because last week, I actually paid off my darned credit card; my flexible friend that I have no desire to spend time with again; the thorn in my side for over 10 years. Yippee, it's finally gone everyone!
As you may know, my goal was to pay this credit card off by the end of the year but last month it was all looking rather unlikely because of the fact I won't be earning much at all in December. The hubby and I are going away over Christmas to stay with relatives but because I'm self employed, if I don't work, I don't get paid.
Anyway, I had £1299 remaining on my credit card and I can scarcely believe it's now paid off! In fact, we actually made a massive debt repayment of £1534 in November! We were able to get the money together in the following ways:
We paid our minimum payments which equated to £296.50.
We sold a contemporary painting for £450 that we bought 10 years ago.
I took on a temporary client and managed to earn an extra £287.50 during this month.
The hubby managed to take a bonus from work in advance for Christmas of £500.
(I was gutted when we decided to sell our painting but it's really bumped up our debt repayment so I'm feeling a lot better about that now. We'll just have to make our own wall hanging to go in its place.)
This takes our total debt figure from £35,272 last month down to £33,737!
Needless to say, I did go out and buy a bottle of wine (cheap plonk) to celebrate going well below the £35K mark! This year since January, we've paid off £7751, which is around 18% of our total debt.
I remember talking to the hubby back in January and saying about how I really wanted rid of this particular credit card by the end of the year once and for all. My hubby was skeptical (in a nice way) because he didn't want me to get my hopes up and then be disappointed.
Last month, I'd resigned myself to the fact that I'd probably be able to pay off that card come January 2014 instead of this year – that would be really great of course. One month over my deadline wouldn't be at all bad. I'm just so happy though that I've managed to pay it off now a month early. This is a really awesome feeling! It's like a huge weight has just been lifted.
Making the final payment
When I made this final payment on my card, I phoned up the creditor to do so rather than make the payment online as I've always done beforehand. It was just such a momentous occasion, I had to be sure that the balance was completely cleared and hear it from the horse's mouth.
I repeatedly asked the poor guy at the end of the phone whether he was sure my balance had been cleared.
Me: "Can you confirm that once this payment has been made, that's it – the balance has been cleared?"
Him: "Yes. It has been definitely been cleared madam."
Me (anxiously): "But are you sure you've calculated any interest correctly so there won't be more added on next month?"
Him (bored voice): "Yes. I can assure you that the interest has been calculated correctly."
Me: "So there will be no more payments?"
Him (pauses): "That's right."
Me: "So can I cancel my direct debit?"
Him (confused): "You want to cancel your direct debit?"
Me: "Yes pleeeaasseee!"
Him: "Um ok, I've cancelled that off for you. Please note that any payments in the future will need to be paid by alternative methods."
Me: "Okey dokey then! Thanks for your time!"
You may note that I didn't close the account. I wasn't sure whether to do this or not, the only reason that I was thinking that I shouldn't is that the account is a bit like a security blanket just in case some awful emergency crops up. So as yet it hasn't been closed but I did cut up the actual card two years ago so the only way I will be able to spend on it is to order a new card.
I also didn't want to close the account because one day in the future I might be able to use credit cards in a responsible way to my advantage and earn rewards from them whilst paying the balance off each month. But I'm still reeling from the whole credit card experience so I won't be going down this route anytime soon.
Next steps for debt repayment
Our next goal is to actively tackle the debts within our debt management plan. The plan consists of debts to four different creditors and currently we're paying a reduced amount to each of them. With my credit card debt gone, we now need to undertake a review with our other creditors in the New Year and increase our payments to account for the extra we're saving by not having to pay off my credit card anymore. We'll be continuing to save money and earn money wherever possible of course! I'll be posting specific goals in January regarding debt repayments for 2014.
How has November been for you? Are you on track with your financial goals?
_____________________________________________________________________________
If you'd like to be kept updated with future posts, please consider subscribing by email or RSS to make sure you don't miss them!
_____________________________________________________________________________
Related posts:
*Image © A Disease Called Debt