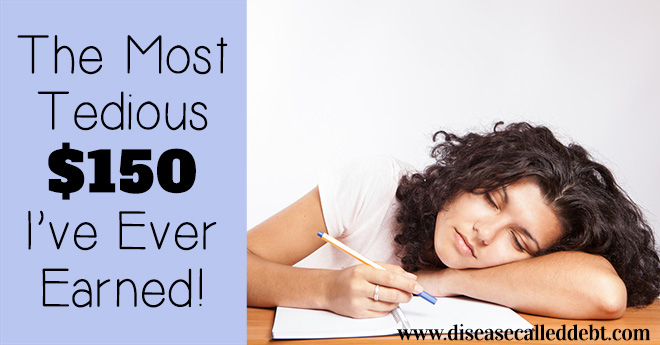 Before I tell you about the most tedious £100 (approx $150) I've ever earned, I just want to say that of course earning any money is great, no matter how much is actually being earned.
But there was one particular job that I took on a couple of years ago that was so dull, I just had to write a little post about it!
I'm always on the lookout for jobs on the side to make a little cash and this particular time, I decided to try to find some 'admin' work that I could do from home. I was aiming for a Virtual Assistant post but couldn't seem to find anything suitable.
Then I stumbled across what looked like a really easy gig on Gumtree. Some guy (let's call him Jack for the sake of this post as I can't actually remember his name) wanted some paper filing doing for his tax returns. Jack lived locally to me so I got in touch with him and we discussed the job in further detail.
Jack sounded like a nice chap and explained that he wasn't the most organised of people. He was a sole trader and focused on the hands on stuff which was basically getting new business and keeping old business going. Although he had submitted his tax returns for the last few years, he hadn't bothered to keep his receipts in order and he didn't use a spreadsheet or anything like that.
So, in a nutshell, Jack wanted me to go through his work receipts and put them into date order by month and year and also by category i.e. advertising. Perhaps alarm bells should have sounded at the 'year' part of this conversation, but all I could think was, "Yippee! What an easy gig! Bring it on!"
I told him that this job would take me around 10 hours to do and I would charge him £10 per hour. He agreed and I started looking forward to an easy £100. Filing is easy-peasy-lemon-squeezy right?
Soon afterwards, Jack came to my house to meet me face-to-face, we shook hands on our little business deal and then he went back to his van to grab the box of filing. Or should I say 'boxes' (6 large boxes in total). All full of tiny little receipts. As he brought them into my home one by one, my smile soon faded away and I started to feel a sense of dread.
I pried open the first dusty box and found that some of the receipts dated back to 2006/2007. Trouble was that much of the lettering on the receipts had faded, which meant I had to try to decode what the date was on each one and link them to similar receipts to verify. I also had to guess which categories each receipt slotted into as there were a LOT of different things Jack had spent money on for his business.
Ever felt excruciating pain before? Well, that's what my head felt like after I'd gone through the first box, which took me a mere straight 5 hours. I realised that this could be the most boring job ever and I'd totally misjudged what the task entailed but Jack was expecting me to perform miracles with these fiddly little receipts!
After the second box of torture, I made an executive decision and subcontracted my friend in to help me. At first she was excited about the opportunity to make a little money for what seemed like an easy task. (Cue evil laughter – mmmmmwwwwahahahahahaha!!!!)
When she'd done half a box, she'd changed her opinion of the job, but like a true friend she stuck by me and helped me get the most boring task in the world done. We had a good chat throughout along with many tea breaks and eventually the filing was complete. I called Jack, he paid me and I gave £20 ($31) to my saviour. So actually this was the most tedious £80 ($125) that I've ever earned. Boy oh boy, I was so glad to see the back of those boxes.
Here's what I learned during some of the dullest hours of my life:
If you're going to take on a side gig, make sure you really know the job and what it actually entails.
If you're not sure how long it will take you to do, work out an arrangement with your client whereby you keep them updated on how long the task is taking and bill accordingly.
Even if the job isn't what you expected, it's still not a good idea to let the client down, because you should have done more background work beforehand.
Don't sell yourself short – you're worth it!
Doing a side gig which you actually enjoy will really help.
It's well worth having good friends. 🙂
What's the most boring job you've done before to earn extra cash?