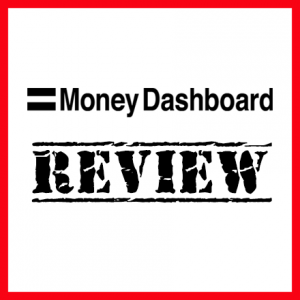 The following is a paid review for Money Dashboard – free financial software which lets you track all of your bank accounts in one place. All opinions are my own!
These days tracking our expenses is a necessity, not only to make sure we're not overspending, but also to help us forecast how much money we might have left at the end of the month for debt repayment.
It's a tedious task and my current system of doing this consists of checking my main bank account against a frequently updated spreadsheet where I list all of my expenses and the dates each payment is due to go out.
Sure, it works fine – but there's a lot of messing about involved as I go back and forth cross checking between my spreadsheet and online banking, especially when I need to make notes.
This process of checking has kind of slipped a little over the last few months, as I was making an effort to do this each day and now I check my finances around once per week.
So when Money Dashboard approached me to let me know about their free financial software which helps people to keep on top of their spending, I jumped at the chance to review it and earn a little money in the process. I'm definitely open to the idea of some kind of financial tracking system if it will make my life easier.
Money Dashboard is for UK users only and from what I've seen, it's pretty similar to Mint, which is available to users in the US.
So what is Money Dashboard exactly?
In a nutshell, it's a free online service which you can use to link all of your bank accounts in one place to give you a full picture of what's happening with your money. Money Dashboard links to any bank accounts that you add into the application such as current accounts or savings accounts and it lets you see the last 3 months' worth of transactions. You can use Money Dashboard via a web browser or on the go by using your mobile with their free iOS or Android Apps.
What are the advantages of using Money Dashboard?
1. It's easy to see all your account balances together in one place
I have a number of bank accounts at the same bank here in the UK. I have a business account, a current account and a couple of savings accounts. Basically I can already see most of my accounts in the same place anyway. So I wondered what Money Dashboard was going to offer me that I don't already have access to.
One major benefit that I saw straightaway after I signed up was a box on the left which made me feel unusually rich. For a few seconds at least! Money Dashboard added up the money that was in each of my bank accounts and gave me a very nice positive balance. I could see straightaway that I wasn't overdrawn in any of my accounts. Very reassuring to know! Obviously I have bills about to go out of my accounts, so the figure that I saw will decrease soon enough but it was pretty nice to see my total balance up there like that.
2. You can categorise your transactions
Money Dashboard pulled all of my transactions together from each account under one statement. Amazingly, this software managed to add a category to certain areas of spending without any input from me. For example, I had a payment go out of my bank recently for a Vet's bill. Money Dashboard knew that this payment was for 'Pets' and categorised it as such.
There were a number of transactions which weren't categorised and I was prompted to click on a drop down box so I could put such transactions into a pre-made category. I couldn't see a category on there that wasn't relevant to me.
Why is that helpful? Because you can see how much you're spending on 'Pets' quite easily or how big your credit repayment category is each month. That is useful and my bank does not offer a similar feature – this is the kind of checking I would normally do manually through my tedious spreadsheet tracking process.
3. You can forecast your monthly expenditure
Within Money Dashboard, there's a section for predicting your monthly expenditure, notably the future planner section. When I clicked on this, I was asked to choose an account, so I chose my current account, where all of my monthly bills are taken from.
There was already a pre-populated list of expected future transactions for the month ahead based on my recent transactions. Not all of them were listed there, but I clicked 'add all' to the ones I could see and I was then transported to a visual calendar for the month ahead showing these predicted transactions. I was really happy to see that these transactions were showing on the expected dates and not only that, it showed me what my expected bank balance would be after the future transactions would be made!
To get this to work for me more effectively, I will have to input all the transactions which are missing. There were quite a lot missing but once these are input, it seems that they will automatically appear in future months. Also, when I tried out this feature, I hadn't added in details of my monthly earnings (there is separate section for that) so the balances were a little off. I'm self-employed so my income varies, this will mean I'll have to go in and change the salary figures each month.
However, I can see that this will work quite well once all the right information is added in to this function. Currently, I rely on an Excel spreadsheet to work this kind of thing out for me and I have to copy and paste all the formulas every month to start afresh. With Money Dashboard, I shouldn't have to do all that once the information has been input once. It should just work seamlessly (I would need to keep on top of bill payment amounts changing of course).
Money Dashboard also has a nice visual graph function where you can see your current balances and projected balances for up to 6 months ahead. Whilst I'm on the subject of graphs, there are plenty of them. I could see straightaway that the majority of our spending (82%) goes on household bills – ouch!
Why is Money Dashboard free to use and is there a catch?
I did wonder this when I registered and saw what Money Dashboard could do. "When am I going to be asked to pay something?" I thought. "How are they getting the money together to provide this service free of charge to the good people of the UK?"
Well, it turns out that Money Dashboard receives funding from their management team, business angel investors and Scottish Enterprise. Apparently, we are not going to be charged for this service!
What about security? Surely you shouldn't give out your bank details just like that?
This was the first thing that entered my mind when signing up to Money Dashboard. Even though Money Dashboard has been in existence since 2010, I must admit that I hadn't heard of it. And even though I was asked by someone who seemed very professional and trustworthy to share my thoughts on this service, I still did my research before I went ahead and input my bank details.
When you go onto the Money Dashboard website, one of the first things you see is the fact that this service has been endorsed by The Times, Daily Mail, BBC and The Independent. That made me slightly less nervous.
I then had a look at the security information which is detailed on Money Dashboard's home page. I was happy to see logos for GlobalSign and TRUSTe – reputable security solution providers. This information then pointed to a whole separate page about how secure the Money Dashboard system really is.
It turns out that they use an Extended Validation security certificate with 256-bit encryption. This is the same level of security that national banks use and it means that your data is fully protected at all times. Phew!
Although Money Dashboard can 'read' information from your bank account including transactions, what it can't do is move your money around. It's a service that pulls your financial information together in a logical way so that you can use that information to analyse and keep on top of your accounts. You can't use it for carrying out banking services. Quite rightly so.
Even then, I went ahead and googled Money Dashboard to read all I could first. Doing this confirmed to me that this free service is 'above board' and I was then happy to proceed.
How easy is Money Dashboard to sign up for and use?
It's a doddle. The website design is simple, appealing and importantly it's easy to navigate. All you have to do is sign up with an email address and password and start inputting your bank details to see an overview of your accounts.
Remember how I have a few different bank accounts at the same bank? Well, I was most impressed to see that once I inputted one set of bank details in, the whole lot filtered through without any problems – the details of all of them just appeared. So if you keep your banking in the same place like I do, you won't have to mess around putting different bank details in.
I do have a couple of other bank accounts that I would like to see in my Money Dashboard and I noticed that one of my providers wasn't listed in the 'add account' menu. After doing a little investigating, it seems that you can email Money Dashboard to ask them to add your provider. Great!
In summary
I'm glad I got the opportunity to review Money Dashboard, because it is a really useful financial tool. Moreover, it's FREE to use, SAFE to use and it's pretty smart too! The category section and reporting tool is most definitely useful and the overall picture this service presents of your accounts looks to be accurate – there's no doubt that it's handy to see your finances displayed like this.
I think there is a bit of legwork to be done from me in order to get my transactions to appear where they should, so that I can use the forecasting tool properly, but once this is done, I imagine it will be plain sailing!
Will you (or do you) use Money Dashboard?