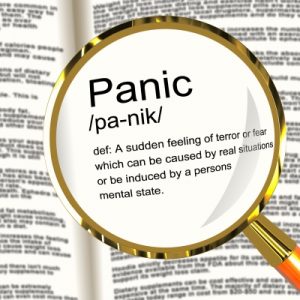 Have you ever heard of statute barred debt before? I hadn't until last week when the hubby and I had a couple of teeny setbacks in terms of our debt. Our setbacks weren't related to any unexpected bills or anything like that, it's just that we've been feeling rather unsettled about certain issues that have cropped up.
I'll explain the full story in a couple of posts I think otherwise this one will end up too long! So part 2 will be published next week because for now, I'd like to tell you about a scary letter I received a week ago.
Actually the letter wasn't exactly that scary, more like the phone call that followed it.
Here's what happened…
I opened a letter addressed to me in my unmarried name at the address where I'm living now. Here's an extract from the letter:
RESPONSE REQUIRED
We need to contact the above named person regarding an important personal matter and we have been provided with your address. If you are the above named person, please contact our office on (xxxxxx), if you are not the named individual, please contact us immediately so we can update our records.
Was I suspicious? Yeah, but curiosity got the better of me.
My first thought was that this was from a company trying to sell me a product and from the name of the company, I knew it was to do with credit. So I thought it was a payday loan company or something similar.
Despite the uneasy feeling I was starting to get, I phoned the 0844 number that was on the letter (charged at a high rate of course). The person on the end of the phone asked me to confirm some details which I tried to avoid but basically they had my mum's address where I lived many years ago so I ended up confirming who I was without telling them my date of birth. At this point I was thinking that I was going to somehow get my details 'cloned' over the phone by a fraudster.
Once we'd got this out of the way, this person told me that I was being chased for a debt of just over £400 from 2003 to some catalogue company! It was such a shock and I honestly don't remember having any credit with the company they mentioned! My credit file is actually very good despite the amount of debt I've had over the years because I've never defaulted on any payments. Looking at the file, I can't see anything in my credit history to say that I've defaulted with a creditor. I told the person on the other end of the phone that I didn't know anything about this debt and they replied that they will be contacting the creditor for a copy of 'my agreement'.
When I came off the phone, I felt utterly sick and mortified. I racked my brains to see if I could extract any recollection of this debt that this company is claiming that I owe from over 10 years ago. And I can't! Could I have forgotten about it? Surely not! I did have a catalogue before then back in 1998 (showing my age now), but it was a from a different creditor.
I don't think I even lived at my mum's address back in 2003 as the hubby and I bought our first house together that year and before that we rented a flat for quite some time. I wondered why wasn't I contacted about this before if indeed this creditor believed I owed them money? I was only sure of one thing – I did not have £400 to give to this debt collection agency.
Then I found out about Statute Barred Debt legislation
Luckily for me, my blogger buddy Rob from Debt Advice Blog is pretty much an expert on anything to do with debt and so I sent him a rather panicky email straightaway asking for help! He was able to provide some sound advice on how to tackle the situation. Thanks Rob! I also posted my little problem on a forum on Money Saving Expert and received lots of replies back from other people in similar situations. In a nutshell, I was advised that:
The creditor might not be certain that it's me they're after but have decided to try it on anyway. The fact that this debt collection agency didn't have my agreement to hand highlights that this might be the case.
Given that the debt is over six years old means that it's classed as 'statute barred debt' as long as no contact has been made during that time where I've acknowledged the debt or made a payment. 'Statute barred debt' is a piece of UK legislation and means that although a creditor can ask you to repay an old debt they can't legally enforce payment i.e. take you to court, because of the length of time allowed to elapse without any contact from them.
If I'm contacted again, I'm to send a standard 'statute barred debt' letter to the debt collection agency. This will outline the fact that I have no knowledge of the debt and unless they can prove that a payment has been made on this debt by myself in the last six years, I will need to remind them of their obligations to comply with debt laws specifically 'statute barred'. Otherwise I'm within my rights to make a complaint about the creditor to the Office of Fair Trading.
For anyone else in this situation, you can find a factsheet on Liability for Debts and the Limitation Act on the National Debtline website (for England and Wales). The factsheet explains the legislation surrounding old debts and has a 'statute barred' sample letter template attached!
Phew! I'm not in the clear yet but I feel a lot better thanks to such fabulous experts on these matters. If you ever get into a pickle financially, it's well worth a look on Rob's blog as he has a wealth of information on there relating to debt and Money Saving Expert is also a great resource website.
This experience made me wonder how many other people have been (or are being) wrongly accused of old debts or are being chased unfairly like this?
Have you ever been chased by a debt collection agency? How did you deal with it?
____________________________________________________________________________
Editor's note: I thought I would add a quick update about this – as of January 2014, I haven't been contacted again by the debt collection agency and there has been no magical copy of any agreement through the post. Just goes to show that debt collection agencies do try it on!!
On another note, you might want to check out Keep Calm and Carry On! Part 2 whilst you're here. 🙂
You can also subscribe to future posts by email (top right of page) and you'll receive a free eBook, The Gift of Debt, delivered to your inbox within the next 5 minutes!
_____________________________________________________________________________
Related posts:
Image courtesy of Stuart Miles – freedigitalphotos.net