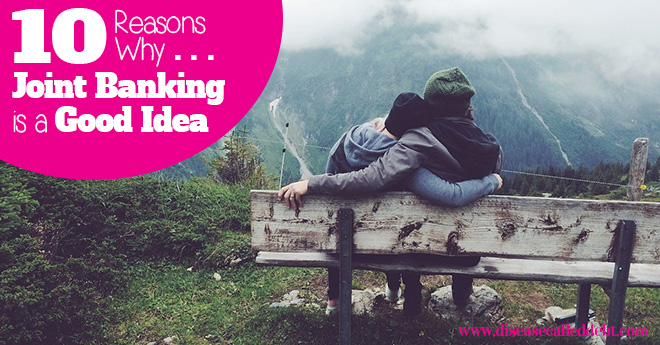 Should couples have joint bank accounts? It's a debatable topic, but we've found opening a joint account to be one of the best decisions we've made!
It took the hubby and I over 10 years to open a joint account. It was sort of a taboo subject for a while, with each of us wanting to retain our financial independence for as long as possible.
Now that we have a joint bank account, we've found that the financial independence side of it doesn't really come into it as we have the same goals and thinking around money matters. It's the best thing we ever did for tackling our debt together and understanding our financial situation more accurately.
But it's not for everyone. Lots of couples steer clear of joint accounts, but why?
With joint accounts comes emotional barriers
Firstly, there's the trust factor. What if your other half went on a spending spree or purchased something that was really expensive without letting you know? Or even upped and left and cleaned out the account? Yes, that's a tricky one and I guess you have to really trust your other half before setting up joint banking. These points are something you need to discuss beforehand as to how you'd handle spending like this and what you would do with the joint bank account should you separate.
Secondly, there's the fact that some people may earn more than their partner and feel that by getting a joint account, they are giving up their hard earned cash and will no longer have the freedom to spend as they see fit. A way around this is for couples to keep their own bank accounts as a 'spending allowance' and also set up joint banking just for bills.
Thirdly, some people just like privacy and financial issues are very personal, there's no getting away from that.
All of these things do need to be considered before opening a joint account together. You have to ask yourself whether you're in a serious relationship and whether you can handle the emotional aspect of sharing your finances together.
For our family, the emotional aspects took time to overcome. We dipped our toes in the water by opening a joint account for bills and still kept our own accounts too. We realised eventually that we were in it for the long haul so we needed to agree and have control on all of our finances. We then decided to merge our finances completely.
10 reasons why opening a joint account is a good idea:
1. Joint banking opens the lines of communication around financial issues
My hubby and I never used to talk about what went on in our own bank accounts. We paid our main bills with no problems, so what else was there to discuss? We never discussed or questioned each others spending and because of this, we didn't realise the extent of our debt as a family. When you have a joint bank account, it means you have to talk to each other about your finances and this in itself helps in terms of staying in control.
2. There's less chance of financial secrets if you share a joint account
If you've been reading my blog recently, you might have read my post – Is someone you know hiding debt? My world fell apart when I found out just how much debt my hubby (then boyfriend) was in. He didn't tell me the extent of it at first because he was afraid I would leave him and he was trying to sort it out by himself.
That way of thinking – sorting out our own financial messes – actually got us into more of a financial mess as a family as we were both doing our own thing and money matters got further and further out of control. Getting joint banking sort of forces you to be honest with each other about how much money you both earn, what your main outgoings are and how much you are both spending elsewhere.
3. You'll both have a complete overview of your finances
When you have a joint bank account, you can easily see (especially if you have online banking) how much money is coming in and how much is going out. This doesn't have to be a case of checking up on each other – "I saw that you spent £40 of our hard earned cash on ITunes the other day!" But it can help you to identify unnecessary spending.
4. You can make a proper budget
When you know exactly what's coming in and going out of your bank account, only then can you make a true budget and have a chance at sticking to it. If you have separate accounts, then it's just too easy for both parties to spend money without really thinking about it.
5. You can save more money when working together
Once you have a budget in place, it's possible to see the bigger picture and cut costs that you don't really need. We were inspired to shop around for better deals and got rid of luxuries such as Sky TV and Love Film. We changed our utilities provider which saved us a fortune and by planning our food shopping around a menu, we managed to cut our grocery bill in half.
6. You can track your spending more easily
If you have one joint account it's much easier to track your spending on the whole. After a couple of years of being together my hubby and I got a joint account just for our bills and we had our own bank accounts too. This did nothing to help us track our spending as we were still reluctant to give up our financial independence to each other and we each had our own spending money. Once we decided to just go for it and merge our accounts completely, it became so much easier to see where we were going wrong with our finances.
7. Sharing a joint account means that you're both financially responsible
I look at this positively. You no longer need to go it alone, you can both be responsible for your financial future and that's not a scary thing. With financial responsibility comes financial maturity and that's got to be good.
8. Your financial affairs are more straightforward
One of the first things I did when we set up joint banking (after drawing up a painful budget) was to rearrange the payment dates on all of our direct debits so that they are taken in the first few days of the month. That way, I know that all our major bills are paid early on and any leftover money can be repaid onto our debts. Generally speaking, everything is more straightforward from having one bank account number to remember through to having one total budget overall.
9. Opening a joint account doesn't mean losing your financial independence
If you have a good relationship with each other, then there's no need to feel worried about possibly being checked up on financially. As long as you can be open and honest about your finances then there should be no problems. The hubby and I trust each other (now!) and if one of us needs to make a purchase that we don't usually make, then we discuss it first before making that purchasing decision.
10. Sharing is good!
Sharing and giving are both great things, so why not do it with finances? The whole concept of 'my money is my money and your money is your money' doesn't really get you very far if you are committed to each other and want to live life together. We're not precious about money anymore and I think that's something that's changed over time.
If you're in a serious relationship with someone and you both want the same financial goals, then perhaps opening a joint account is a way to achieve that. It's certainly helped with our situation.
By the way, if you do decide to combine finances, it's best to start off on the right foot. Make sure you check out the best banking deals from a number of banks before you open an account, as some may offer a sign up bonus or cashback. (Here's an overview of UK banks and contact details if you're a UK reader).
What are your thoughts on opening a joint account? Would you and your partner prefer to keep your finances separate or join them together?