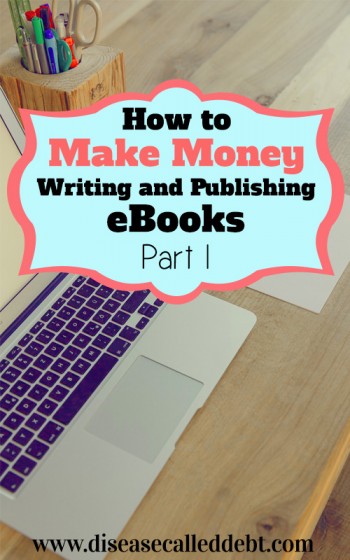 Ever wondered how to write and publish your own eBook? This is a complete series which will walk you through the entire process!
In this series, you can expect to learn how to write an ebook (that sells), how to self-publish your eBook on Amazon and how to promote your eBook so that you'll benefit from as many downloads – and royalties – as possible.
Today's post is about how to write an eBook including what to write about and how much you need to write. But first of all, why bother writing an eBook at all and what makes me an expert?
Well, writing an eBook is a great way to make money from home with no initial set up costs whatsoever (unless you want to invest money into getting some tasks outsourced that is). So that means anyone can write an eBook, irrespective of how much money you have available to you right now.
What's more, once your eBook is published online, it then turns into a form of passive income. That means that you'll continue to earn money from the sales of your ebook well into the future without you having to do much at all.
I've written a few eBooks myself, so I've been through the process a few times. I can say that it's totally been worth the effort!
All you need is a bit of time, a good level of spelling and grammar and access to a computer and the internet. You can always pay for someone else to write your book for you (that in itself is a different post), however in this series, we'll be focusing on writing your ebook yourself!
In addition, writing and publishing an eBook helps you to learn different skills and there's something pretty amazing about seeing your book available ready for people to buy! Imagine how you'll feel if people are reading words you've written yourself… whether it's a few people, a hundred people or even thousands. Getting your own words published is a definite achievement.
Traditionally, writing a book and getting it published used to be a mammoth task back in the days before self-publishing and eBooks. The process of getting a book published was dependent on whether publishers thought the book was any good – and the criteria surrounding successful books varied from publisher to publisher.
Authors could expect lengthy waits and a lot of rejection letters back then, resulting in blows to self confidence with many people giving up on their dreams of being a writer altogether. Luckily nowadays, you can self-publish an eBook on a site like Amazon via their Kindle Store

without getting rejected and you'll be saving a lot of time and hassle too. Of course, for a book to sell, it does need to be somewhat good!
You don't have to be the next J K Rowling
 though to write a decent eBook that makes money. Whether you decide to write fiction or non fiction, a novel, novella or short read, you can make money from it. Perhaps not quite as much as J K Rowling, but money all the same!
Half the battle of making money from eBooks is in the promotion of them. If you think about it, even with an truly amazing series of books like Harry Potter, J K Rowling probably wouldn't have made her millions without a team of promoters behind her. If you want to make money from an eBook, you'll have to work hard in getting it in front of the right people! And the way to do that is through a marketing strategy which we'll come on to later in this series.
How to write an eBook
The very first step in writing an eBook is deciding whether to write fiction or non-fiction and what exactly your ebook will be about. That will in turn influence the length of your eBook and also determine the price you can charge (which I'll write more on in a later post).
Fiction eBooks
Most adult novels are over 80,000 words whereas novellas are often shorter at around 30,000 words. Novellas may take the form of a series of ebooks with each one coming in at 10,000 or 15,000 words for example. The length of a fiction book also depends on the genre you're writing about. Here's a good guide from Writer's Digest which suggests an appropriate length to fiction books based on different genres.
If you've always had a desire to write fiction and you have a rough vision of a storyline, then getting your fiction ebook written may come naturally to you. For many people though, actually writing anything at all takes a bit of practice. It's important to develop your own style of writing and to do that, you'll need to be yourself and relax into your writing.
Quick Tip!
Get started writing by just spending 15 minutes per day writing about anything at all. You could write about your day, your plans for the next year, about a special memory, a poem or even try your hand at fiction by writing whatever comes into your imagination.
Here are few considerations you may want to think about before starting to write a novel or novella:
1. Decide on a genre
The easiest way to decide on a genre is to think about what you like reading yourself. If you enjoy romantic novels, you may find it hard to write a thriller and vice versa. A successful ebook will be one that you enjoy writing and that you'll keep on going back to in order to improve on it before you finally publish it.
As this post is about making money from eBooks, it's worth considering what genre of books is popular at the moment and whether you'd feel excited about writing something similar. Paranormal romances and young adult novels are selling really well currently (L.J. Smith's Vampire Diaries and Stephanie Meyer's Twilight books are classic examples). A good way to check what's selling is by visiting the Amazon Kindle Bestsellers List
. This will give you an idea of what's hot and what's not!
2. Outline your plot
A good book always has a good plot! So before you start writing, you'll need to figure out how to set the scene for your ebook, who the main characters are, what will happen and how it will end. The main objective is to keep the reader wanting more. With fiction ebooks, you can let your imagination run wild as long as you keep it within the context of the genre you've chosen. For example if you're writing a paranormal romance in a fictitious city, your characters may have superpowers and for this genre, you can get away with that. For a gritty crime thriller though set in 1940's London, superpowers probably wouldn't be all that believable.
3. Make your characters real
You may need to write about 10 or 20 characters within your eBook. So give each one a personality, think about what they will look like, what they'll sound like, what's unique about them, what's likeable and even annoying about them. It's all in the detail!
4. Build a world
To make your characters real and your story jump off the page, you'll need to build a world around it. Where will your story be set? Space, the desert, in a cave perhaps? Think about the time period for your ebook and do your research properly in terms of environment, technology, languages, costumes etc.
5. Keep the reader in suspense
It's not just a thriller novel that will require twists and turns. All good books need to keep the reader hanging on for more and you'll want to create this no matter what genre you decide on.
Non-fiction eBooks
A non-fiction eBook doesn't need to be anywhere near as long as a novel or novella. My own eBooks are between 5000 to 10,000 words which isn't that long at all and many non-fiction eBooks are as short as 4000 words. Writing non-fiction means that you could choose to write topics that interest you for example personal finance, business, weight loss or parenting.
If you intend to write a non-fiction eBook, then you'll need to make sure that your ebook delivers something new and useful to readers if you want it to sell, because there's a lot of competition online. Unlike fiction eBooks where you can pretty much gaurantee your story will be original because the concept has come from your imagination, with non-fiction there's a lot of repetition with similar ebooks available.
To give you an example of what I mean, I just searched for eBooks about making money
 in the business and money section on Amazon. At the time of writing this, there are 6,858 results all about the same topic across 400 pages! No-one in their right mind would click through that many pages to view each one of these eBooks before deciding on which one to buy. Potential buyers will look at page 1, maybe page 2 and there's an extremely slim chance that they'll look at page 3.
So getting your eBook on the first page of searches relating to your topic is really important and there are ways in which you can help your non-fiction eBook to do that – mostly when you're promoting your eBook. But it really does help with getting positive reviews if you can offer something useful and different within your ebook. Now, how to choose what to write about?
Quick Tip!
To figure out what to write about, make a note of 10 non-fiction topics that interest you and you think you could write about. Then narrow those down to the 5 topics that you like best. Out of those 5 topics, ask yourself which ones are the most helpful or useful.
As mentioned above, there are plenty of non-fiction topics that may interest you and that you might like to write about. But in order to make money from eBooks, it's best to focus on a topic or niche which is profitable. For example, you might like photography and are thinking about writing a book on the best way to take pictures using various lighting techniques and angles. That would be helpful and useful for you and other photographers of course. But the potential audience here for your eBook would be quite narrow and would probably result in limited sales.
On the other hand, you might be interested in ways to save money and feel that you could write a lot about this particular subject. You can pretty much gaurantee that the potential audience who would be find this topic helpful would be absolutely huge. So out of those two topics, the one about saving money would be more profitable.
At the same time, a good topic also needs to be one that doesn't have too much competition. Writing about saving money in general would mean that you're competing with thousands of other authors. So narrowing it down slightly to "ways to save money on your bills" might be a better topic as there would be more chance of being able to beat the competition.
In summary
Writing an eBook is something that most people can do right now to start earning passive income! To start with, you can write your ebook in Microsoft Word on a pc or Pages if you're using a mac and when it's ready, you'll need to convert your eBook into an ePUB file ready for publishing on Amazon. The next post in this series explains how to do that and also how to create an eCover for your book – read it here.
I hope the first post in this series has been helpful to you. If so, I'd be really grateful if you would share this post via social media! 
*Affiliate links are contained in this post. Disease Called Debt is a participant in the Amazon Services LLC Associates Program, an affiliate advertising program designed to provide a means for sites to earn advertising fees by advertising and linking to amazon.com.