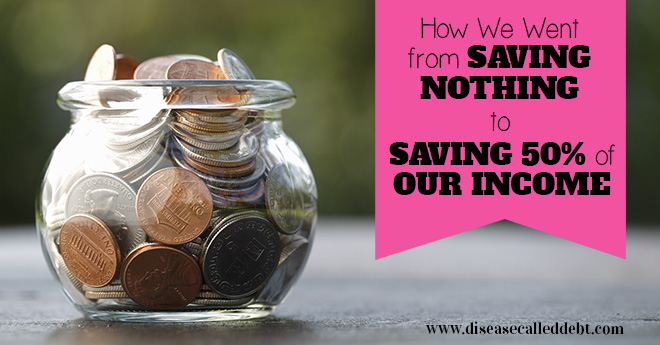 You'll probably know if you've been reading this blog for a while, that my husband and I like to save our cash. 🙂 Today I'd like to tell you about how we went from being able to save NOTHING to how we're now saving on average 50% of our combined monthly income.
You'll also know if you're a long time reader of this blog, that being able to save a fair bit of money each month doesn't make us rich. We're not driving around in flash cars or sporting designer clothes, or relaxing on yachts (that'd definitely take a lot more than we could save).
One reason we can save around half of our income is because we DON'T SPEND a lot of money. After all, we have plenty of things to save up for now, after being in debt for so long. We're practically starting over again.
However, once upon a time… we couldn't save a bean
Quite a few years ago, I remember one of our friends mentioning that they were able to save £1000 per month easily because that's what he had in disposable income. I honestly couldn't believe my ears at what he said. Saving £1000 per month! I mean, that is big money, right?
This was before our daughter was born and both me and my husband earned a full time wage. We earned decent money, each making in excess of £30K ($42K) per year. Yet, we found saving extremely difficult. Around half of our income at that time went towards household bills and fuel bills, a quarter of it went towards debt repayments and the last quarter, well, it just got wasted somehow.
We just didn't seem to have any spare money left at the end of the month. We could never afford big purchases without resorting to credit and the situation stayed like this for a number of years. We were always holding out for payday and then, when payday came, our wages were swallowed up in no time. We always lived in our overdraft.
Anyway, when I fell pregnant, we realised that if I wanted to take some time off work to be with our daughter during those early months, we would have to somehow save. Otherwise, we'd have to save for childcare in any case. We started to cut back on a few bills and this was our introduction to a whole new world where we learned that there were indeed savings to be made. We scraped together a small pot of savings just in time.
Things were going swimmingly, until we hit rock bottom with our debts when I was on maternity leave. Not only were we living on a reduced income plus the small pot of savings, we were also in serious trouble with debt too.
How we began to save money
It was at this point when things changed for us when it came to saving money. During the few years following, we learned how to really cut back and we made a lot of financial sacrifices.
We were living on my husband's wages, but we couldn't just survive on his wages alone. So we worked like troopers to earn money on the side and I set up a home-based childminding business so that I could raise my daughter at the same time.
We went from being in deep trouble financially, to being able to just about manage the debts and the drop in income. Gradually, with our savings (and a nicely timed PPI claim), we managed to clear our debt over 22 months. Eliminating those debts gave us a lot more money to save.
Through regularly checking that we're getting the cheapest deal on our household bills, clearing our debts and only buying what we need, we've now managed to get to a point where we can live off my husband's wages without the need for side hustles. As I'm writing this post, we can just about survive on his income alone.
Everything I earn, we save
I now work full-time doing freelance writing, blogging and social media management. Because I'm self-employed and my income is variable, this can work in my favour and sometimes I can have a really good month when it comes to income. We manage to now save around 50% of our combined income every month.
Now I don't know your personal financial situation (and this will definitely be harder if you're going it alone) but if you want to be able to save a decent chunk of your income, the same steps that we took can pretty much be followed:
1. Save, Save, Save
Cut back on your household bills and make sure your savings and investments are working for you in terms of interest rates. Changing your mortgage to a better rate is probably the save where you'll see the most benefit because a slight decrease in the rate of interest could equal thousands of pounds/dollars in savings over the time of the loan.
Other big areas where it's easy to save are your energy bills, insurances and downgrading your TV package. Even when you've cut back on your bills, there are some more clever ways you can save without really trying too hard.
2. Clear those debts
I know this is easier said than done, but if you have debt, this will be limiting how much you can improve your finances. With any savings you make, clear your debts first. Then your savings will really come into their own. You'll notice a huge difference in how much you can save once you don't have any debts to worry about.
3. Earn more money (and then save your extra income)
You won't be able to achieve big savings if you only make cut backs and clear your debt. In order to save a lot of money, the best way is to earn more money in the first place. You could do this by doing overtime at work, taking a second job or by doing various jobs from home.
There really are plenty of ways to earn money these days. I even wrote a book about some of them, check it out: 101 Ways to Earn Money from Home.
There is one other thing that you'll need to do…
Walking through those three steps isn't all though. There's a bit of work required of course. It does take a bit of effort to constantly keep checking that you're not overpaying for your bills. It will take a lot of willpower to divert your savings towards debt repayment without spending elsewhere.
And finally, it will take more of your time and elbow grease to earn extra money when all is said and done. But if you want to get yourself into a better position where you can generate bigger savings, the hard work will be worth it!
Are you trying to save more money right now? Do you have any savings tips to share?