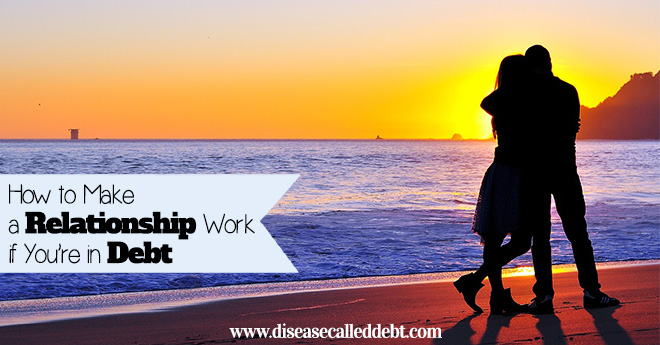 Debt can place an incredible amount of pressure on a relationship, causing arguments, rifts and frustration from either party.
But whether one person in the relationship has debt, or both, it is possible to make your relationship survive even the most terrible of money stresses. I've had a front row seat when it comes to the impact debt can have on a relationship and in this post I'm sharing with you my personal experience.
Debt has always been a part of mine and my hubby's relationship ever since we first met back in 2001. We both had debt and at first, we didn't talk about it. Who does, right? We went out on dates, both of us carelessly spending on our credit cards here and there. After nearly a year, we decided to move in to a rented flat together and for the first time, we had joint bills for our rent and utilities.
We decided to continue with our own bank accounts and got a joint account for our joint bills only. This resulted in our bills being paid in full and on time and we also maintained our finances independently which suited us both.
A few years later, we decided to buy a house together and that's when we began to realise the extent of each others debt and the impact that debt can have on a relationship. We were only able to borrow enough for a smallish mortgage because our debts got in the way of being able to borrow the maximum amount based on our income at that time. (That's probably a good thing in hindsight.)
The debt started to feel like a heavy burden even then. The years progressed and as you'll know if you've been reading this blog for a while, debt has continued to be part of our lives throughout the last 15 years. During this time, our relationship together was tested frequently because of debt and this is the reason I'm writing this post today… to let you know that relationships can stand the test of time despite debt being a part of it.
How does debt test a relationship?
When one person in the relationship has more debt than the other
This is because both parties in a relationship can at times blame the one with debt (or more debt) because debt gets in the way of making important decisions e.g. buying a house or changing job.
In our situation, my hubby had a little bit more debt than me and for a time, as much as I hate to say this now, I subconsciously blamed him on and off for feeling like I had to stay in a job that I hated because I thought that we needed the money so badly. (We didn't as we ended up paying back our debt on half of our old combined salary.)
I didn't even look at myself to question my own debt or the decisions that I had made about my finances because technically I had 'less debt'. What I began to realise over time was that the debt was a burden which we both carried because we had no clue about how to manage our finances responsibly.
I had been looking too closely at the debt numbers and not into the actions which we had both made independently and together to get us to that point.  I had no right to assign blame because I had a whole host of financial issues on my own doorstep.
When financial sacrifices have to be made
Another way that debt impacts on relationships is because of the financial strain that comes with debt. If debt isn't managed carefully, then eventually it takes its toll on life in general. For example, when debt increases, buying luxuries and living life as 'other people do' starts to become an issue. Sacrifices have to be made somewhere along the line.
In our situation, we tried to live 'normally' for years. We bought a house and then a bigger house like most of our friends. We dabbled in deluxe gym memberships and even a personal training program at one time. We bought little luxuries, spent excessively on gifts for others and we ate out 3-4 times per week.
Gradually, all those things that we were spending money on dwindled because cash was getting tight each month, not made easier by the debts getting larger and larger. When we had no choice but to reign in the spending, we both felt angry and depressed. Not always at each other but because of our lifestyles being 'forced' to change.
This was made worse, because we thought we were doing everything we could to get out of debt (which we obviously weren't doing at that time).
When debt starts to get scary
Once debt goes from being manageable to being out of control, the fear factor can really make or break a relationship. All of a sudden, those luxuries that you miss having become a thing of the past and real life financial problems start to come forward. Like not being able to put food on the table and not being able to pay your mortgage or utilities. Words like bankruptcy, insolvency and debt collectors may start to have more meaning and both parties in a relationship can experience real stress and worry.
When this happened to us, it was our wake up call. We had honestly been trying to pay off our debt for years, going without luxuries and cutting back where we thought we could. We even started to realise that it was our own mindset around money that needed to change.
Then we experienced another blow with debt which couldn't be helped because it was the result of my hubby's start up business. At this ultimate low point, I remember feeling like I wasn't able to breathe. My hubby was nearly at breakdown point and our daughter was just 10 months old.
We had never been as scared as when we realised what having debt could do to us. We could have lost our home, our marriage and affected our daughter's life significantly if we hadn't been able to work through our debt problems together.
How to make a relationship work if you have debt problems
The answer is quite simply down to love, trust and being prepared to work together. As cliché as this sounds, if two people in a relationship really love each other than they can get through just about anything. Debt problems are incredibly stressful especially as debt is often a taboo subject and not talked about enough.
Often debt doesn't become serious until it's too late and the damage is done, so recognising the warning signs that your finances are out of control is the first step to getting out of the danger zone.  The next step is to make sure that both of you fully understand your current finances and what you're doing right now which isn't helping matters.
Being supportive of each other is so important and looking at the reasons why the debt has occurred rather than obsessing over the amount of debt is also a major factor in moving forwards. Then make a plan to tackle the debt effectively together whether it's both of you in debt, or just one of you. You don't necessarily need a joint account although personally this has most certainly helped us.
Work together to survive your relationship problems
Relationships can't work any other way. My hubby and I are lucky enough to have a very strong relationship and we've managed to get over our debt problems together. We recognised the detrimental behaviours around finances that we both displayed whilst we were accumulating debt and realised the damage we both caused as a result. For us, we were united in our approach to getting into debt and in the end, we were united in our approach to getting out of it.
Has your relationship been affected by debt?