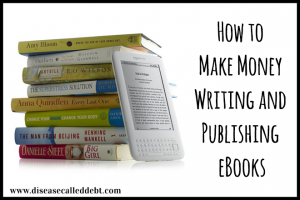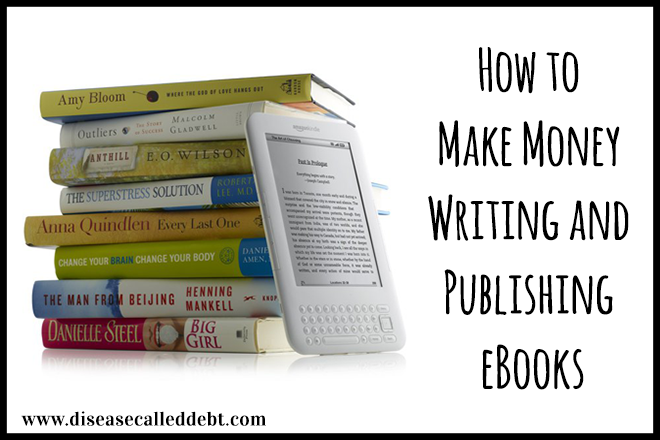 Welcome to the fifth and final part of How to Make Money Writing and Publishing eBooks! I hope you've enjoyed this series so far.
Part 1 covered what to write about and how much and part 2 outlined how to format your eBook and create an eCover for $5 or less.
Part 3 explained step by step how to publish your eBook on Amazon and part 4 gave you some hints and tips on how to promote it!
In this post, I'm going to revisit the reason why I think writing and self-publishing an eBook is a great idea. Aside from the satisfaction you'll get from getting your writing published, you can make some serious moola from doing so! It's perfect for someone looking to make extra money outside of their day job and it's something you can work on around the kids or in the evenings – you don't even need to leave the house! All you need is a computer or laptop, word processing software like MS Word and access to the internet.
So in case you need to speed up your debt repayment, increase your savings or you'd just like to start creating some passive income for any other reason, this is one way that you can do it. But just how much can you earn from writing and self-publishing eBooks?
How much money can you make on Amazon with Kindle eBooks?
Well, the short answer is some authors can make plenty. It depends on the quality of your eBook and also the volume of eBooks that you have. I'll start with my own Amazon earning experience! I have a few eBooks on Amazon
 now and the screenshot below details some of my recent earnings from Amazon Kindle over the last couple of months for January and February.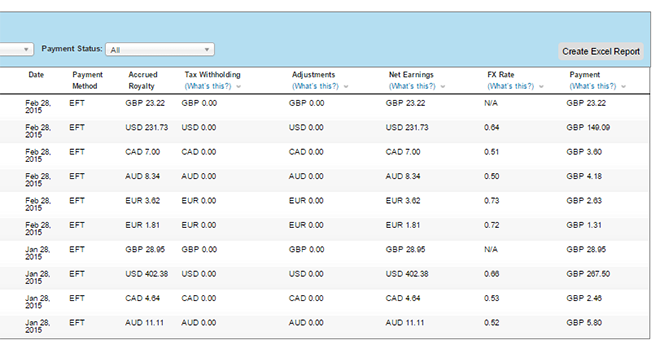 In Feb, I was paid £184.03 which was a little less than in January but even so, I'm pleased with the extra income! Most of these payments come from sales of my eBooks 101 Ways to Make Money from Home and How to Start a Bridal Makeup Business.
Quick Tip
I identified a popular page on my blog from Google Analytics which co-incidentally was a "How To" type post. I created more content and packaged it into an eBook about setting up a bridal makeup business. If you want to create an eBook that will sell, find out what your readers want and need and then use that to inspire your eBook!
So although I'm clearly not rich yet, my experience with earnings from self-publishing eBooks so far has been pleasant. But what kind of earnings have other self-publishing authors managed to achieve?
1. Kyle Taylor
Kyle is the owner of The Penny Hoarder and explains in this post how he's made $2000 from publishing an eBook via Amazon (as well as thousands more on others).
2. Stefan Pylarinos
Stefan Pylarinos is an entrepreneur and internet marketer who makes six figures through kindle publishing, by writing and outsourcing numerous non-fiction eBooks. He has over 100 eBooks on Amazon, in his mission to make passive income.
3. Amanda Hocking
Amanda Hocking is a writer of paranormal fiction and spent many years trying (and failing) to get traditional publishers interested in her stories. In 2010, she turned to self-publishing her books on Amazon hoping to raise a little bit of cash to start with. In just six months, she'd made $20,000 selling 150,000 copies of her books. Roll on 20 more months and she'd sold 1.5 million copies of her book, raking in $2.5 million from her book sales.
4. Hugh Howey
Hugh Howey
 is a self-published science fiction author who writes post-apocalyptic thrillers. His series "Wool" has earned him royalties reaching six figures most months!
5. John Locke
John Locke is a best selling indie author who first made his money with his Donovan Creed series of books. He was the first author to sell over a million digital copies of his books without a publishing deal. He was also the first self-published author to hit the number one spot on the Kindle Bestsellers list!
In summary
Writing and self-publishing eBooks is a great way to earn money passively and you can use money earned to top up your main income or even enjoy great wealth if your work becomes popular! There is so much potential with this income stream, so why not have a go yourself?
I hope you enjoyed this series about making money through writing and publishing eBooks here on Disease Called Debt and that it's inspired you in some way! In case you needed any further reading, this article from Tim Ferriss has more information about self-publishing including how to really make $1 million selling eBooks.
Like this post? Please take a minute to share it on social media. Thank you!
*Affiliate links are contained in this post. Disease Called Debt is a participant in the Amazon Services LLC Associates Program, an affiliate advertising program designed to provide a means for sites to earn advertising fees by advertising and linking to amazon.com.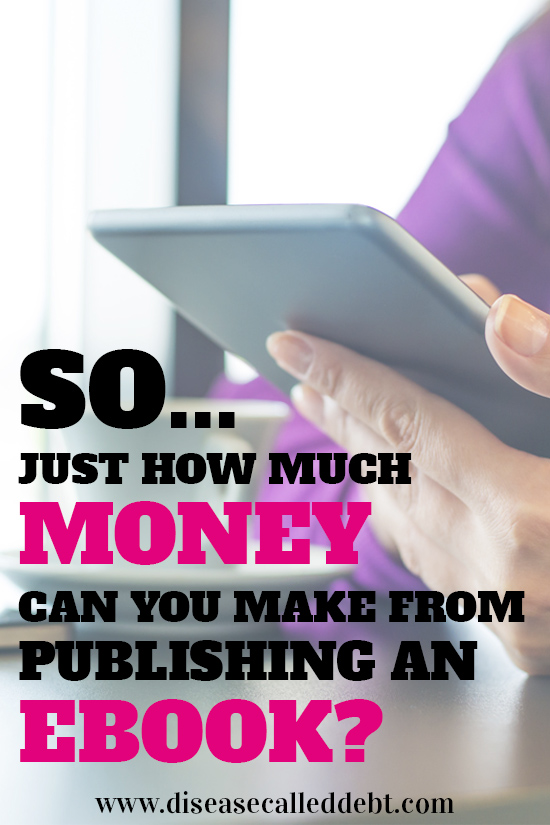 *Top image sourced from Flickr and modified by Disease Called Debt.