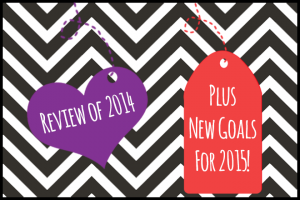 Well 2014 turned out to be a pretty good year for us because we finally cleared our debts back in November, which of course has been the main objective ever since I first started this blog!
We weren't expecting to clear our debts in 2014 but the momentum picked up on debt payoff, we had a little luck and we achieved this goal earlier than anticipated. I did also have some other goals too which I created here and there (some of them I didn't actually write down), so I thought I'd take this opportunity to collate them all together and review them to see how I did. I'll start with the positives!
Write an eBook –
pass
I thought originally that writing an eBook was going to be a mammoth task but actually it wasn't that difficult at all, other than the amount of time which I needed to spend doing so. During 2014, I wrote Achieving Debt Freedom which is based on a series I wrote a while ago about the ways in which debt can have an emotional impact on a person as well as how to overcome any negative emotions linked to debt.
Later in the year, I published 101 Ways to Earn Money From Home (which by the way will be on free promo on Amazon next week so please subscribe to my blog to make sure you don't miss the notification about it). This book has proven to be very popular so far and I'm really over the moon about how things are going with it!
Towards the end of the year, I wrote an ebook called How to Become a Bridal Makeup Artist which is based on my own experience as I used to be a makeup artist in addition to my day job for several years. I had the idea to write this after seeing that the post I wrote over a year ago about this side hustle was actually quite popular. So I thought about what aspiring bridal makeup artists would want to know and compiled a book about it. It's selling copies most days!
Side note – I will write a post on here explaining the steps I go through to write an eBook very soon!
Make money through blogging –
pass
At one point, the concept of making money through blogging seemed impossible to me. I had no idea how to monetize the site so I started with Google Adsense, which earns me a little money each month. Then I started doing banner adverts directly for clients and occasionally through editorial content. All in all, the blog is becoming quite a good little earner now. On average, I'm making around £200 ($300) per month from this site, sometimes more.
Earn money freelancing –
pass
I've been taking on more and more freelance work over the last six months or so and I'm very happy with how things are going. I work for a small number of clients now doing freelance writing and social media management – including working for my neighbour who gave me some work because I happened to mention to him that I enjoy writing as happy chance would have it.
Start creating passive income –
pass
I now make some passive income through my eBook sales!
Save £2000 for our emergency fund by Christmas 2014 –
pass
This goal and the next two below are part of our new goals I added in November after we paid our debts off. I'm pleased to say that we exceeded this goal and there is now £2213 in our emergency fund!
Save £50,000 for a house deposit by November 2017 –
on track
Amazingly, even with Christmas just gone, we're more or less on track with our massive savings goal of £16,666 per year to reach the sum of £50,000 by November 2017. I thought December was going to be a bad month for earnings considering I was off sick for a couple of weeks, however, I managed to get some freelance jobs under way and pretty much worked round the clock for a couple of weeks to claw some earnings back. With that said, our house deposit fund stands at £2406! I can honestly say that our bank accounts have never been this healthy before!
Invest £1000 by March 2014 –
on track
This goal is on track I guess but technically I haven't done much about it yet. I don't yet feel comfortable taking money out of our house deposit fund to invest but maybe I should because I'm not sure how I'll lay my hands on a grand any other way.
Save for retirement –
fail
I know, this is the kind of goal that no-one wants to fail at. It's a biggie. But, truth be told, we got so carried away with debt payoff that it became our main focus. I had hoped to save some money every month for retirement but as the hubby and I don't have a work pension, putting our money in the right place has seemed like a minefield. Plus I'm self employed so I need a flexible way of saving that has a good return. The interest rates on Cash ISAs here in the UK are pretty dismal, that's for sure. With that said, I am currently seeking some advice on what we should be doing.
We do have a property which we rent out, this is our former home (and we rent where we live now). It's something I guess but at the moment, I doubt there's much equity in it. We would like to use this for our pension in the future but I'm not sure how the tax side of things will work. REALLY need some proper advice on that.
Lose 10lbs in weight –
fail
I still need to lose 10lbs in weight. Alright, 12lbs if you take into account Christmas! As much as I wouldn't encourage this, the hubby and I made a few unwise decisions throughout last year when it came to cheap dinners, so that we could save money and pay off our debt. Yep, we ate less meat and more carbs. I spent most of the year working on my laptop and not exercising when I should have! Must do better!
————————————————————————————–
New goals for 2015
Along with the goals that we're still working towards above, here are a few more, along with an action plan of how we'll aim to  achieve them!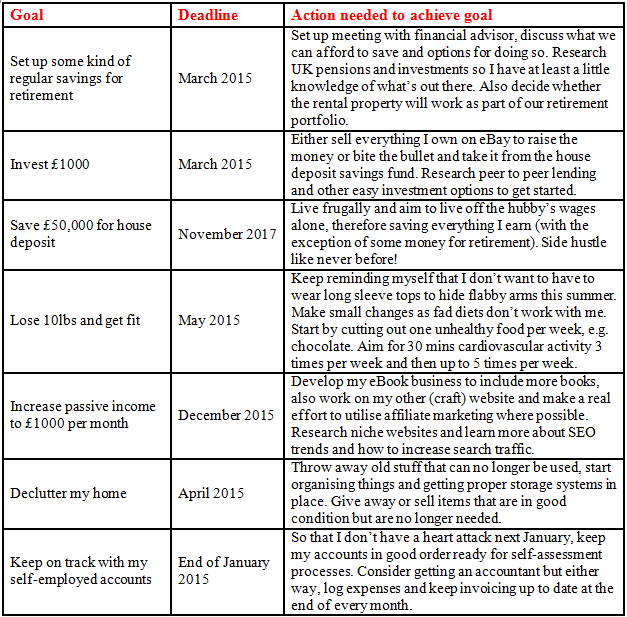 How was 2014 for you? What are your goals for 2015?
*Image © Disease Called Debt