I'm really excited to introduce a brand new regular feature to my blog today! I've been working with the wonderful Eva from Girl Counting Pennies to put together 'Frugal Feast', a collection of frugal recipes designed for people on a budget like us! Eva and I are both working really hard to save money in order to pay off our debts faster and grocery shopping is one area where we have both cut back significantly. However, we're determined not to live on bread and water for the length of time we're in debt for and that's how this feature was born.
Every fortnight on Tuesdays, Eva will be posting her 'Frugal Feast' recipe here on A Disease Called Debt and I will be posting my creation over at Girl Counting Pennies – so don't forget to visit Eva's blog to view my recipe after reading her great recipe below!
Welcome to the first edition! Take it away, Eva!
FRUGAL FEAST: Eva's Mushroom Risotto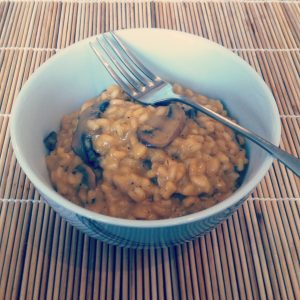 Hello! I am Eva, and I am really excited to share my mushroom risotto recipe in this first edition of my new bi-weekly column "Frugal Feast" over here at Hayley's blog. This recipe is quick and easy, and although it does involve a lot of stirring, anyone can make it.
I make mushroom risotto about once a month and usually freeze whatever is left in small lunch boxes to take to work. I normally serve it with rocket salad and cherry tomatoes.
Ingredients list:
500g Arborio risotto rice
100g chestnut mushrooms
125g baby Portobello or Shitake mushrooms
250g red Leicester cheese
100g blue cheese
1 can of cream of mushroom soup
2 tbsp olive oil
1 onion, finely chopped
2 garlic cloves, finely chopped
Salt, black pepper and dry oregano to taste
(I don't add wine but if you want you can add a bit of white wine into your risotto)
Cost: The above ingredients make 6 adult portions at around £1.00 per portion.
Equipment:
You will need a big non-stick saucepan, a deep frying pan, a chopping board, a tablespoon, a wooden spoon to stir, a knife and some paper towels.
Step 1:
Wash and finely chop your mushrooms. Let them dry on a paper towel. Meanwhile, finely chop an onion and garlic into small cubes. Place a frying pan over a medium heat and add 2 tbsp of olive oil. Add finely chopped onion and garlic, stir for about 2-3 minutes until golden and add your mushrooms into the frying pan. After another 5 minutes, change the heat to the lowest possible and keep stirring occasionally.
Step 2:
Meanwhile, place your non-stick saucepan onto the stove. Rinse your rice under cold water, dry and tip into the saucepan. Pour 3 big glasses of water into the saucepan to cover the rice and set your stove to the medium heat. Keep the saucepan over a medium heat, simmer the rice and stir often. Once the water has evaporated, add 1/2 cream of mushroom soup and keep stirring for another 5 minutes. It should start to become creamy, gooey and tender.
Step 3:
While the rice and mushrooms are simmering in separate pans, quickly chop your cheese into nice little cubes. Your mushrooms should now be soft and ready. Pour the contents of your frying pan into your saucepan and stir your mushrooms into the mixture. Keep stirring for about 5 minutes. Add 1/3 of your cheese cubes and stir them into the mixture too. Pour the rest of your mushroom soup into the saucepan and as always, don't forget to stir. Once the first portion of the cheese has melted, add another 1/3 portion and keep stirring. Repeat again once all your cheese has gone.
Step 4:
Continue stirring until the rice is cooked and the cheese has melted. If the rice is still undercooked, add some more water. Season with salt, pepper and dry oregano to give your risotto a nice flavour. Leave to simmer on the lowest heat possible for the final 5 minutes. Serve with cherry tomatoes and/or rocket salad.
I hope you enjoy my variation of this recipe! It's very easy to make, I promise! If you have any questions, then please feel free to ask away in the comments section below and I'll be happy to answer them.
Author Bio: Eva is a personal finance writer and blogger currently documenting her journey to debt freedom over at her blog Girl Counting Pennies.
Related money saving posts:
Image courtesy of Eva at Girl Counting Pennies