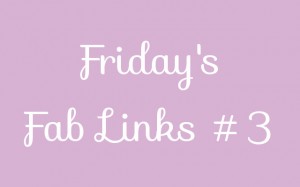 Happy Friday folks! Another week nearly over already! I hope you're looking forward to the weekend as much as I am?
I'm really getting into this blogging thing. It's so much fun and really addictive! I would recommend it to anyone particularly if you have a goal that you want to achieve or a passion to follow.
As you probably know, my goal and passion is to become debt free (whilst keeping things in perspective!)
Before I started blogging, I had no idea about the amount of information out there on personal finance blogs. I try to read as many as I can and I take lots of advice and support from them.
Here's my fab links to personal finance reads I've enjoyed this week:
Michelle from Making Sense of Cents made over $11,000 in extra income during the month of July. Over $11,000!!! I had no idea that someone could earn that sort of money in extra income. It just goes to show what can be achieved with a lot of hard work over time. My jaw dropped in amazement when I read this post: $11,117 in July Extra Income – Growing but I crave stability.
Girl Meets Debt wrote an interesting post on Mixing Debt Repayment with Philanthropy. GMD reminds us that we don't have to be mega rich to give to a good cause. There are plenty of ways we can help others including volunteering our time and giving away stuff we don't need.
If you could choose, what would you aspire to have as part of your dream home? A moat perhaps? Finance Girl wrote an interesting post based on some research from Ocean Finance – Dream home? What women really really want is walk-in wardrobes and an ensuite!
If you're looking for ideas for a new job that pays really well, check out this read by Mr Money Mustache on 50 Jobs over $50,000 – Without A Degree (Part 2).
And The Savvy Scot made me chuckle with this lighthearted and quite true post – Awesome Infographic: The Best Things In Life Aren't Free.
Have a great weekend everyone!
Related posts: