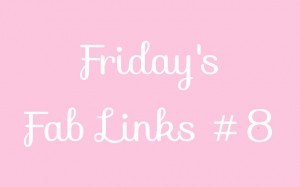 Happy Friday! Hope your week has been good? Mine's been ok, but I've been letting my emotions get the better of me this week. You know how some people just bestow their opinions on you when they're really not needed and you didn't ask for them?
This week, I've had people I know and even some people I don't know comment on: my child (how she isn't sharing with others very well); my dog (how boisterous he is and how he's got a lot to learn); my rented home (wouldn't I like to change the decor?) and even my garden yard. I bumped into one of my neighbours yesterday when I was out walking my dog and he decided he had to tell me that I needed more space outside now that we've got a dog. I'm thinking about moving surely? What a great idea! I bet that wouldn't be too expensive. We've got money to burn after all!
Ok, I'm being oversensitive of course, these people meant well with their opinions I'm sure. It just didn't help that the neighbour who commented about the outdoor space has a lovely large 4 bed house with lawns a and gleaming white, freshly washed Audi on his drive. (Reining in the Green Eyed Monster as I type!)
Anyway, onwards and upwards. It's the weekend! I'm not going to let those opinions bother me from now on in. As usual, I've been reading lots of personal finance blogs and these are my highlights from this week!
Natalie Alex from Debt and the Girl wrote an insightful post on 20 Truths You Learn In Your 20's. These truths are good to read and reflect on no matter what age you are.
Girl Meets Debt is Finally Free From Credit Card Debt! On Friday 13th of all days. I find GMD's blog inspirational anyway, so to read that she has cleared her consumer debt of $12,000 in just 9 months inspires and motivates me even more! And her message to Jeremy is soooooo sweet!
Grayson from Debt Roundup wrote a great guest post over at Modest Money about Securing Your WordPress Blog. I have to admit I didn't give much thought beforehand to someone hacking into my blog. Grayson explains some helpful measures you can put in place to make sure your site is as secure as possible.
Matt from Mom and Dad Money wrote an interesting post on The Terrible Twos and Financial Responsibility. He compares the transitional stages of a toddler becoming more independent and that of embarking on a path to financial responsibility, both of which come with their own challenges.
I started this blog as a way to become accountable for my finances and also to have somewhere to let off steam about our debt situation. What I didn't expect was just how much I would enjoy blogging! I look forward to evenings where I can write new stuff and network with like minded people in similar situations. I'm now feeling a lot more positive about our debt and I think this has really helped with our progress so far. Plus, there's always the chance that I could turn this into a side hustle one day. Young Adult Money posted 5 Reasons Blogging is the Ultimate Side Hustle and I couldn't agree more!
Enjoy!
Articles posted on my blog this week:
Related posts: