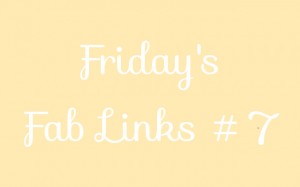 How's your week been so far? I haven't paid any debts off yet this month – I know it's early in the month still, but I like to overpay some on the 1st of the month and some later when I know exactly how much extra cash I can scrape together! I just haven't been paid yet from my clients. Tsk! The joys of being self employed.
I'm not quite sure how long this Friday's Fab Links feature should be each week, it started off as 5 fab reads, then last week it was 6 and now, I'm linking to 7! I guess I will just see what treasures I find each week. 🙂
Here's my favourite personal finance reads for this week:
I wish I'd read this post a few years back when I was trapped (or so I thought) in a job I didn't like very much! Lyle from The Joy of Simple posted 10 ways to make your 9 to 5 work day a little better until you find your way.
As always Michelle from Making Sense of Cents blew my mind with her amazing post- $9554 in August Extra Income. She earns in one month what some people earn in three months, six months, even a year!
Tammy from The Great Jollyhoombah made me chuckle with her post on Speaking Your Language of Love. She explains about a resource she recently used with her hubby to make sure they were both happy in their relationship. A witty read, grab a cuppa and enjoy!
I just wanted to shout out my appreciation for Lindsey from Sense and Sensibility who has shown strength of character, wit and classiness with her response to a certain PF blogger who rather cruelly decided to target her. You can read Lindsey's post here – Debt Bloggers: Here to stay, FOREVER
Free Money Minute wrote an interesting post on You Will Fall For Anything (if we don't stand for something), inspired by attending a recent Dave Ramsey event.
If your income is variable each month like mine, Taynia from The Fiscal Flamingo has some great advice detailed in 5 helpful steps: How to be a Budgetnista when your income changes every month.
Lastly, there was a fab guest post on Girl Meets Debt's blog from Nell at The Million Dollar Diva – Go On, Treat Yourself (Without Busting The Budget). There's no need to get your purse out – just your treat jar!
As always, enjoy the above reads and have a great weekend!
Posts I've written this week:
Related posts: