Happy Friday, hope you've had a good week? Mine has been pretty busy!
My new eBook "101 Ways to Earn Money From Home" has been doing very well. It's been selling copies every day and I'm currently in the top 20 bestselling personal finance eBooks on Amazon Kindle.
In case you're wondering whether to write an eBook (whether you have a blog or not), I'd really recommend it. Once you've found an idea and have written between 5,000-10,000 words on the subject, it's very straightforward (and free) to publish it on Amazon.
You could be making money from that eBook you've been thinking about doing in no time at all. If you're worried about investing your time in something that you don't know whether will work or not, that's not surprising. But… if you don't try, you'll never know. 🙂
So I've written another eBook…
Just after I launched "101 Ways to Earn Money From Home", I was enjoying the whole experience so much that I decided to write another eBook straight away! It didn't take me long at all, because most of the information was in my head.
I've since published it on Amazon – it's called How to Start a Bridal Makeup Business. Here's the pic below. I've haven't done a big launch for this book as it's on a very specific subject and not related to debt in any way (although it is on the topic of making money).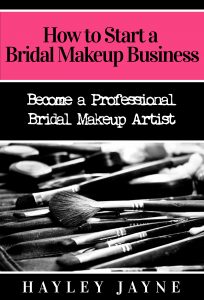 So why did I decide to write an eBook on this subject? Well, some of you may know that I used to be a Bridal Makeup Artist on the side in addition to my day job. I ran a successful bridal makeup business for seven years.
The only reason I stopped doing this is because my hubby has been working away a lot over the last couple of years with his business, which meant I was having to pay for a babysitter most of time. It was eating into my profit, so I decided to focus on other ways of making money instead.
Anyway, I wrote a post about this around a year ago and for a long time now, I've been getting a good number of visitors to this post every day, it appears to be one of my most popular posts! I often get asked questions from people who are interested in this business so I decided to make the most of this opportunity by writing a more in depth eBook on how to start a bridal makeup business.
Within the book, I've gone into detail about how to build a portfolio, how to set up a kit, what products to buy and where from, how to advertise and even how to get a website ranking well in Google for local searches. I've just added this eBook to that particular post…. so we'll see how it goes, I'll keep you updated.
Blogger Reviews: 101 Ways to Earn Money From Home
My eBook "101 Ways to Earn Money From Home" has been reviewed recently by the following bloggers. If you were in two minds whether to buy the book or not, hopefully these reviews will help you to decide. Grayson, Lyle and Brandy, thank you so much for taking the time to read and review my book!
A few more thank yous
Thanks very much to the following bloggers who mentioned Disease Called Debt recently on their sites:
If anyone else has mentioned Disease Called Debt recently, please let me know so that I can thank you. I don't always get ping backs.
I've been guest posting!
This week, I guest posted over at VOSA with my post on How to Turn Your Craft Hobby into a Profitable Business and also over at Shoeaholicnomore with my post on Accelerate Your Debt Repayment with Multiple Side Hustles. Please head on over to check them out.
My favourite blog reads this week
I've just finished watching Breaking Bad on Netflix so this post by DC over at Young Adult Money caught my eye called You Won't Believe What the Show Breaking Bad is Actually About. If you thought Breaking Bad was about drug kingpins and cooking in the desert, check out DC's theory and see if you agree.
Sara at Debt Camel wrote a really helpful post recently called Too Many Calls From Creditors? Getting several phone calls a day from creditors chasing you for payment can be incredibly stressful if you're struggling with debt. Sara explains your rights in cases where you're being harassed by your creditors and what you can do to get them to stop.
I wanted to highlight a new blog I've been following called Bunny on a Budget, owned by Abi. Not only is she a fellow UK personal finance blogger and has a beautifully designed blog, she also has some excellent money saving tips and helpful articles to keep things tidy and orderly at home such as Great Storage Ideas for Your Kid's Bedroom. Please check out Abi's blog if you haven't already.
Cat over at Frugal Rules posted How Being a Work at Home Mom Can Save You Money. I read this and thought – yep! This is so true. I've saved a fortune on all the things that Cat mentioned in her post just by working from home around my daughter.
This next post is from last week but I've only just had chance to read it and I'm glad I did! How a Guy Selling Hot Dogs Retired Early is an interview post with "Hot Doug" over at Even Steven Money. If you ever needed inspiration to work hard, live below your means and use your money wisely, read this post. You too could be retiring early.
Have a great weekend everyone!