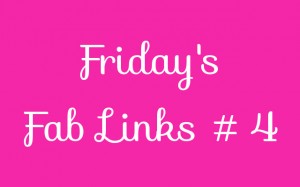 Happy Friday! Today is my 33rd Birthday. 🙂 My hubby is working away so we celebrated together earlier in the week. Instead of going out, my hubby cooked me a fantastic birthday meal a couple of days ago before he went away.
He really is a brilliant cook which is just as well because I hate cooking!
For starters, we had Thai Chilli Chicken Cakes, followed by a main course of King Prawn Stir Fry and for pudding we enjoyed homemade Apple and Raspberry Pie. Yum!
I did tell my hubby not to bother getting me a present because I didn't want to take any money away from paying towards the debts this month, especially because my self employed income is down a little at the moment. But he was a bit sneaky and bought me a charm for my pandora bracelet without me knowing. I found it behind a photo frame on the mantlepiece this morning! Needless to say I love it!
To top off the great day I'm having, my little girl sung Happy Birthday to me this morning, which was the best present ever! I'm really looking forward to this weekend because I'll be celebrating (on a budget of course) with some good friends.
Anyway as always, I've loved blogging this week and reading other personal finance blogs. Here are my favourite reads from this week – some are finance related and some are about blogging which is starting to be my second favourite subject!
Laurie at The Frugal Farmer wrote a great post on 'Paying off Debt: How to Re-Wire Your Financial Mindset. I don't know about you but I fancy breaking free of the 'poor mindset'.
If you're thinking about investing in a rental property, make sure you check out this post by Holly at Club Thrifty – Being A Landlord: It's Not All Puppies And Cupcakes!
Jeremy at Modest Money wrote a helpful post on 5 Blog Link Building Strategies To Now Avoid. I'm still getting my head around SEO and I thought this was really useful.
Congratulations to Michelle from Making Sense of Cents on her 2 year blogging anniversary – 2 Year Blogiversary and iPad+Cash Giveaway.  And also to Glen at Monster Piggy Bank on his 1 year blogging anniversary – Has it been 1 year already?
Lastly, congratulations to Girl Meets Debt and Mr Modest Money who got engaged yesterday!
Have a great weekend everyone!
Related posts: