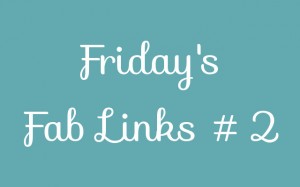 Happy Friday! I for one am so glad it's Friday. It's been one of those weeks and I'm really looking forward to the weekend. 🙂
Throughout this week, I've been reading many personal finance blogs as usual.
There are so many blogs out there that I find inspiring and motivating. It's really hard to pick just a handful of them.
Nevertheless, here's my fab links from this week:
Tonya from Budget and the Beach wrote about how her passion for blogging crept up on her. I could really relate to this as I'm finding blogging rather addictive! I hope this blog becomes as successful as hers some day. Here's her post: This blogging thing is not just a hobby.
Glen from Monster Piggy Bank wrote a fantastic list on Super Cheap Hobbies For People On A Budget. Life doesn't have to be dull whilst finances are tight!
Girl Meets Debt paid a huge sum off her debts last month! Here's her End of July 2013 Debt Repayment Update. And Happy Birthday GMD!
Done By Forty wrote a great post about Budget Porn. Lots of bloggers post their budgets on the internet for other people to delve into and check out. If you want to satisfy your budget craving, make sure to check out Done By Forty's budget!
Michelle's Finance Journal wrote about how even though money is tight and her family isn't taking any trips anytime soon, she is planning ahead, way ahead for her vacations. I think this is a great idea to keep sane whilst paying off debts!
Have a great weekend everyone!