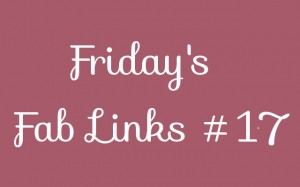 Hello! Happy Friday! 🙂 This week has flown by for me and I can't believe how fast Christmas is coming around. I haven't done any Christmas shopping whatsoever – luckily my shopping will be minimal but I still don't know what to buy for those I am getting gifts for.
I've budgeted £100 for gifts for everyone this Christmas, I think we should be able to stick to that providing we manage to hand make some gifts! I need to get all of my shopping done before the middle of December because that's when the hubby and I are going to stay with relatives for a break for a while over the Christmas period. That gives me around four weeks to sort things out (gulp). I'd better get started soon! Have you tackled Christmas shopping yet?
Here's my favourite fab links from this week:
Harry at The Four Hour Work Day wrote a post called There's no Loyalty in the Corporate World. I could relate to this post because I felt this way about my old job (all of my previous jobs actually). Harry puts the point across about how some companies might pay you the same salary whether you work like a trojan or not, even if you end up making the company big money. When you work for yourself, it's easy to see the link between how hard you work and how much money you could potentially make.
Keenyn at My Pennies, My Thoughts wrote a really helpful post for first time renters called Budgeting for your first place. Keenyn outlines the types of costs that crop up when you're moving into your first home and reiterates how important it is to budget and save. I certainly wasn't prepared financially when I moved out for the first time!
Julie at Finance Girl wrote an interesting post about the link between Debt and depression. Being in debt does have emotional implications for myself and the hubby and I suspect a lot of other people in debt too.
Done By Forty wrote about how he used his negotiation skills to achieve a great result with a supplier. In his post: They Want to Help You, Mr DB40 explains that by being nice, grateful and patient, you can win over the person on the other end of the phone and by doing so, this may make them more inclined to help you as a customer. Great advice!
Alexa from Single Moms Income wrote an inspiring post called 3 Reasons You Are Your Biggest Obstacle to Business Success. By giving in to fear and rejection or not knowing where to start, we may be holding ourselves back from achieving success.
I hope you enjoy the above reads as much as I did. Have a great weekend everyone and I'll be back on Monday!
Posts I've written this week:
Related posts:
Image © A Disease Called Debt