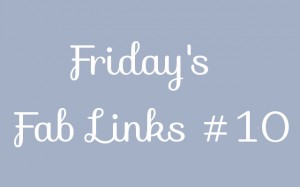 Happy Friday! 🙂 Hope you're all looking forward to the weekend? It's been a pretty good week for me. Things have settled down after the excitement of my daughter's birthday party and I've enjoyed catching up with my favourite personal finance blogs!
This week, I had a slight technical issue with my blog for the first time – sorry if anybody noticed! On Wednesday, I tried to log into my site to finish editing my latest article. But I couldn't access it! An error message flagged up to say that I'd run out of bandwidth. I don't know how long the site was in limbo for but I've now sorted it. Phew! I must admit I felt a bit lost and uncomfortable when I realised my site was down! I feel quite strongly about this lil' blog these days!
When I first started this blog, I didn't want to use my real name because I was actually in utter despair at the time about our debt situation. I used this blog as an outlet for my thoughts and feelings about debt anonymously. It's only now that I feel I'm in a better place emotionally that I've plucked up the courage to appear more human! So hi, I'm Hayley!
I'm in a better place right now because a) we've made a little progress in paying back debt and b) I've realised that being in debt is not that unusual – even if we do owe rather a lot of money! Still, I wouldn't want my family members seeing my blog just yet in case they had a coronary at the sight of those debt figures. Maybe in a year's time perhaps!
Anyway, back to personal finance fab reads! Here are my favourites for this week:
Monica from Monica on Money wrote Do You Make These 9 Budgeting Mistakes? I'm guilty of a couple of these points, not least having a budget and then not using it properly or forgetting to check and update it!
Laurie at The Frugal Farmer posted a great article on Paying off Debt: Preparing Yourself for the Journey. Laurie explains the types of situations that someone paying off their debt will face along the way – such as setbacks and an ever changing budget – and gives some good advice on how to manage these challenges.
Rob from Debt Advice Blog wrote a helpful post on Surviving the Payday Loan Trap. Rob is a great UK blogger with some sound, first hand and practical advice for people in debt. Payday loans freak me out and I know there are lots of people out there who are struggling with them – I'm sure this post will benefit many.
Claire at Ready for Zero explains how there are many different budgeting strategies available – Finding Your Best Budgeting Strategy – and Sticking With It. I have a budget but as I've already mentioned I don't always use it properly. I forget to save receipts and I'm not a fan of repetitive processes! Claire's post has some great advice for how to create a budget that suits us and incorporates our own learning styles – which ultimately should help us to stick with it!
Dear Debt motivated me with her post on Side-Hustling: Not just a hobby but a lifestyle. I love how she's making some good cash on the side and I want to do the same! I keep imagining just how much debt I could pay off if I could side hustle. I sell stuff on eBay quite often but I haven't found a side hustle that fits into my life easily at the moment (i.e. around my daughter and without me having to pay for childcare). But I'm always looking for ideas. I'm inspired!
Hope you enjoy these great reads and have a lovely weekend all!
Posts I've written this week:
Related posts:
Image © A Disease Called Debt