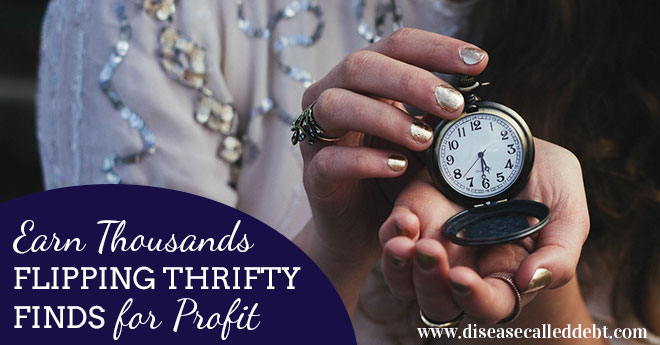 It's no surprise that you can find a good bargain or two at a flea market or thrift store (car boot sale or charity shop). But did you know you could make some serious money by selling your thrifty finds on for a profit?
This is exactly what Rob and Melissa do over at Flea Market Flipper. Together, they make a healthy full-time income, working part-time hours, by flipping their flea market finds. What's more, you could too!
Melissa was kind enough to answer the many questions I had about their profitable side business in this interview below. Enjoy!
Q1: What is Flea Market Flipper and who are the people behind it?
Flea Market Flipper was created in 2015, but has been in the works for 20 years now. It is run by Robert Stephenson (my husband), and myself, Melissa. Rob has been buying and reselling items online for profit since he was 16, right at the very beginnings of eBay.
I married into it 9 years ago, and have learned a lot from my husband! We have fun together buying and reselling,and now our three young kids get to join in our adventure. Flea Market Flipper was designed to help others be successful in buying and reselling items for profit.
Q2: Tell us about your most profitable flea market find!
My husband buys items from thrift stores, yard sales, and auctions as well as from the flea market, but the flea market is one of his favorite places to go. The most profitable item he's found from the flea market was a prosthetic leg about 5 years ago.
The leg was sitting on the ground near a vendor table when he found it, and he wasn't exactly sure what it was and what it did. It didn't have a foot or the upper leg. It was just the knee joint, and it looked like it could possibly be expensive so he bought it for $35.
He went home with the leg, posted it on eBay the next day and it sold 12 hours later for $1,000! That was a nice, quick profitable flip. I love those days!
Q3: How much money could someone make by selling flea market items?
This really can depend on a lot of factors. Last year we made $42,000 doing this on the side, putting in about 5 hours on a slow week, and 15 hours on a busy week. Rob has been doing this for over 20 years so has developed his skill of finding, buying and selling items, but this is something that anyone can learn and do.
Someone starting out could easily make a point to make $200, $500, or $1,000 per month if they put their mind to do it.
Q4: How much money would someone need to get started flipping?
Someone could start with $0-$50 and be able to make some good flips with it. Rob just actually just finished an eBook on the subject of finding free items to flip for profit. You can check it out here.
When I go out looking for items (I mainly do baby items), my budget is $20 max on most things that I could make $50-$150 on.
Q5: How much time is needed to make good money from doing this?
Last year we roughly spent 5-15 hours per week buying and selling items. (And made $42K). This year since Rob quit his job and started doing this 'full time', we spend about 20-25 hrs per week doing it.
Q6: What are the challenges of flea market flipping?
One thing that can be a challenge to some people just starting out is figuring out how to ship items. We devoted a whole section to this in our e-course because some people get intimidated by shipping larger items, or even any items.
Another challenge can be dealing with buyers on eBay. 90% of the time we have no problems, but the other 10% is people who don't pay for an item after bidding on it, or someone receives an item and then wants a refund because it is not what they thought it was. If they don't pay for an item after bidding on it, they are classified as a non paying bidder.
This typically happens with people who are new to eBay and think they can bid on anything and choose to pay for it if they won or not. If it happens too many times eBay will suspend their account. If they don't pay for the item, I won't ship it, so I just have to relist it to be sold again.
We are very careful to accurately describe all items – every scrape, scuff or blemish, because we never want anyone to think we tricked them into buying something that it's not. There also are a few people who will claim something is not as stated to see if they can end up keeping the item at a discount.
While dealing with these people can be annoying, it doesn't happen too often, and I can only think of 2 times in the past 5 years when we have offered a discount on an item. Most people we deal with are good human beings and just want the item they see in the listing.
Q7: What equipment do you need to get started flipping?
There really isn't much needed to start. If you have a smartphone, then you are good to go! I wish I could say it is more elaborate than that. Ha. Of course there are some things my husband buys that he wants to tinker with and may need more tools for that. But, you don't have to purchase those kinds of items to get started.
Q8: Tell us about Flipper University – what are the benefits, how does it work and what does it cost?
We created Flipper University last year to help people either start their "flipping for profit" business, or to improve their current reselling business. It is a 6 module do-at-your-pace online course that covers the whole process of finding, buying, selling, and shipping an item.
We have three courses that we offer:
Our jump start course covers 2 modules to get you started, it is $189 normally, but we are currently running a summer special where all our courses are marked down. The current price is $98.
The full course is normally $489, and now is currently $198. 
We also offer a VIP part to the course to add some one-on-one coaching from Rob, and that one is normally $689, but is currently $298. 
We are excited to help a new group of 'flippers' make some profits this coming month!
______________________________________________
Thank you so much to Melissa for sharing these insights into how she and Rob run their "flipping for profit" business! There's obviously a lot of potential with this type of business and I can easily see how someone could make a very nice income on the side – if not a full-time income.
If you think flipping your thrifty finds could be for you, make sure to get your business off to a great start by taking advantage of Melissa and Rob's expert knowledge. Now is a good as time as any thanks to their summer special where you can access their very useful course at those heavily discounted prices!
What do you think to "flipping for profit"? Did you find this post useful? Please share it online if so!
*Affiliate links are contained in this post. 
*Images courtesy of Unsplash with text overlay added by Disease Called Debt.