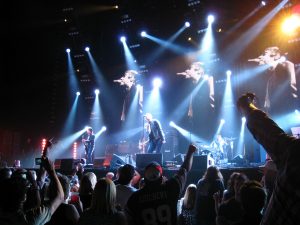 Ever since getting out of debt became our number one priority, the hubby and I have made quite a few financial sacrifices which has resulted in us saving money to go towards the debts and has also enabled us to live within our means.
And you know what? It hasn't been that difficult changing our lifestyles and sticking to our plan. Some people might think we've given up too much and some might think we could give up a whole lot more. What do you think?
Here are some financial sacrifices we're (quite easily) making in order to get out of debt:
1. Eating out is a thing of the past
Gone are the days that the hubby and I are eating out four nights a week. Truth be told, this all stopped after my daughter was born because of the added expense of having to get a babysitter! I did really enjoy restaurant trips beforehand, but it's a sacrifice we've had to make because we were spending way too much money in this area previously.
We're not missing out though on having fun because we invite our friends around for dinner instead or go over to their house. It's even cheaper than getting hold of coupons or vouchers for a meal out. Surely a good meal is about good food and good company, right? Well, the hubby enjoys cooking more than me so he takes pleasure in knocking up a culinary treat now and then for us.
2. Spending money on gifts is no longer an option
Both the hubby and I used to spoil each other rotten at Birthdays, Christmas and other special occasions. We loved treating our friends and family with gifts but this is another area we've had to cut back on significantly. Splashing the cash on gifts isn't necessary expenditure for us because we have the good old debts to think of instead.
We've realised since though that we don't need materials things to make us happy, it was more the gesture of doing something nice for each other and our friends and family that we enjoyed more than anything. And we can still make a effort to do 'something nice' for others. So nowadays, we prioritise who we spend money on and try to hand make gifts wherever possible.
3. Going to gigs and concerts is distant memory
We both love music and used to regularly attend music festivals and concerts each year. This has probably been one of the hardest financial sacrifices that we've had to make. But this little hobby of ours was setting us back between £40 to £200 each for every gig ticket we bought, not to mention accommodation, food and drinks on top. So we knew that we would have to limit this if we are ever to succeed in getting out of debt.
To make up for this sacrifice, we go to as many free outdoor concerts in the Summer months that we possibly can. Sure, we can't choose the artists that we want to see and some of free gigs are showcasing unknown bands. But we might just get to see the next big talent well in advance of them becoming famous and widely known… Ok, who am I kidding, this is one sacrifice we don't really want to be making, but we do anyway.
4. Our wardrobe has taken a big hit
I personally used to have a different outfit for every special occasion and most nights out and so not spending money on clothes and shoes was pretty difficult for me at first. The hubby and I were fairly fashionable at one time and we both liked to look good (we even got into debt to look good can you believe?). Nowadays though, the only new clothes that we buy are just 'new to us' i.e. from the charity shop or second hand from eBay. We make do with what we've got and try to look at least presentable.
This doesn't bother us too much. On second thoughts, that's a bit of a white lie – it does bother me when my family and friends innocently comment on how long my 'favourite' clothes have lasted for. But the honest truth is that the clothes we own are fine and once we're debt free, we'll allow ourselves a bit more leeway with spending money in this area. (Roll on debt freedom.)
5. Expensive beauty treatments have been put on the back burner
I do love pampering treatments and I used to spend a little money each month on a massage or facial as well as getting my hair done in an expensive good salon. Nowadays, I've found myself a great mobile hairdresser (who incidentally won the lottery) and I go without the pampering. I still allow myself my favourite make up foundation but that is a teeny tiny luxury that I'm not going to give up. I even managed to get my GHD hair straighteners replaced for free instead of going out and buying a new pair (which I would definitely have done a couple of years ago).
Has cutting back on this stuff taken its toll on my appearance? Debatable! I don't know – I often think how much I would love a massage and a bit of pampering but that doesn't necessarily mean that I look terrible or anything. Honest.
Getting out of debt involves making sacrifices
The hubby and I have managed to cut back on all of the above so that we can save money to pay off our debts. We've also cut back on other things like Sky TV (although we still have Netflix for sanity purposes) and we went from having two cars to one between us.
I know there are other PF bloggers who've cut back on a lot more and others who do really well with making extra money so that they don't have to give up such things. I guess financial sacrifices are personal in that some people might find certain things easier to give up than others.
Another sacrifice that the hubby and I have made which isn't to do with saving money exactly, is time. The time we used to spend in the evenings watching TV and chilling out has been cut back on too. That's because I use my free time trying to make money on the side like with this blog or doing freelance writing for example. And the hubby is also on the case with his own money making ideas!
I often feel as though there's never enough time in the day to do all the things I want to do to increase my income and get us out of debt faster. But I try to manage family time and working time as best I can. I quite like the perspective that getting out of debt has given me – I now make every moment count to try to improve our situation!
Getting out of debt requires some kind of sacrifices, that's for sure. But they're not all difficult sacrifices, or so I find anyway.
Have you made financial sacrifices to get out of debt? If so, what are they and do you find them easy sacrifices to make?
*Photo courtesy of Flickr