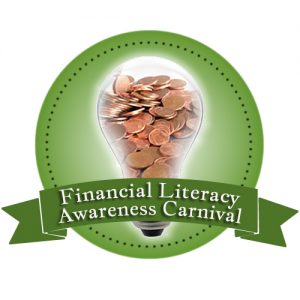 There have been quite a few epic financial epiphanies during the course of our journey to get rid of our debt.
However, one that stands out for me in particular is the moment when I realised the devastation that having debt can cause and I then vowed to do everything I could to make sure my hubby and I became debt free.
This one even beat the realisation that lower price own brand foods are very often just as tasty as expensive big name branded food products.
My A-ha moment about money occurred a good time after we knew we were up to our necks in debt. We'd even faced the possibility of bankruptcy in previous years and our house had been put at great risk by our debt situation.
We hated and feared our financial circumstances. We thought that we were doing the best that we could to survive the pretty dire financial mess that we were in (and had been in for several years). We had cut back on spending, rarely went out and were just surviving. Living like this impacted our lifestyle, our relationship and on time spent together as a family.
When I had this A-ha moment, it just hit me like a light switch flicking on (sorry for the cliché). My hubby and I absolutely had to pay off our debts – and as quickly as possible. Even though we were already trying to get the debts paid off, I knew in that moment that we weren't doing enough. Because if we were, we would have made way more progress than we had done.
In all honesty, we didn't have a handle on our debts whatsoever. We weren't even sure of the amount although we thought our debts were in the region of £35K. Imagine our horror when we later found out that our debt actually totalled in excess of £41K!
I don't know what took me so long to have a moment like this but I suddenly saw that if we didn't stamp out our debt, we'd be living in the shadow of debt 10 years from now at the very least. My age would be 43 and my hubby would be 46 years old. I felt sick as I then thought about our retirement plans – which didn't really amount to much at all. I felt alone and depressed as these thoughts whirled around my mind.
My hubby has always been the laid back one in our relationship and he didn't have quite the same worries as me, because he thought we'd be alright in the end and something would work out. So with this in mind, I knew that I needed to take control of our finances for both myself and my hubby and convince him that the debts wouldn't just sort themselves out and that we needed to do more. That night, I started A Disease Called Debt with my first post which was basically me trying to get all these thoughts out of my head about our debt situation.
After I published that post, I started searching the internet for ways to pay off debt. I don't really know what I was looking for in particular, I was just looking for some kind of support system I think, but then I came across different stories from people who had paid off their debt – and large amounts too. I also found articles about the debt snowball method which made complete sense to me. Armed with this information, I had a conversation with the hubby which changed our financial future.
We took the following lessons from this 'Aha' moment:
We took control of our spending
Prior to starting this journey, we rarely checked our bank account for fear of being in our overdraft or seeing something that we didn't want to see. Crazy I know. From the day this blog started though, checking our bank account is something that we do at least weekly if not every other day.
We track our spending – and I mean everything. We keep receipts for every little purchase we have to make and log it. This way we can see easily where we're overspending or where we might be able to save money here and there.
We found out the true extent of our debt and faced our fears
As I mentioned earlier, the shock of owing over £41K was pretty bad but we forced ourselves to log our debts in a spreadsheet with the balances, minimum payments and a column for over payments. This spreadsheet has been a huge motivator throughout this journey as we've been able to track our progress along the way.
We reduced our expenses even more
Once we'd gotten a handle on where we were spending money, it was easy to see where we could cut back. I said that we'd just been surviving before and this was true. But we found out that we had been frittering away money at the supermarket by doing little top up shops here and there for example.
We changed this to one monthly shop, bought lots in bulk, cooked in bulk and froze many meals for later. This reduced our grocery shopping bill from £400 to around £250 per month. We revisited all our utility and insurance providers and made sure that we were getting the best deals possible. We review our expenses all the time just in case we can save more money.
We tried to raise our income
We achieved significant progress last year from making extra money selling things on eBay, doing car boot sales and taking on more work. With this extra money, we immediately paid it off our debts. It was and still is very satisfying to make any kind of extra debt payment like this.
Just over a year into this debt repayment journey, the hubby and I have paid off around £14,000 of debt. It's a great feeling! I'm so glad that we're not still plodding along blindly trying to make ends meet and hoping that things will just work out. We are a lot more relaxed and feel really positive about our financial future not to mention the knowledge and experience that we've gained already!
This post forms part of The Financial Literacy Awareness Carnival which is hosted by Shannon from The Heavy Purse. Please head on over to check out some great posts about Money A-ha's!
*Image courtesy of The Heavy Purse