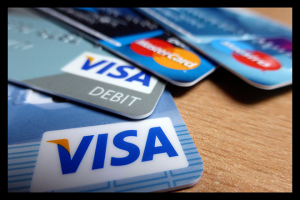 I have a guest post for you today from my good blogger friend Kalen over at MoneyMiniBlog. Kalen's article about how to negotiate with and talk to your creditors will be really useful for anyone (especially my US readers) looking to get a better interest rate on their credit cards. Please check out Kalen's site once you've read his helpful post! If you're interested in guest posting on Disease Called Debt, please get in touch.
It's common advice to negotiate with credit card companies. Most articles on getting out of debt will tell you to call the companies and negotiate a lower interest rate or a lower balance…or both. The only problem is that they don't tell you how to do it. There are lots of questions around the idea of negotiating your debt. Let me show you what to do and most importantly, what to say…
Why You Should Always Try to Negotiate
Credit card companies are like any other company. They like money. If you can't afford to pay your payments, they don't get money. They can hassle you all they want, but if you can't pay, you can't pay. Credit card companies aren't stupid. They know that getting something out of you is better than nothing. That's why they will work with you to settle your debt.
Who You Should Call
So, who do you call to start this process? Simply look on the back of your card for the customer service number. Once you make the call, it usually only takes pushing about a thousand buttons to get to their customer service department. That's where you want to be, but you don't want to talk to the first person you reach. I'm sure they are a very lovely person, but you will want to speak to their supervisor. The customer service reps can only do so much as far as making positive changes on your account. Their supervisor can do much more. Go for the supervisor.
What You Should Do Before You Call
Before calling, you need to prepare. Get some other credit card offers together. You'll want to have a point of negotiation. When you're asking for a lower interest rate, be sure to tell them about all of the offers you have for a 0% rate with other companies. And kindly let them know that you are willing to transfer your balance to the other company if they won't lower your rate.
In many cases you can get a 0% rate, but it depends on your credit history and your total amount of credit card debt. Getting a lower balance will depend on your total amount of debt and how generous the supervisor feels based on your sob story explanation of your situation.
Making the Call: The Script
Now that you have your offers together and you know who to call, here is what you should say once you get to the supervisor…
For a lower interest rate:
"Salutations! (Hello works fine too.)
I'm calling to get a lower interest rate on my credit card. How much will you be able to lower it?"
If they say none or anything other than all the way to 0%:
"have several offers here for a 0% balance transfer, with a 0% interest rate, including the [insert popular 0% card] and the [insert other popular 0% card]."
If they still won't do 0%:
"Unfortunately, it looks like it would make more sense financially for me to go ahead and transfer my balance. I've enjoyed using your company, but if you can't lower my interest rate to 0%, it doesn't make sense for me to stay with your company."
Usually, before you hang up, they will agree to lower your interest rate substantially, if not entirely to 0%. Then you can decide if the rate is low enough or if you want to transfer. Remember, you're not binding yourself to anything by telling them you're going to transfer your balance. You can always change your mind and decide to stay with the company. At this point, you're basically "all talk". But what you're saying is legitimate. You do have the option to transfer.
Notice how I worded the questions in the script. Anytime you ask a yes or no question, the answer can be "no". Avoid that by asking in a way that forces them to be proactive, such as "how are you going to…?" or "how much can you…?" It's also a good idea to mention actual competitor credit cards that you have 0% offers for. It will make your case much stronger.
Here's another script…
For a lower balance:
"Hello,
I'm calling, because I'm unable to make my payments and therefore need a lower balance on my card. I don't want to file for bankruptcy. I would rather do the responsible thing and work this out in other ways, but I can't afford the high balance. How much will you be able to lower my balance?"
If they say none or very little:
"I appreciate you trying to help me, but unfortunately that will not be enough. It looks like I may have to file for bankruptcy or start a Debt Management Plan that will lower or wipe out my balance. I would rather pay something, since I made these purchases and I don't feel like it's right to "take the easy way out". Can you please lower my balance by more than that so I can pay it myself?"
Again, notice how the questions are worded. That's very important. You're not trying to make them feel sorry for you or guilt them into helping you, but if you're in a position where you need a lower balance, they need to know that you may not pay any of it back if they can't help you. That usually makes them more likely to want to help. And again, remember that you aren't obligated to go through with your claims. This doesn't mean you have to actually file for bankruptcy if they won't lower your balance, but strong words like that can really get their attention.
A Few Last and Important Words
Now you know who to call and what to say. Remember, it never hurts to try. Even if you're not paying insane interest rates or on the verge of bankruptcy, you might as well try. You have just as much power as a debt consolidation company. They are useless. You can do this on your own. Read the Fair Debt Collections Practices Act (FDCPA) for more on what creditors can and can't do. If they are breaking the law, file a complaint here.
And always remember to get your deal in writing. Once you agree on a lower rate or balance, have them fax or email you an official document containing that information.
Author Bio: Kalen Bruce is the founder and main writer at MoneyMiniBlog, where he writes short, sweet and simple articles about money and productivity. Kalen lives a debt-free life with his wife and four children. Get his free ebook here: Financial Freedom on a Full Schedule.
*Photo courtesy of Flickr