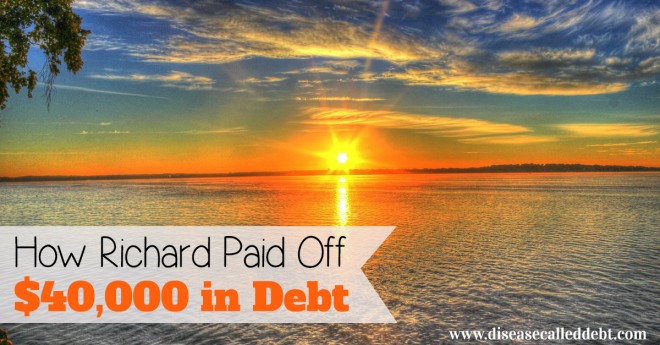 Welcome back to another edition of Debt Success Stories! This series is designed to inspire and motivate those of us in debt to believe we can succeed in our debt payoff mission.
It's quite easy to get into debt, but undoubtedly, getting out of debt is always difficult and often takes much longer than we hope.
As this series progresses, we can see that firstly, many people are affected by various types of debt and it's not just 'us'. Secondly, we can see that it's most definitely possible to be successful in paying debt off!
Today's inspiring debt success story is from Richard over at Frugality Magazine. Richard is a qualified biologist and published author who fell into the "debt trap" early on in life as banks and financial institutions threw money at him despite his lack of credit history. He was the perfect target, borrowing hard and taking years to finally dig his way out from under a pile of consumer debt.
Now debt free, Richard is free to follow his passions of exploring the countryside and keeping his menagerie of pets which include snakes and tarantulas.
Debt Success Stories: An interview with Richard
Q1: What did your debt consist of and how much did you owe?
When I was at university it was perfectly normal for people to take out student loans. Whilst I possibly could have survived without them, I made the silly mistake of taking the short term view and deciding to take the available loans so that I could live more comfortably while studying.
At the same time my bank offered me a credit card – something that I thought could be very useful to me while at uni because I could spend on it during term-time if needed, and then work during my vacation time to pay it off.
And while I started with the best of intentions, my loans and the balance on my credit card slowly started to rise, while the bank continued to increase my credit limit. After graduating I needed some wheels for my job, so I also took out an auto loan to invest in a motorbike.
Take into account the costs of moving to a new city for work and putting down a deposit on a rental property and suddenly the debt started to pile up at an alarming rate! So in short, my debt really consisted of credit cards, student loans and an auto loan. In other words, I wasn't exactly paying low interest rates! The total debt added up to around £24,000 (around $40,000).
Q2: What made you decide to tackle your debt?
I kept on paying the minimum on my credit card and deferring my student loan repayments (which you can do here in the UK), while "enjoying life". I kept on thinking I'd pay off my debt "later".
However over time, even these minimum payments started to become a burden. Every time I got paid I'd spend a huge percentage of my salary just on servicing these debts, without actually making any progress with paying down the principle. In many ways I'd become a slave to my own debt.
Eventually, I couldn't even meet the minimum payments on my tiny graduate salary as my credit card balance finally hit five figures. I started to hate my financial life. I hated opening those bills. They'd often sit unopened for days or even weeks at a time. I truly broke out into a sweat when another came through the door and I started the "red flag" habit of borrowing against one debt to pay the minimum on another. Something had to give. I just *had* to get out of this mess so I could start enjoying life again.
Q3: What was the most difficult challenge you faced in eliminating your debt?
The most difficult challenge I faced was really that my debt was so much larger than my income that making any real dent in it was challenging. After all, if you can't even make the minimum payment each month, how do you really start paying off the rest?
The answer, of course, was frugality. I bit the bullet and significantly shrunk my overall non-debt spending. I sold unwanted items. I spoke to my boss and managed to arrange for my annual bonus to be paid early. And as a result I managed to make an "instant dent" in my debts which not only gave me a little breathing space but also kick-started the process for me.
Q4: How did you stay motivated to keep paying off your debt?
Luckily, over time I experimented with different motivational techniques. While I experimented with all manner of techniques, I found that continually visualizing a debt-free life at the end, while carefully tracking and monitoring my debt as it went down were the most effective strategies for me.
In essence I tried to turn my debt repayments into a game and each month when my bills arrived, I'd be excited to see what "level" I'd managed to reach this time! I've written a post about this very subject which may prove useful to other people struggling with a similar situation called How to Become Debt Free.
Q5: Did you have to make any lifestyle changes in order to succeed?
Due to my moderate income when I started repaying my debts I had to make quite a few lifestyle changes. In essence I simply stopped buying non-essentials. Every penny I spent was carefully analyzed and if I thought that I could get away without spending it – or there was a cheaper alternative available – I'd take that choice.
I focused my time on free hobbies and trying to work as much as possible in order to minimize my outgoings and maximize my income. Slowly, over time, my hard work started to pay off. The minimum payments dropped slowly over time – as my income at work increased – making it easier and easier to not only meet my obligations but to start paying off the principle too.
Going from worrying about debt, to feeling like I had a plan and everything was under control was a wonderful feeling. It gave me back the feeling of empowerment that I felt I lost when I was drowning in debt.
Q6: How did you raise enough money to clear your debt?
Essentially I accepted the best paid job I could find. I searched and searched and then made a career-related decision based purely on finances. Everything else was secondary. And I hate my job, I really do. Long hours. Boring work. Tiring activities. Stressful situations. But I decided to just "suck it up" and take the money – just to get my debt paid off.
And while it hasn't been pretty – I've wanted to quit on a regular basis – it's exactly what I needed to regain control of my finances and get out of debt once and for all.
Q7: What's the best thing about being debt free?
For me, being debt free is less to do with physical things like being able to pay for a vacation or buy myself a new fish tank (a passion of mine) and instead is more of a psychological experience.
It's the freedom and control over my destiny that I love. It's being able to sleep at night. It's not worrying about bills when they arrive. It's about having an emergency find so life's little hiccups don't upset us. Essentially the best thing about being debt free is "financial peace" for want of a better phrase.
Q8: What advice would you have for others trying to become debt free?
I spent too long thinking about and talking about getting out of debt. Mainly because it's hard and requires some serious commitment – and at least at first I didn't have that. But sooner or later you're going to have to face that demon. So the sooner you get started the better.
And trust me – the feeling when you succeed is worth all that discipline and all those compromises you've had to make.
________________________________________________________________________
A big thanks to Richard for sharing his debt success story with us! Richard blogs about his personal finance experiences over at Frugality Magazine and for the socially-connected, he is active on Twitter and on Pinterest.
For further inspiration, you can read more Debt Success Stories. Do you have a debt success story you'd like to share? I'd love to hear about it, so please get in touch!
Why not subscribe by email to make sure that you don't miss out on the next instalment of this series!