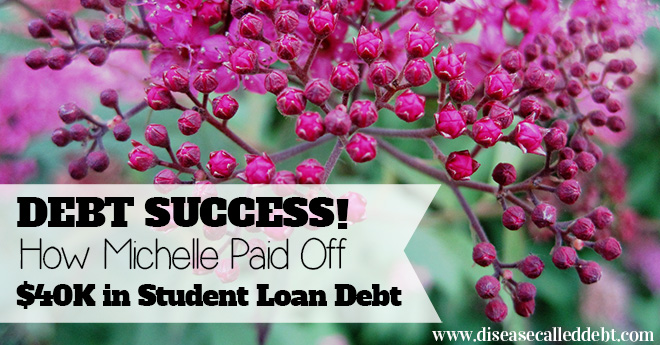 Today, I'm introducing a new series on Disease Called Debt called Debt Success Stories. This series is intended to inspire anyone who is currently in debt and in need of some motivation.
Debt can be a difficult subject to talk about and because of this, it's easy to feel like we're the 'only ones' with a ton of debt. But that's not the case!
When I was in a dark place with my debts, I found hope and inspiration by reading about how other people successfully tackled their debt. I figured if other people can eliminate their debt, then so could we!
So to launch this series with a bang, I interviewed Michelle from Making Sense of Cents and Diversified Finances. Not only has Michelle managed to pay off a shed load of debt, she's also carved out a very successful freelancing career for herself. I'm sure you'll be inspired by her debt success story.
Debt Success Story: An interview with Michelle
Q1: How much did you owe at the height of your debt and what did it consist of?
Thankfully we've never had credit card debt, but we did have around $40,000 of student loans. It was much more in student loans than I ever thought I'd have.
Q2: What made you decide to tackle your debt?
I graduated from college and I knew I didn't want my student loans lingering over my head for decades into the future. I also didn't want the monthly payments hanging over my head each month.
Q3: What was the biggest challenge you faced in overcoming your debt?
The biggest challenge was really getting over the fact that I was putting so much towards my student loans each month. One month I emptied part of our emergency fund and threw over $5,000 towards my student loans. It was hard to put so much towards my student loans when I wasn't really getting anything to show for it (since I had graduated over a year before that). In the beginning it was hard to stay motivated since it felt like I had so much in student loans and making small payments made me a little less motivated.
Q4: How did you stay motivated in order to pay your debt off?
I started putting more and more towards my student loans, and honestly just seeing the amount decrease month after month really kept me motivated. It was just fun watching the number go from 5 digits, to 4 digits, and then to nothing.
Q5: What was the biggest financial sacrifice you had to make to succeed?
We didn't really cut our budget at all, instead we focused on earning extra money as much as we could to pay off my student loans. This meant that there were many weeks where I was working well over 70 hours. It was tough at times, but I knew that it was the only way that I could pay off my student loans as quickly as I did.
Q6: How did you get the money together to pay off your debt?
Every time I made extra money, I just threw it all towards my student loans so that I wouldn't "miss" any of it. That really helped!
Q7: What's the best thing about being debt free?
The best thing about being debt free is the fact that I don't have to worry about the monthly payments. My interest rate on my student loans was over 6%, and I knew I didn't want to pay that much in interest! Now, I can save the amount of money each month instead.
Q8: What advice would you have for others trying to eliminate their debt?
My top tip would be to work towards making extra money. Usually there is only so much that you can cut from your budget, but there is an almost endless amount of money that you can make. So, whether you ask for a raise, ask for more hours at your current job, or if you find a part-time job, it can all help!
___________________________________________________________________________
Thanks so much to Michelle for taking the time to be interviewed for this series. Please head on over to Making Sense of Cents and Diversified Finances for more inspiration! You can also follow Michelle on Twitter.

Do you have a debt success story to share? If you'd like to inspire others and be featured on A Disease Called Debt, please contact me!