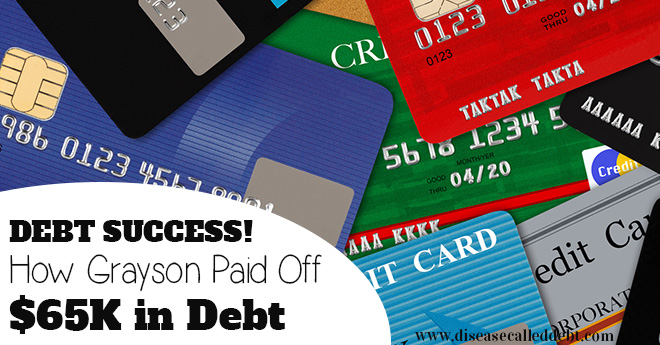 Welcome back for the second edition of my new series – Debt Success Stories! The aim of this series is to motivate anyone who is currently in debt and trying to dig their way out.
Getting out of debt is not easy that's for sure. But it's definitely not impossible as the awesome interviewees for this series can attest to!
From my personal point of view, realising that other people have successfully conquered their debt is a major factor for me in keeping motivated and hopeful about our own debt situation.
This week, fellow personal finance blogger and writer Grayson Bell is sharing his debt success story with us about how he managed to pay back $65,000 in debt. Grayson now inspires other people to get out of debt and start building wealth through his portfolio of websites: Debt Roundup; Sprout Wealth and Eyes on the Dollar.
Debt Success Story: An Interview with Grayson
Q1: How much did you owe at the height of your debt and what did it consist of?
At the height of my debt, I owed about $65,000. That amount consisted mostly of credit card debt, but also a Jetski loan and a car loan. The credit card debt was close to $50,000 and the rest was the car and Jetski loan.
Q2: What made you decide to tackle your debt?
I finally got really tired of making so many payments to the credit card company and not seeing the balance fall. I was not getting sleep and my mind was always worrying about the debt that I was dealing with. I finally broke down and wrote everything on a whiteboard and was astonished by how much I owed. I decided right then and there to start tackling my debt.
Q3: What was the biggest challenge you faced in overcoming your debt?
Easy! Staying motivated was such a struggle. I paid off my debt in four years. Being such a long time, it was a constant struggle to stay on the right path. As a former spender, I just wanted to buy things left and right. I learned over time to step back and think about the decision before I actually went through with a purchase.
Q4: How did you stay motivated in order to pay your debt off?
Motivation is key in paying off debt. I created little milestones along my debt payoff journey. They weren't big, but they kept me on the right path. One was a nice dinner with my wife. Another was a small weekend trip to the mountains. I paid all of my milestones with cash, so there was no need to use a credit card. I set my milestones based on how much money I paid off.
Q5: What was the biggest financial sacrifice you had to make to succeed?
In order to succeed, I had to change my complete financial mindset. Before my payoff, I was a spendaholic. I wanted to spend on cool electronics and car accessories. If I had extra cash, I would spend it. I had to change my mentality and switch my mindset to a saver. It was a long process, but now I get the same enjoyment out of saving as I did spending. I like watching my accounts grow and hate it when I have to spend money. It can take a long time to cut spending out of your financial diet, but it is the only way to succeed with debt.
Q6: How did you get the money together to pay off your debt?
That is my secret sauce, if you will. In order to pay off my debt, I worked extra on the side. I started freelancing, got a second job, and started selling my skills to others. I have slowly built a small freelancing business from the skills that I learned. I think earning extra income is important when you are in debt. Not only did my extra work help me pay down my debt, but it has also helped me diversify my income.
Q7: What's the best thing about being debt free?
Freedom! It is one word that I like to use. When you are debt free, you have financial freedom to do what you want with your money. You don't have to worry about giving it away to some company that you owe money to. If you want to save for retirement, then do it. If you want to take a vacation, then do it. Being debt free puts you back in control of your financial future.
Q8: What advice would you give to others trying to eliminate their debt?
My advice to anyone wanting to get rid of their debt is don't be afraid to get started. The idea of paying off your debt can be daunting. The problem I see with many is that they are worried about how they are going to pay down their debt, so they don't even try. If you don't try, then you will never be debt free. I also believe that people should always think of new ways to make extra money. Never rely on just one source of income. Diversify your income and think outside of the box. You never know what you might come across and earning extra money is empowering!
_________________________________________________________________
Huge thanks to Grayson for agreeing to be interviewed for this series! For tons more information about personal finance matters, please make sure you check out Grayson's sites Debt Roundup, Sprout Wealth and Eyes on the Dollar. You can also follow Grayson on Twitter.
If you missed the other Debt Success Stories in this series, you can find them here.  
Do you have a debt success story to share? If you'd like to inspire others and be featured on Disease Called Debt, please contact me!