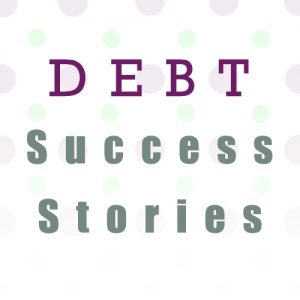 Welcome to the latest edition of Debt Success Stories. The aim of this interview series is to provide inspiration and motivation to anyone who is battling with their debt.

Breaking the cycle of debt can be very difficult especially if you've been living beyond your means for a number of years. But it's certainly not impossible.
Once that glorious day arrives when you're finally free of debt, any sacrifices you've had to make will surely have been worth it!
Here to inspire us today is Bob Lotich from Christian Personal Finance. Bob successfully eliminated his debt and then used his passion for personal finance to create ChristianPF.com. He currently serves as the editor of a team of 10+ writers. The site has seen over 15 million visitors since its inception and is home to around 2000 personal finance articles.
I found ChristianPF.com at the beginning of my own journey to debt freedom. Not only did I find the personal finance articles really helpful and inspiring – especially the ones relating to debt management – but there are also some excellent articles on there about how to set up and make money from a blog. Please head on over when you've read Bob's interview below!
Debt Success Story: An Interview with Bob
Q1: How much did you owe at the height of your debt and what did it consist of?
At the worst of it we had about $46,000 of non-mortgage debt.  That package consisted of a lot of credit cards, car loans, and student loans.
Q2: What made you decide to tackle your debt?
I was sick and tired of feeling like I couldn't get ahead financially.  After an objective look at our situation it became very clear that getting out of debt would relieve a tremendous amount of financial pressure.
Q3: What was the biggest challenge you faced in overcoming your debt?
For married couples, getting on the same page (and staying on the same page) with financial goals is often a challenge.  We found this to be challenging as well, but we had a lot of "heart to heart" conversations about where we wanted to be in 10 years and we were able to reconcile our differences and attack the debt as a team.
Q4: How did you stay motivated in order to pay your debt off?
I get inspired by even the smallest amount of progress.  I used this to my advantage.  I keep a running tally of how much debt we had and just watching that number continue to decrease was very motivating.
Q5: How did you get the money together to pay off your debt?
We focused on both sides of the equation.  We dramatically reduced our expenses and stuck to a rigid budget which provided a lot of extra cash to put towards the debt.  At the same time, I launched a side business that provided some extra income which also went towards paying down the debt.
Q6: What's the best thing about being debt free?
The peace of mind.  Without a doubt, knowing that you don't owe anyone is such an amazing feeling. And I think it even feels better than I imagined it would.
Q7: What advice would you have for others trying to eliminate their debt?
Focus on the end goal.  Celebrate the small victories like paying off a credit card or student loan. You will have good days and bad days, but through it all remember why you are doing it and refuse to give up!
___________________________________________________________________________
Thanks so much to Bob for taking the time to share his debt success story with us. You'll find a wealth of information on personal finance matters from a Biblical perspective over at ChristianPF.com. You can also follow Christian Personal Finance on Twitter and Facebook.

If you're craving some more debt success stories to feed your inspiration, you can read the others in the series here.
Do you have a debt success story that you'd like to share on this site? If you do, please contact me and we'll work something out!
Image © A Disease Called Debt