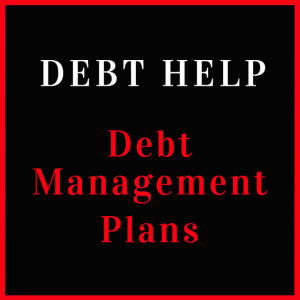 This post forms part of my new Debt Help section and outlines pretty much everything you need to know about Debt Management plans, including how a Debt Management Plan works and the advantages and disadvantages of entering into one.
I can speak from experience on this topic, because the hubby has been in a Debt Management Plan himself for the last three years. Hope you find it helpful!
What is a Debt Management Plan?
A Debt Management Plan (DMP) is available as a debt management solution to residents in the UK. It's an agreement between a person and their creditors to pay off all their debts at a lower, more affordable rate, if the person in debt is struggling to cope with the repayments of their unsecured debts (which usually needs to be in excess of £2000).
If you can't afford to pay your debts each month, then a Debt Management Plan can ease the burden financially and give you some breathing space by allowing you to make lower monthly payments with the agreement of your creditors.
The aim of a Debt Management Plan is for you to pay back all of your debt, perhaps over a longer amount of time but often with the interest and charges frozen, so that your full repayments go towards your debts. This can't be guaranteed, but you can definitely ask your creditors to do that for you.
How does a Debt Management Plan work?
You can arrange your Debt Management Plan yourself or you can ask a debt management company to arrange this so that they liaise with your creditors on your behalf. However, some debt management companies charge a fee for arranging a Debt Management Plan so it's important to be aware of any fees involved. Luckily, here in the UK, you can use Step Change and National Debtline free of charge.
When you set up a Debt Management Plan, you'll need to work out your monthly budget, taking into account your income and all your expenditure (minus your unsecured debts). There is an excellent income and expenditure form you can use for doing this over at Debt Advice Blog. Once you've worked out how much you have leftover, you'll need to contact your creditors to let them know that you're struggling with your debt and then make an offer to them to repay a lower amount with the money that you have leftover each month.
It's important to be really thorough and realistic with your budget so that you leave yourself enough money to live on (that means buying food and other necessities – not buying luxuries). You will have to cut back on any unnecessary spending and that can only be a good thing in the long run!
One important point to note with Debt Management Plans is that they are an informal agreement, i.e. not legally binding. So if you don't make your agreed payments once the Debt Management Plan is set up or if your creditor believes you have more money than you originally said, they can go back on the agreement  and ask you to pay your debt in full or even try to take you to court.
However, they can't just dip their hands into your bank account and take what you owe them that way. If you experience this kind of situation, please seek professional financial advice straightaway.
If things change financially once you're in your Debt Management Plan, for example if you come into more money, you might be able to settle your debts early by offering a full and final settlement on some or all of your debts. This means that your debt could be repaid sooner than you might think.
Full and final settlements are at the discretion of your creditors but they may be more likely to settle your debt at a lower price if the debt has been bought out by a debt collection agency. If you find that you are able to make full and final offers once you're in your Debt Management Plan, it's important to calculate your offers fairly across all your creditors. You can use this full and final settlement formula from National Debtline as a guide.
Who needs to know if you're in a Debt Management Plan?
There's no need to worry about other people finding out about your Debt Management Plan if you don't want them to. The only parties that will know about your Debt Management Plan are your creditors, your debt management company and you.
You don't need to tell your employer, your family, friends or even your partner about your Debt Management Plan. However you may find it easier to share what's going on with your debts with someone that you know and trust so that you have some emotional support when you're going through this process.
Also, by letting those closest to you know, you won't have to worry about making up any excuses as to why you can't spend money on certain things (because as much as you can afford will be going towards your debts each month).
What are the Pros and Cons of Debt Management Plans?
With any debt management solution, there are advantages and disadvantages of entering into a Debt Management Plan. I've covered a few of them above and here they are summarised below:
Pros of a Debt Management Plan
You'll be able to reduce your payments to your creditors to one single, lower monthly payment, based on what you can afford.
You might be able to get the interest and charges frozen so that your full payments go towards paying off your debts.
Once a Debt Management Plan is in place, your creditors will probably stop harassing you for payment.
You won't have to sell your home, your car or any other assets.
At some point in the future, you might be able to make a full and final settlement on some or all of your debts (if you come into a lump sum of money)
There will be no record of insolvency and your details won't be published on any public record.
Although your credit rating will be affected, this will be viewed more positively than if you filed for bankruptcy for example.
Considerations of a Debt Management Plan
There will be a minimum payment that you have to make based on the amount of debt that you have.
It could take many years to pay off your debts completely because you'll be making lower payments.
Your credit rating will be severely affected with details of your defaults remaining on your credit file for six years. This means that you'll be unlikely to get credit during this time. You may be able to get a mortgage but probably at a very high rate of interest and you would need a large deposit too.
Some Debt Management Companies do charge fees (for setting up and ongoing management), which can equate to around £1000 per year.
It's an agreement which is not legally binding, so your creditors can change their minds and demand full payment / take you to court. Usually this would only happen if you're not sticking to your side of the deal i.e. making the required payments or if your creditors think that you have more spare money than you're telling them.
In summary
Debt Management Plans can be a good solution if you're struggling with your debts now but you hope to be able to pay them off eventually. There are advantages in that you'll be paying a more affordable monthly payment and you'll be able to get some much needed breathing space in terms of your finances, but it will probably take you longer than you'd originally planned to pay off your debts.
There will be a negative impact to your credit rating for six years so this is a major sticking point – but at the end of the day, if you're struggling with your debts, it could only be a matter of time before your credit rating is affected anyway.
Do you have any questions or comments about Debt Management Plans? If so, please ask away!
If you're considering a Debt Management Plan, then it's important to seek professional advice from someone who can help you decide whether this debt management solution is right for you. You can contact National Debtline or Step Change, both of which are free to use debt charities in the first instance.
*Image © A Disease Called Debt
Disclaimer: Any views and opinions expressed on this site are my own. I hope you find this article helpful but please note that this should not be taken as any form of professional financial advice. Whilst careful research has been undertaken when presenting any facts or figures in this article, not all information can be guaranteed as correct and up to date.